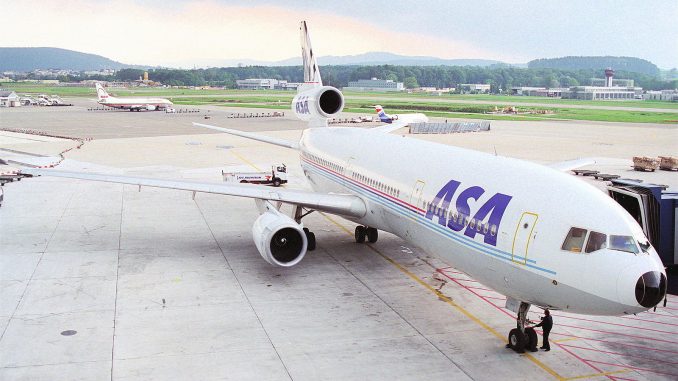 In the mid-1960s, Swiss entrepreneur Karl Jakob Rüdin was interested in branching out and creating a vacation getaway in Kenya that would create a complete getaway with the company taking care of everything for passengers along the way. The tour operator, called African Safari Club, would be founded in 1967 and would start with their very own hotel, the Watamu Beach Hotel, being constructed in the coastal town of Mombasa.
To make sure passengers got the home to hotel experience, Rüdin would form his own airline to fly passengers to the hotel. The airline would use previously owned Bristol Britannias to launch charter flights to Switzerland, France, Germany and the United Kingdom from Mombasa's Moi International Airport. The Britannias would only be used till 1972 when they were replaced with Douglas DC-8s.
Over the years African Safari would upgauge their Douglas DC-8s with larger variants replacing the smaller DC-8-30s with DC-8-50s in 1976 and eventually DC-8-70s coming online in the early 1980s. The airline never held onto more than two aircraft at a time since their purpose was small and specific.
But while the airline was small, the African Safari Club was expanding and by 1990 owned 17 hotels and four cruise ships. Unfortunately, this expansion would not be sustainable and the company started to take debts as the oil crisis of the early 1990s drove down the demand for leisure travel. The airline would also have to respond as the gas-guzzling Douglas DC-8s would be replaced with an ex-KLM McDonnell-Douglas DC-10 in 1992.
But internally the company was seeing issues as the African Safari Club was seeing executives clash on ways to solve the company's increasingly dire financial situation. African Safari Club appointed Kai Wulff as CEO in hopes of fixing the tour operator's financial situation. Wulff made widespread changes but as he increased his footprint on the company, Rüdin stepped in a forced Wulff to go through him to get any changes to the properties and airline approved. While Wulff prioritized an employee and property first approach, this would fail to live up to fruition as renovation plans were scrapped and the company failed to improve employee pay in favor of just having Rüdin pocket the money.
While property changes would be small, airline changes would be substantial. The idea of owning aircraft was done for African Safari Airways as the DC-10 would be removed from the fleet in 2002 in favor of leasing Airbus A310s from Hapag-Lloyd of Germany. The airline would also create a Kenya based subsidiary called SkyTrails, which would share the same zebra style livery as ASA and operate a fleet of small De Havilland DHC-6s and Cessna 206s around Kenya. SkyTrails would start operations in 1998 and would be closed in 2005 as the parent company continued to struggle.
Although African Safari Club would limber through the 2000s, the company used various asset sales to stay afloat. The situation worsened in 2007 when the Kenyans saw a political uprising take place following the election of President Mwai Kibaki, which many saw as rigged. The violence across Kenya forced African Safari Club to issue a statement that their resorts were not impacted by the violence and that tourists would be safe on property. However, the scenes coming from Kenya were more than enough to drive people away.
By 2008 the company was a shell of its former self. African Safari had trimmed their fleet down to just nine. The airline was down to just one 233-seat Airbus A310 and said to be operating 54,000 passengers per year with a route map similar to the one they started with in the 1960s.
As a result of the drop in passengers and the downturn in use of the airline, ASA would be the next asset to be removed. The airline would be suspending charter flights and the Airbus A310 would be returned to its lessor before finding a new home on Mahan Air of Iran.
Now, the hotel operator would use third-party airlines to get passengers to their resorts, either by scheduled or chartered aircraft. But with a financial situation too dire, African Safari Club would continue its downward spiral until the entire company collapsed in 2011 and filed for bankruptcy.
Although Ian McMurtry was never originally an avgeek, he did enjoy watching US Airways aircraft across western Pennsylvania in the early 2000s. He lived along the Pennsylvania Railroad and took a liking to trains but a change of scenery in the mid-2000s saw him shift more of an interest into aviation. He would eventually express this passion by taking flying lessons in mid-Missouri and joining AirlineGeeks in 2013. Now living in Wichita, Kansas, Ian is in college majoring in aerospace engineering and minoring in business administration at Wichita State University.
Latest posts by Ian McMurtry (see all)