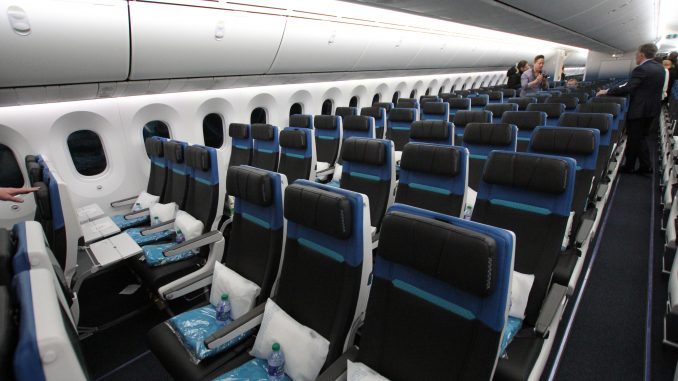 The delivery of WestJet's first Boeing 787-9 Dreamliner in mid-January marked an exciting new chapter for the Calgary-based carrier. Known for its low-cost business model that's only been partly rivaled in Canada, WestJet is transforming further into a full-service carrier as it only recently started true long-haul service to Europe and announced business and premium economy cabins for its fleet last October.
Just a few years into long-haul operations using secondhand Boeing 767-300ERs, the airline has decided to modernize its long-haul fleet, doing so with Boeing's latest ultramodern offering.
WestJet placed a firm order for 10 787-9 Dreamliners, with options for an additional 10, in May 2017. This order came three years after the airline took delivery of its first long-haul aircraft, the 767-300ER, to be used for European service from the airline's Canadian hubs. Four former Qantas 767s underwent a refurbishment, including the addition of winglets, before being added to the WestJet fleet. With the new service being a success, it ultimately led to the purchase of more long-haul jets.
With its newest long-haul jet, the Dreamliner, WestJet will be increasing its wide-body fleet by over 200 percent. The first base for the 787-9 will be Calgary, the airline's largest and main hub, where WestJet will be the first airline to have a 787 base. The airline's second 787-9 is expected to be delivered in Toronto on Feb. 19, where it will remain at Pearson International Airport for nine days to receive its airworthiness certificate before flying to its new home, Calgary. A 125,000-square-foot WestJet hangar capable of handling the aircraft and its maintenance requirements is expected to open on March 31.
Current plans call for basing the airline's first three 787s in Calgary. Two additional Dreamliners will be delivered to WestJet by the end of March, in time to begin peak summer transatlantic flying. The first three jets are expected to add an additional 300 jobs, with initial Dreamliner crews being Calgary-based. 230 flight attendants have been trained to work on the new plane so far, with the airline hoping to eventually train all crew members to be capable of working the 787.
The addition of the 787 base in Calgary shows the airline's commitment to its hometown. Over the past five years, WestJet's departures from Alberta's largest airport has increased by 47 percent. From Calgary, WestJet will initially use its newest plane for flights to London's Gatwick Airport. Beginning April 28, the 787-9 will replace the 767-300ER currently operates the route, operating daily until Oct. 26.
Summer seasonal service to Dublin and Paris (CDG) will also commence later in the season using the Dreamliner. Service to Paris begins on May 17, 2019, and operates four times weekly until Oct. 20. On June 1, the airline will add three weekly flights to Dublin until Oct. 19. These three routes are expected to bring up to 185,000 visitors to Calgary every year, helping increase tourism to the province.
The airline will initially have a low utilization rate for its Dreamliner aircraft, operating only 14 weekly roundtrip services across three planes. This comes as a result of WestJet's turbulent 767 introduction during the 2016 summer season, when the airline was plagued with maintenance issues and flight cancellations. WestJet hopes to use this summer as a learning experience to ensure it can efficiently maximize aircraft utilization in the future when it announces new routes and takes delivery of additional aircraft.
Prior to operating transatlantic flights, WestJet will use its shiny new Dreamliner on proving flights between Calgary and Toronto beginning on Feb. 20. The aircraft will be used for one of the nine daily turns between the two cities until April 27.
Onboard the Aircraft
Stepping on board WestJet's shiny new Dreamliner, it's evident that the airline is ready to take service to the next level, that of a traditional full-service carrier. The aircraft bears all the hallmarks of a full-service carrier, as opposed to the low-cost airlines currently crossing the pond with similar aircraft.
In business class, WestJet went with the B/E Aerospace Super Diamond seat. The airline has installed 16 of these lie-flat seats in the four-row cabin. The fully lie-flat seats are arranged in a 1-2-1 configuration.
These are seats similar to business class found onboard American Airlines' 787-9 fleet and across the Qatar Airways fleet. Blue and brown finishes on WestJet's seat give the cabin a sleek, modern feel not typically found on other airlines.
From an entertainment perspective, each business class seat offers an 18.5-inch touchscreen in-flight entertainment system. The Dreamliner fleet will also have WestJet Connect and WiFi will be available for a fee in all cabins.
WestJet is preparing to offer high-end competitive luxurious service for the first time in its most premium cabin yet. To prepare, a group of WestJet flight attendants received a five-day training course with instructors from the Southern Alberta Institute of Technology (SIAT) hospitality management program, visiting luxury hotels practicing plating food, and learning about wine origins and vintages according to the Calgary Herald.
The airline also confirmed that it has opened two kitchens in London and Paris to prepare catering for Europe flights. In business class, passengers can expect the dining service to begin at the gate prior to departure, with pre-departure drinks including champagne. After takeoff, WestJet has adapted a dine-on-demand service to its most premium cabin which allows passengers to dine whenever they want to, a service not available on many international business class flights including those on Emirates and Singapore Airlines, but a staple for Qatar Airways.
Amenity kits and a turndown service will also be offered in business class. Flying business class also gives you access to certain lounges, though none are operated by WestJet as this is the first international business class to be offered by the airline.
Right behind the intimate business class section, there is a 22 seat premium economy cabin referred to as Premium. The Premium cabin features the same style recliner seat as all three U.S. legacy carriers and maintains the standard 2-3-2 configuration across its 4 rows.
In Premium, passengers can expect pre-departure drinks as well, including prosecco. Superior amenity kits, blankets, and pillows are also available for passengers in this cabin. The seats also feature larger entertainment screens, the tethered remotes and tray tables located in the armrests.
In the air, the airline will offer an elevated version of the meals served in economy. The bulkhead seats offer the most legroom in this cabin. The cabin colors are inspired by the Northern lights, while the business class cabin colors were inspired by earth-toned colors.
In the middle galley of the aircraft, there's a social area for passengers traveling in business and premium. During flights to Europe, the area will be set up with self-serve snacks available for passengers.
The economy cabin on this aircraft features 276 economy seats split between 213 economy and 63 preferred seats. The light blue seats feature power outlets and personal in-flight entertainment screens. In economy, passengers will also be offered free meals in-flight on transatlantic international flights. The cabin features a 3-3-3 seating layout, like most other Dreamliner operators.
All in all the new cabins on WestJet's new 787-9 look and feel comfortable. While there's nothing new about the actual seats the airline has chosen to incorporate into the plane, WestJet has done a fantastic job with the finishes, colors, and amenities to create an exceptional and competitive transatlantic product. One downside of the aircraft is the lack of personal air conditioning vents, an amenity that airlines can customize when ordering the 787.
The 787-9 also opens up cargo opportunities for WestJet. The airline is in talks with multiple partners to enter the cargo market with increased belly space available on the Dreamliner. Cargo is often one of the largest revenue generators on long-haul flights, sometimes earning more revenue than from passenger seats.
The 787 is the first aircraft in WestJet's fleet to offer inflight entertainment seats at every seat. (Photo: AirlineGeeks | Mateen Kontoravdis)As WestJet welcomes a new fleet member with updated cabins, an executive at the airline confirmed to AirlineGeeks that within 18 months the airline will have a final decision on whether it plans to update its 767-300ERs with the new cabins or retire the aircraft. Right now, the executive stated the focus is the updating the 737 fleet and ensuring a smooth entry into service for the Dreamliner.
So far, CEO Ed Sims has said bookings on 787 flights have exceeded initial expectations. With three more aircraft expected in 2020 and four in 2021, the airline plans to add more long-haul destinations and bases at other airports, potentially including Toronto, in the future. More flights to Europe and potential flights to South America and Asia can also be expected. With an 8,700 mile range, the 787-9 can reach most major airports around the globe from Calgary, offering connections to countless destinations in the Western Hempishere.
Editor's Note: WestJet provided transportation to the writer for this event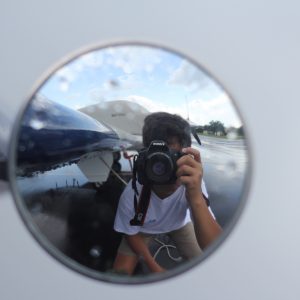 Mateen has been interested in aviation from a very young age. He got his first model airplane at six and has been airplane spotting since he was nine years old. He has always had a passion for aviation and loves learning about different aspects within the industry. In addition to writing for AirlineGeeks, Mateen is also an editor for his high school's newspaper. You can also find him on Instagram (@Plane.Photos) where he enjoys sharing his aviation photography with thousands of people everyday.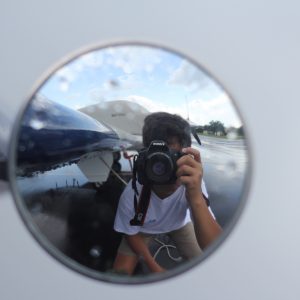 Latest posts by Mateen Kontoravdis (see all)