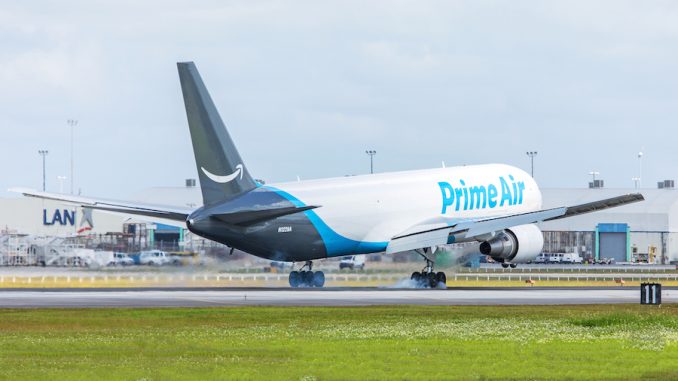 An Atlas Air Boeing 767-300ER Freighter has crashed into Trinity Bay, east of Houston. The aircraft departed Miami International Airport with Houston Intercontinental airport as its destination at 11:33 local time, and crashed "shortly before 12:45", according to an FAA statement. The crash occurred about 40 miles southeast of Bush Intercontinental Airport.
The aircraft, with MSN 25685 and registration N1217A, was converted into a freighter aircraft in 2016. The plane was one of 30 767 freighters operating for Amazon's Prime Air.
Before its conversion, it had a long run as a passenger airliner, first with Canadian Airlines, which received the aircraft in 1992. The plane then flew for China Airlines and LAN Airlines and ended its service as a passenger jet in 2014.
Officials have confirmed that there are no survivors among the three crew of flight 5Y3591. The FAA is on the way to the scene to commence its investigation and the National Transportation Safety Board (NTSB) has also been notified. The aircraft's last reported altitude was 3,000 feet and the last data received from the aircraft to FlightRadar24 occurred at 12:39 p.m. central time. The last transmission sent to the aircraft reported heavy rain near the airport. Atlas Air and Amazon have not yet provided a statement on the incident.
The FAA released a statement addressing the incident:
A twin-engine Boeing 767 cargo jetliner operated by Atlas Air Inc. crashed into Trinity Bay near Anahuac, Texas, shortly before 12:45 p.m. (Saturday).

The Federal Aviation Administration issued an Alert Notice (ALNOT) on Atlas Air Flight 3591 after losing radar and radio contact with the Boeing 767 approximately 30 miles southeast of Houston George Bush Intercontinental Airport. The aircraft was flying from Miami to Houston.

Initial reports indicate three people were aboard the aircraft.

Please contact local search and rescue officials for further information about the emergency response.

FAA investigators are on their way to the accident site and the National Transportation Safety Board has been notified. The NTSB will be in charge of the investigation.

The FAA and NTSB do not release names of people aboard aircraft. We defer to local officials to do that at the appropriate time.
This is a developing story and will be updated as more information is available.
This story was updated on Monday, Feb. 25, 2019 at 9:29 p.m. ET to correct an error involving the initial delivery of the aircraft to Canadian Airlines. 
AirlineGeeks.com began in February, 2013 as a one-man (er… teenager, rather) show. Since then, we've grown to have 20 active team members, and yes, we're still growing. Some of us are looking to work in the aviation industry as professionals when we grow older. Some of us are still trying to decide what we want to do. That's okay though, because we're all here for the same reason: we love the airlines. We're the youngest team of airline industry journalists out there.
Latest posts by AirlineGeeks.com Staff (see all)