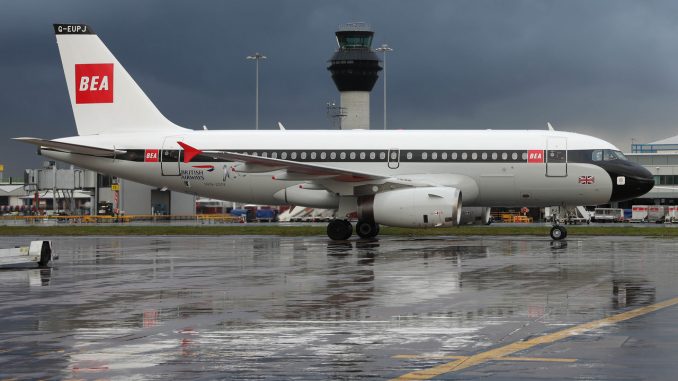 On Monday, British Airways debuted another heritage livery in celebration of their centennial.
G-EUPJ, an Airbus A319, joins G-BYGC, a Boeing 747-400 as the second British Airways jet to fly in heritage colors. G-BYGC was unveiled in February and is currently operating in the classic BOAC livery.
Excited spotters lined the perimeter fence at Heathrow as G-EUPJ touched down adorned with the vintage, eye-grabbing "Red Square" British European Airways (BEA) livery.
The Red Square livery was used by BEA between 1959 and 1968, primarily on domestic and European routes. BEA operated from 1946 until 1974 when they merged with BOAC to form the modern day British Airways.
The original Red Square livery included the BEA red cube logo on the tail and a thick black cheatline running the entire length of the fuselage. Its most noticeable and perhaps most iconic feature was the red-painted upper wing.
The replica BEA Red Square livery faithfully recreates the original livery. Enthusiasts will immediately recognize the black cheat line along G-EUPJ's fuselage and the BEA cube logo on her tail. Sadly, however, there is one feature missing. Due to modern paint reflectivity requirements, the iconic red-painted upper wing could not be replicated. Instead, G-EUPJ wears a more traditional (and compliant) grey upper wing.
G-EUPJ began service wearing her new colors this afternoon with a flight to Manchester. According to British Airways, G-EUPJ will operate on routes throughout the United Kingdom and Europe, keeping the BEA colors until the jet is retired in 2020.

Jordan joined the AG team in 2018 after attending AAviationDay in Philadelphia.He is actively pursuing his private pilot certificate and has been an aviation enthusiast since childhood.An attorney by trade, Jordan jokingly refers to himself as a "recovering litigator" and now focuses on subcontracts management.

Jordan focuses his writing on innovations in commercial aviation, aviation history, and other interesting topics he feels are worthy of discussion in the community.

Latest posts by Jordan Green (see all)