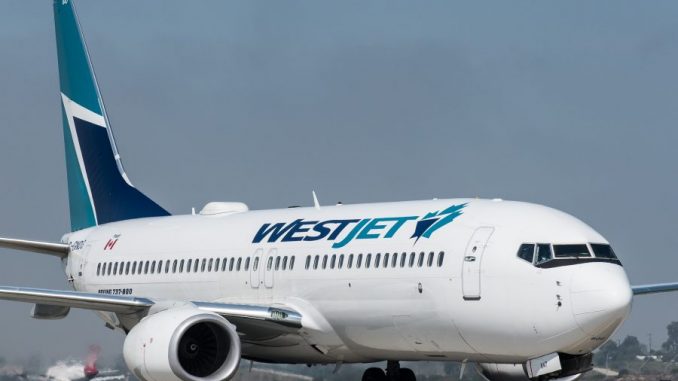 A special celebration at the Hartsfield-Jackson Atlanta International Airport on Sunday marked the first WestJet flight to the capital of Georgia. The event included a special speech by the Atlanta Airport General Manager, John Selden, and a speech by WestJet CFO, Harry Taylor followed by a ribbon-cutting ceremony.
WestJet became the only airline connecting Calgarians non-stop to Atlanta, Ga., when its inaugural flight between Calgary International Airport (YYC) and Hartsfield–Jackson Atlanta International Airport (ATL) departed at 9:55 a.m. local time. Atlanta is the 65th destination WestJet serves nonstop from Calgary.  WestJet already serves more destinations with more nonstop flights from Calgary than any other airline.
"Today's flight between Calgary and Atlanta marks another significant milestone in WestJet's continued investment into Alberta while supporting strong business and tourism ties," said Arved von zur Muehlen, WestJet's Chief Commercial Officer. "We are thrilled to offer our guests this service, along with access to 111 unique routes between Atlanta and points across North America served by both WestJet and our codeshare partner, Delta."
WestJet and Delta Air Lines have signed a definitive agreement to create a comprehensive trans-border joint venture arrangement that will offer travelers an expanded network within Canada and the U.S., frequent flyer benefit reciprocity, lounge access and joint corporate discounts. The proposed joint venture agreement is subject to regulatory approvals in the United States and Canada.
WestJet is the second largest Canadian air-carrier with more than 760 daily flights and 13,000 employees. Its headquarters is located in Calgary, Alberta, Canada. It is the ninth largest airline in North America transporting 25.49 million passengers in 2018, according to the company. It has hubs at Calgary International Airport, Toronto Pearson International Airport, and Vancouver International Airport.
This story was corrected on Thursday, March 7, 2019 at 9:26 p.m. ET to change an error stating that the service had started in the month of May. It started on March 3. 
Peter Biondi has a degree in journalism and a master's degree in airline/airport management from Embry-Riddle Aeronautical University. He is a former professor of Airline Management, Airline Marketing, Airport Management, Aviation safety, and Introduction to the Aviation Industry. He is an IATA instructor in airline business foundation. He has worked as an aviation consultant, analyst, researcher, journalist and professor. His professional experience includes Varig – Brazilian Airlines, KLM, and British Airways. Before moving to the US, he lived in Europe and South America. He is fluent in English, Spanish, Portuguese, French and Italian.
Latest posts by Peter Biondi (see all)