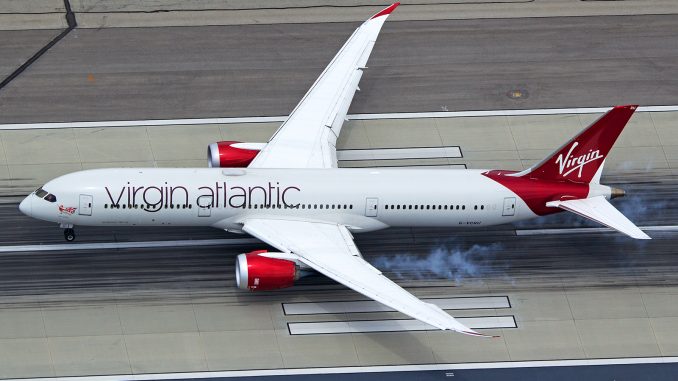 British long-haul carrier Virgin Atlantic is actively looking to broaden its profile on both sides of the Atlantic Ocean. The efforts are based on two pillars aimed at strengthening cooperation with other transatlantic carriers and for connecting flights within Europe.
To this end, Virgin Atlantic is working with Delta Air Lines, Air France and KLM on a joint venture for transatlantic flights, taking direct aim at Star Alliance carriers' United Airlines, Lufthansa Group and Air Canada's stronghold on routes between Europe and North America. At the operational level, the cooperation will be translated into codeshares between the four airlines.
According to a joint press release, the partnership is a "major milestone for an expanded joint venture between Delta, Air France, KLM and Virgin Atlantic."
In a first step, 60 codeshares to and from 18 British airports will be setup, leading to joint flight numbers on routes such as those between Edinburgh and Toronto via Amsterdam, Amsterdam to Miami via London Heathrow or London Heathrow to Chicago via Paris Charles-de-Gaulle.
In addition to the transatlantic codeshares, Virgin Atlantic is also setting up feeder connections across Europe around Exeter-based airline Flybe. Flybe shareholders have agreed to sell the regional airline to the "Connect Airways" consortium consisting of Virgin Atlantic, Stobar Air and the holding company Cyrus Capital, which had already purchased the other operations of Flybe for 2.2 million British Pounds ($2.8 million). This move had avoided Flybe's bankruptcy in mid-February.
According to airliners.de, the latest transaction will allow Connect Airways to acquire the shares at 1 pence a piece. Stobart Air and Flybe will have their aircraft liveries aligned to the Virgin Atlantic brand. Stobart Air operates 20 aircraft, while Flybe's fleet size is 80 airplanes. Both airlines together fly approximately 30 million passengers per year.
Relying on both Stobart Air and Flybe has an additional advantage for Virgin Atlantic. In case of a hard Brexit without agreement on aviation operations between Britain and the European Union, Air Stobart, which has an Irish AOC and Flybe, which has a British AOC, will allow Virgin Atlantic to keep operating intra-European and intra-British flights without adjustments.
Adrian joined AirlineGeeks as a writer in 2017. He had always wanted to become a pilot and while he chose a different career path for now, his interest in aviation continues to grow every day. Adrian was fortunate to travel extensively for business in the past five years. As a result, he focuses his research and writing on passenger services and experiences on a variety of airlines. His favorite aircraft include the Airbus A350, A380, and the Embraer passenger jets.
Latest posts by Adrian Vannahme (see all)