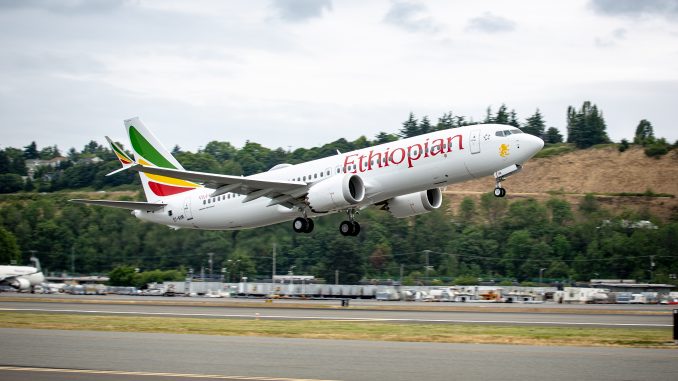 An Ethiopian Airlines Boeing 737 MAX 8 has crashed after departing from Addis Ababa, Ethiopia. Flight ET302 to Nairobi, Kenya, had 149 passengers and eight crew representing 33 different nationalities onboard.
Ethiopian Airlines confirmed online that the aircraft registration was ET-AVJ, a four-month-old aircraft, which was delivered in November of last year.
The aircraft departed Bole International Airport at 8:38 a.m. and contact was lost at approximately 8:44 a.m. local time, according to the airline. The crash site is around 37 miles from the Ethiopian capital near the town of Bishoftu. The airline and airport have set up a number of emergency hotlines to provide information about the accident.
The group chief executive, Tewolde Gebremariam, visited the crash site and later confirmed that no one survived.
The airline confirmed the flight crew reported difficulties to air traffic control. "From the air traffic control records, the pilot said that he was having difficulties and wanted to return. He was given clearance to return to Addis (Ababa)," Gebremariam said.
Gebremariam said the captain, employed since 2010, had over 8,000 hours flying experience with an "excellent flying record." ET-AVJ had over 1,000 hours with the airline since delivery.
Ethiopian Airlines is Africa's largest and fasted-growing airline and has a whole host of next-generation aircraft in operation and many more on order. The Boeing 737 MAX 8 was one of 30 the airline has on order.
This is just the second crash to happen to the relatively new 737 MAX following a Lion Air crash near Indonesia in October 2018. The aircraft's manufacturer, Boeing, stated: "Boeing is aware of reports of an airplane accident and is closely monitoring the situation."
"Boeing is deeply saddened to learn of the passing of the passengers and crew on Ethiopian Airlines Flight 302, a 737 MAX 8 airplane. We extend our heartfelt sympathies to the families and loved ones of the passengers and crew on board and stand ready to support the Ethiopian Airlines team. A Boeing technical team is prepared to provide technical assistance at the request and under the direction of the U.S. National Transportation Safety Board," the manufacturer added in a statement.
This story is developing. 
AirlineGeeks.com began in February, 2013 as a one-man (er… teenager, rather) show. Since then, we've grown to have 20 active team members, and yes, we're still growing. Some of us are looking to work in the aviation industry as professionals when we grow older. Some of us are still trying to decide what we want to do. That's okay though, because we're all here for the same reason: we love the airlines. We're the youngest team of airline industry journalists out there.
Latest posts by AirlineGeeks.com Staff (see all)