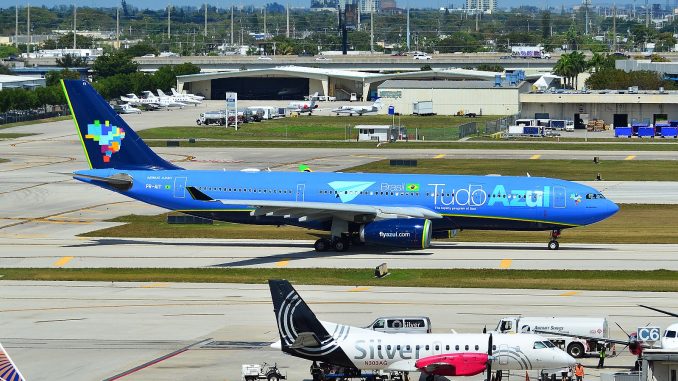 In a surprising move, the CEO of Azul Brazilian Airlines, John Rodgerson, announced that Azul is interested in buying most of the assets from Avianca Brazil, which is going through bankruptcy protection. The statement came as a surprise because Rodgerson had made previous comments showing no interest in buying Avianca.
The proposal came because of a legal possibility for Avianca to create another company with the assets and leave the debt out of the deal. This new company may include the airline's license to operate, 70 slots, and 30 Airbus A320s. Varig used a similar legal maneuver a few years ago during bankruptcy protection in Brazil.
Azul announced that it already signed a proposal offering $105 million for the assets, which according to analysts, is a bargain. The process may take up to three months to conclude and involves the approval of creditors, regulators, and the court. The next creditors meeting in April and will be decisive in approving the deal.
Avianca sent a statement saying that the agreement is not ready and the assets are not defined yet. The actual Avianca debt may reach $120 million so Avianca may try to get a better offer to cover the total debt. Avianca is running out of options and time. Just a few days ago the pilots union announced that flight crew salaries were late.
With this deal, Azul has the possibility to increase participation in the domestic market from 17.8 percent to 30 percent, very close to GOL and LATAM, creating a more balanced market share. According to ANAC, the government agency in charge of air transportation in Brazil, the domestic market share in 2018 was GOL with 35.7 percent, LATAM with 31.9 percent, Azul with 18.6 percent, and Avianca with 13.4 percent.
Peter Biondi has a degree in journalism and a master's degree in airline/airport management from Embry-Riddle Aeronautical University. He is a former professor of Airline Management, Airline Marketing, Airport Management, Aviation safety, and Introduction to the Aviation Industry. He is an IATA instructor in airline business foundation. He has worked as an aviation consultant, analyst, researcher, journalist and professor. His professional experience includes Varig – Brazilian Airlines, KLM, and British Airways. Before moving to the US, he lived in Europe and South America. He is fluent in English, Spanish, Portuguese, French and Italian.
Latest posts by Peter Biondi (see all)