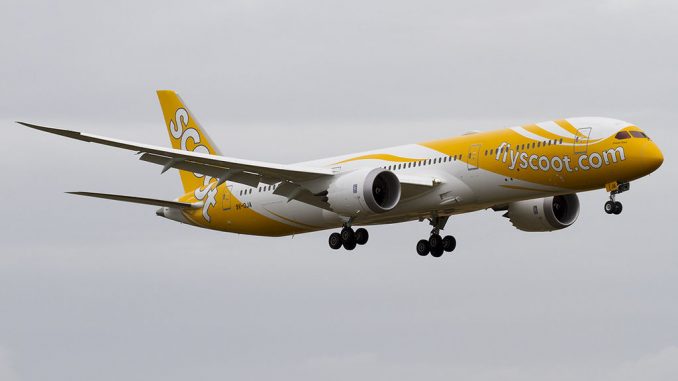 After recently celebrating its 40th anniversary, it's clear that Taipei's Taoyuan International Airport needs to enhance its facilities. On Saturday, a flight of Singaporean budget airline Scoot departed from Hokkaido, Japan en route to the Taiwanese capital when it was forced to divert to Kaohsiung. located on the opposite side of the island, when a pothole was found on Taoyuan's south runway.
The Singapore-bound flight was flying back to its base at Changi Airport via Taipei as TR893 but suffered a nine-hour delayed thanks to the diversion and a brief hold just north of Taiwan. The pothole was discovered during a routine inspection and although repair work was underway until the next morning, there were a total of 121 flights affected. While most were mere flight delays, eight arriving flights were diverted to Kaohsiung on Taiwan's southern coast.
Just one day before the pothole crippled the airport, a transformer failure caused a power outage. The airport experienced a blackout for 30 minutes on Friday with Terminals 1 and 2 affected. No flights were canceled during the power outage, but flights were delayed as a result and some passengers were even stuck in the airport's elevators.
Wang Ming-Teh, the new chairman of the airport, mentioned that the pothole incident was not "an isolated problem," and that he would identify problems and find their sources. In fact, the south runway was closed for a one-year renovation in 2014, leaving many to wonder why it would be in such a state just a few years into its operation. Wang added that "the airport will improve the water and electricity supply infrastructure."
Aging infrastructure is not the only problem that the airport is facing as expansion is another issue it needs to consider. The airport has almost reached full capacity and is experiencing lack of ramp space. Recently, two Asian low-cost carriers failed to launch a new service to Taipei due to the capacity issue. The carriers strove for better slots, but couldn't succeed.
With Starlux Airlines scheduled to begin services next year and EVA Air taking delivery of 20 Boeing 787 Dreamliners in coming years, the airport knows that difficulties are in its future if it doesn't remedy its capacity and infrastructure problems. As the main airport of entry for visitors to Taiwan, especially from the West, the airport has a duty to make a good first impression on visitors.
Taoyuan Airport handled over 46 million passengers last year, expected with popular demand and market growth, which made clear that the over-crowded airport is in need of an expansion. It's current congestion issues, however,  won't be alleviated until the new Terminal 3 is completed. The new terminal will provide 27 new stands and is expected to be completed by 2023.

Will has been a travel agent in Hong Kong for almost three decades, as time goes by he hasn't lost his passion for his job, He still has plenty of enthusiasm for the airline industry and airport operations.