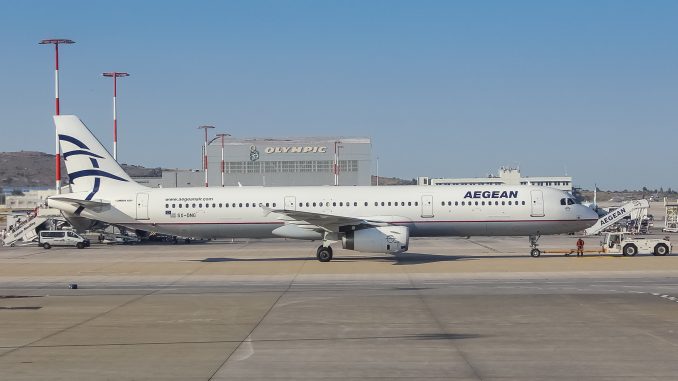 Greece welcomed 30.1 million tourists in 2017 and the number is expected to skyrocket by over 10 percent in 2018. With packed summer flights and light winter loads, the aviation sector has been very difficult to navigate for the various airlines that have attempted to succeed in this highly seasonal market. As airlines come and go, one player has found the winning formula to the region and proudly flies as the largest airline in Greece.
Serving as the nation's flag carrier, Aegean Airlines will celebrate its twentieth anniversary of commercial flights in May 2019. The airline recently announced impressive third-quarter earnings despite rising fuel costs. Revenue has increased nine percent compared to 2017 to €483.6 million ($550.5 million) and the airline carried 10.8 million passengers between Jan. 1, 2018 and Sept. 30, 2018, a six percent increase over 2017.
Despite financial troubles which have plagued Greece's economy over the past decade, Aegean Airlines has continued its expansion and secured its position as Europe's Best Regional Airline for the eighth year in a row.
In an effort to understand how the airline has managed to succeed despite operating in conditions where many have failed, AirlineGeeks interviewed Aegean's CEO to learn about the brains behind the carrier's highly successful operations. This story takes an in-depth look at Aegean's history, management, current operations, and future prospects.
Dimitris Gerogiannis, CEO of Aegean Airlines, joined the airline in 1999. An engineer by profession, educated in Greece, the Yale PhD graduate's first job back in Greece, after spending 14 years abroad, was at Athens International Airport during the construction phase.
Two years into his career, he was approached by a founding member of Aegean. Though he was leaving the biggest project at the time in Greece and a good job, Gerogiannis was excited to become a part of the start-up effort and ultimately assumed the role of CEO in 2007.
The Vision
Founder and chairman Theodore Vassilakis was a hands-on entrepreneur who had been in the service and tourism industry sector all his life prior to creating Aegean Airlines. Early in his career, he built the Greek Hertz franchise, Hertz-AutoHellas, from scratch. The company now handles over 40,000 rental cars in Southeast Europe. With plenty of business experience under his belt, Vassilakis was ready to tackle the state-owned Olympic Airways which had garnered a bad reputation among Greeks and foreigners as a result of its poor service and lackluster financial performance.
"His vision was to offer not only to the Greek people but also later to the foreigners visiting Greece very good service quality when they fly. It was less of a real business plan behind it and really his own vision," Gerogiannis said.
Taking Off and Accelerated Growth
In May 1999 Aegean Airlines officially began flights between Athens, Crete, Heraklion, and Thessaloniki using two Avro RJs. The plan was to slowly grow to five Avro RJ aircraft by the third year of operations. But just five months after commencing commercial flights and two months after Gerogiannis joined the airline, Aegean Airlines bought out Air Greece, one of its top competitors, in December 1999, inheriting the carrier's ATR 72 fleet.
In 2001, Aegean Airlines merged with another competitor, Cronus Airlines, taking over the carrier's five 737-300s and two 737-400s. Within a year of operations, the airline was flying 16 aircraft. The start-up went from 100 employees to over 1,300 in a year and a half.
"For Greek standards [it] was a very fast growth of a startup company. We were trying to fly to some airports in Greece, like smaller islands and they didn't even give us check-in desks. The government wanted to protect Olympic. There was the difficulty of starting an operation from scratch, developing the organization as it grows, and growing very fast from the first one and a half years due to the acquisition and the merger."
In 1999 the airline carried 300,000 passengers strictly on domestic flights. By the end of 2001, Aegean Airlines had flown 2.5 million passengers and entered the international market as a result of the Cronus merger. The fast growth led to losses.
"We were losing money for the first two years and the shareholders were putting their personal money into the company, which obviously we didn't like. Three years later we managed to turn the company around. The last time shareholders put money into the company was winter 2002. From then onwards we've been running the business with our own resources, with our own organic cash flow."
In 2005, the airline committed to take on the highly competitive international market and grow its presence abroad.
"If we wanted this company to grow, we knew that we had to grow it in the international markets."
The decision to grow internationally also led Aegean Airlines to make a big re-fleeting decision. With a fleet of aging Boeing 737s from different lessors, the original Avro RJs, and the ATRs, the airline knew it had to streamline its fleet. The big question was whether to stick with the Boeing 737 or switch to the Airbus A320 family. Ultimately, the airline chose the A320 in 2005.
As the first new Airbus orders were delivered and the carrier experienced steady growth, Aegean Airlines was listed on the Athens Stock Exchange in 2007. This allowed the carrier to raise about 130 million Euros, preparing it for the looming economic crisis.
2009: Anus Horribillis
"2009 was the, I call it, the annus horribillis [horrible year] for Aegean."
The Greek economic crisis lead to the downfall of many Greek companies. The Greek State under the burden of a bankrupt state-run Olympic was forced to privatize Olympic Airways. Aegean Airlines was excluded from Olympic's privatization process and, as a result, was faced with a new competitor when a private equity fund bought the airline and rebranded it as Olympic Air.
At the same time, the Greek economic crisis started to show its severe impact on the behavior of Greek consumers, whose disposable income was drastically reduced and traveling was cut.
"We had faced crises in the past, the September 11 events, the acquisition and the merger, the fact that we bought aircraft [Avro RJ] from the company that was manufacturing them which stopped in 2001, the losses of the first three years. 2009-2011 was a perfect storm. Given our profitable years after 2003 and the IPO of 2007, we had quite significant cash reserves by 2009."
In an effort to keep up its growth, Aegean decided to make two more crucial and risky decision in 2009, leading to sustained losses in 2010 and 2011.
"One [decision] was that we wouldn't give room to the newly privatized Olympic to develop and breathe. The second [decision] was to maintain the momentum we had in our international markets. We decided practically to burn some of the cash we had accumulated by 2009 in order to achieve those goals."
Additionally, the airline was invited to join Star Alliance in 2010 and benefited from the increased awareness the organization was able to provide to Aegean.
Both decisions proved effective for the airline. Within Olympic Air's first month of operations, the carrier was already generating losses. On the international front, Aegean Airlines continued growing despite being in the worst financial crisis ever in a Western country.
"Despite the fact that Greece was in dire straits, we kept increasing our presence internationally while pushing Olympic on the edge."
By 2012, Olympic had become less than half of what it was in 2009.
"We made a deal with the shareholder of Olympic, who was sick of losing and investing money, to buy the airline."
The airline returned to financial health prior to taking over Olympic Air in October 2013. With three years of losses, Aegean Airlines took advantage of 2013, the first year of some stability in the Greek economy.
"During the Greek economic crisis, we took capacity out of the domestic markets, which had drastically shrunk, and put it into international. In 2013, we had a very solid profitability which practically wiped out the cash flow losses we had in the previous three years."
One Company, Two Airlines
On Oct. 23, 2013, Olympic Air became a subsidiary of Aegean Airlines following a €72 million ($82 million) deal that was approved by the European Commission. As a result of the merger, the airline inherited one A319, four Dash 8-100s, and ten DHC-400s.
Interestingly, Aegean Airlines decided to keep the Olympic brand and all domestic service is now branded as Olympic Air flights. Though Olympic Air solely flies domestic, Aegean A320s frequently fly various domestic routes to accommodate high traffic between various points such as Athens, Thessaloniki, Santorini, and Mykonos.
"The Olympic brand has a value. It is a traditional brand in Greece. [Aristotle] Onassis created this brand in 1956. He managed to take the Olympic name, a variation of the Olympic Games logo and created the strong Olympic logo. It is a globally recognizable logo. Olympic was the airline of Greece. It has a certain degree of recognition and awareness abroad so it was a good asset to have."
A condition of the privatization agreement of Olympic signed by the government in 2009 was that in order to maintain the rights to the Olympic logo, an airline must operate with the Olympic logo.
When asked why the airline did not rebrand the entire airline to Olympic Air, Gerogiannis said:
"By 2009, the Olympic logo, especially in Europe, had been associated with bad service. It has a value in Greece and it has a lot of emotional attachment to the Greek diaspora in the United States, Australia and Africa."
He continued to state: "We had, on one hand, a logo which had a lot of awareness but a bad connotation when it came to service and we had the Aegean logo which didn't have as much awareness but had developed a very good reputation in terms of service quality, our selling proposition. We tried to make the best of both worlds with the two brands."
While the Olympic Air livery continues to proudly fly over Greek skies, all Olympic Air aircraft have a decal noting the aircraft's parent company.
Flying Year-Round in a Largely Seasonal Market
Due to Greece's highly seasonal tourism sector, maintaining a profitable year-round operation is the toughest part of any carrier dreaming to succeed in the market.
"For a company like us, it is a major issue. We try to assist in every possible and we support every effort made by the Federation of Tourist Industries in Greece, by the Greek state, by the minister of tourism, by the Greek tourist organization to extend the season. We want to have a longer season because seasonality is killing us."
In November 2018 the carrier saw an 18 percent increase in international passengers compared to the same time period last year. With an 84 percent load factor during the month, this data proves that Greece is on track to extend its tourism season, a big benefit for airlines operating in the region.
As a result of the highly seasonal market, the fleet is constantly fluctuating to meet various demands. Currently, Aegean Airlines flies 49 Airbus jets.
A $5 Billion Investment
In early 2018, Aegean Airlines made headlines when it announced an order for 30 A320neos and options for 12 additional aircraft. The aircraft will replace older airframes and add a net growth to the airline's fleet. Deliveries of the Pratt and Whitney GTF-powered jets will begin in 2022 and continue until 2025.
In addition, the airline will also source brand new aircraft with Aegean specifications from various lessors. The airline has scheduled its first A320neo flights in the fourth quarter of 2019.
From a passenger perspective, the comfort level will remain the same. There are plans to add Wi-Fi connectivity and power at seats as the airline continues reviewing proposals from various technology companies in order to complete the final configuration of the aircraft.
When making a decision to stick with Airbus, the airline went through a lengthy, competitive and detailed tender process between the A320neo and 737 MAX.
"We put the numbers together which means not only the acquisition numbers but also the operating numbers, maintenance, fuel consumption, taking into account every aspect that affects operations and cost during the full life-cycle."
The A220 and Olympic Air's Fleet
Many view the Airbus A220, formerly the Bombardier C-series, as the perfect aircraft to serve the various thin routes Aegean Airlines flies to. But for Aegean, the aircraft has not even been considered.
"For these aircraft to be a consideration for Aegean would mean that a lot of the supply chain must be homogenized."
The Olympic Air fleet will also stay the same right now due to its relatively young age. And for the AvGeeks wondering why Olympic Air flies two Dash 100 variant planes, they are solely used on the Kastellorizo route. Being the most remote Greek island, the airline serves it and the Dash 100 is the only aircraft that can get the job done due to the island's 2,624 foot runway.
In the future, Aegean may consider reshuffling its turboprop fleet as various Dash aircraft reach their retirement age. Currently, Olympic Air operates two ATR aircraft, each about four years old.
Fierce Low-Cost Competition
In 2014, Ryanair opened a hub at Athens International Airport after entering the Greek market in 2013 in Chania and Thessaloniki. Aegean Airlines was not going to let them take over their market and has successfully defended its territory. In 2016, Aegean carried 35 percent of all 12.9 million international passengers flying through Athens while Ryanair carried 12 percent.
In 2017, Aegean's share increased to 36.5 percent of 14.3 million international passengers in Athens while Ryanair dropped to 11 percent. As of 2017, Aegean Airlines also maintains a 69 percent share in the domestic market.
Gerogiannis believes that to successfully stay ahead of the low-cost competitors his airline must focus on superior customer service while also delivering low fares.
"We faced our first low-cost competition in 2003 which was Germanwings on the Thessaloniki to Germany routes. When Ryanair, Wizz, easyJet, Vueling, TUI Fly, and the other low-costs came into our market, we remained focused on getting the job done. This means being extremely good in service, providing all the tools to our people to do their job better, easier, faster and thus also improving productivity."
Regionally, the airline also competes with Ellinair, Sky Express, Cyprus Airways, Blue Air, and Astra Airlines on various routes.
"In Greece now pretty much every route we fly, there is a competitor."
To stay ahead of the competition, Gerogiannis said: "We continue to invest in our people because we clearly see that this is what differentiates us from the other companies. It's not the Airbus or the Boeing. It is not the seat A or seat B, it is the people who make the difference in the service industry. Therefore, we invest a lot in our people, in development, and training them. We also invest a lot in technology. Why? Because if any person does his or her job easier with less stress, with fewer concerns, he or she will do the job better."
The airline's constant investment in its employees has paid off. Aegean was once again named the Best Regional Airline in Europe for the eighth year in a row by customers in 2018. The airline also placed fifth in the world on the 20 Best Airlines list at the 2018 Readers' Choice Awards published by Conde Nast Traveler.
Additionally, the airline has successfully scored better than its Star Alliance partners Lufthansa, Swiss, Austrian Airlines, and Turkish Airlines on various customer surveys focused on overall satisfaction, carrier retention, and consistency of travel experience. Gerogiannis attributes the airline's reputation for excellent service to the quality and commitment of the 3,000 plus employees.
The Missed Opportunity and Going Long-Haul
While Athens International Airport continues to gain new long-haul services to North America and Asia each year, Gerogiannis believes it has missed its opportunity to be the region's biggest hub. AirlineGeeks visited the growing airport in 2017 to take a look behind-the-scenes of Greece's largest airport.
"Athens lost the opportunity to become the hub of the area in the decade between 1999 and 2009. Athens had the opportunity with [ATH] which was really back then the best airport in the neighborhood. It had the opportunity to become a real hub. It wasted its opportunity. Why? Because the Greek state insisted on managing itself an airline. A model of airline management which was already in that decade extinct in Western Europe."
So when thinking about flying long-haul, management at Aegean Airlines is in no rush to take on the extremely risky challenge.
"The airline business is notorious for its profitability. It's very difficult to achieve even low profit-margins and it's very easy to lose lots of money. Look at the recent bankruptcies in Europe (FlyBMI, Primera, Small Planet, Cobalt, Germania, Air Berlin, etc.) You need to focus on what you're doing well. If you decide to change your model, you'd better be sure that you can do it well. The airline business is not a business that you can experiment a lot with models and long-haul is a completely different business model. We're not going to think about it before we feel that there is a real opportunity for Aegean and for our capabilities. We know what we're good at, and we know what we're probably not good at…"
Doing What Aegean Does Best
At the end of 2018, Aegean Airlines celebrated another year of profitability, an accomplishment in which many do not understand the significance.
"People see Aegean and they make a comment 'Oh you guys are doing well.' They discount where we are, as if we operate in Dusseldorf or Brussels, in a very nice economically healthy catchment area. So for us, it is still a big achievement that we have another year of growth and profitability. We can look into the future with a lot more security with the choices we have made with the re-fleeting and the package around the re-fleeting because we believe through these choices will improve the efficiency of the company and will strengthen Aegean's competitive position."
In 2013, the Aegean Group including Aegean Airlines and Olympic air flew 45 aircraft to over 110 destinations. In 2018, the Group flew 61 planes to 151 destinations in 43 countries.
Recently, the airline has also significantly expanded its presence in the Middle East. Though Aegean Airlines followed the steps of many other European carriers and ended its Tehran flight, the airline continues to expand in the neighboring market. While catering to passengers vacationing in Greece, the airline has also successfully created some hub traffic in Athens, for passengers traveling between the Middle East and northwest Europe. This is a niche market that Cobalt Air failed to capture at its Larnaca hub.
Despite flying to 31 airports within Greece, international revenue accounts for 75 percent of the airline's total revenue today. For the next five years, passengers can expect growth as the carrier continues to develop its various international routes and focusing on turning seasonal routes to year-round.
"In five years I think we're good. Five years is a long time in any industry but especially in the very fast changing airline business. What I know for sure is that we all at Aegean will keep working hard every day in the coming years to adapt to the changing market conditions and secure the sustainability of our company for the following five years. For a 10 year prognosis, you have to ask the so-called 'gurus,' I call them 'futurologists.' But then again do not forget to compare their current forecast with the reality when it comes."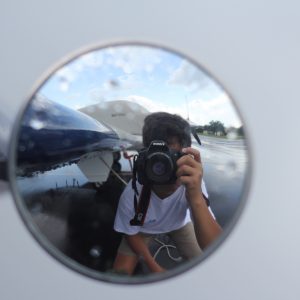 Mateen has been interested in aviation from a very young age. He got his first model airplane at six and has been airplane spotting since he was nine years old. He has always had a passion for aviation and loves learning about different aspects within the industry. In addition to writing for AirlineGeeks, Mateen is also an editor for his high school's newspaper. You can also find him on Instagram (@Plane.Photos) where he enjoys sharing his aviation photography with thousands of people everyday.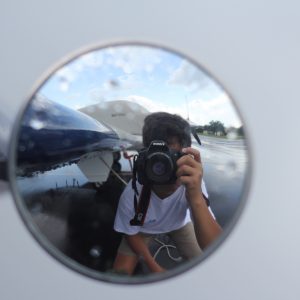 Latest posts by Mateen Kontoravdis (see all)