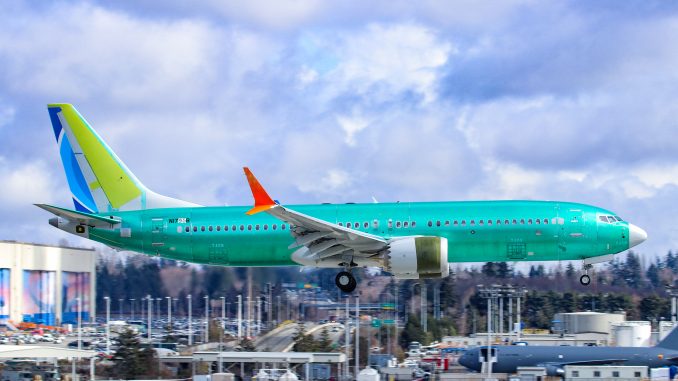 Boeing has announced its plan to cut production of the 737 MAX by one-fifth starting in mid-April. The aircraft manufacturer will now produce 42 MAX aircraft a month opposed to the 52 they have been producing.
In a statement released Friday, Boeing CEO Dennis Muilenburg says the production cut will allow "[Boeing] to prioritize additional resources to focus on software certification and returning the MAX to flight."
Muilenburg says the production cut will not result in job loss as all resources from the 737 program are being utilized to "minimize operational disruption and financial impact" of the Lion Air and Ethiopian Airlines accidents.
In addition to the production cut, Muilenburg requested the Boeing Board of Directors create a committee to examine company policies and processes for aircraft development. The committee will be made up of members from Boeing's board including Adm. Edmund P. Giambastiani, Jr., (Ret.), former vice chairman, U.S. Joint Chief of staff; Edward M. Liddy, former chairmen and CEO of the Allstate Corporation; Chairman and CEO of Amgen, Inc. Robert A. Bradway; and president and CEO of the Duke Energy Corporation Lynn J. Good.
"Safety is our responsibility, and we own it. When the MAX returns to the skies, we've promised our airline customers and their passengers and crews that it will be as safe as any airplane ever to fly," said Muilenburg.
Regardless of the production cut, Spirit AeroSystems announced the Wichita based company has entered an agreement with Boeing to maintain MAX fuselage deliveries at 52 aircraft per month.
"Spirit and Boeing have agreed to work together to minimize the disruption to Spirit operations and the supply chain," said Spirit AeroSystems President and CEO Tom Gentile. "This is a challenging time for our industry, and we are working with our customer Boeing to support them as they focus on returning the MAX to service."
To assist, Spirit is storing MAX aircraft at their facilities, which will be transferred to Boeing as needed.
"This staggered production approach allows us and our supply base to better prepare for and support 737 production," said Gentile.
Matthew Garcia became interested in aviation at the age of 12 when he installed Microsoft Flight Simulator X on his computer. He was instantly "bitten by the bug" and has been in love with aviation ever since. Matthew took his first introductory flight in 2013 and began normal flight training in February of 2015. Over the years, Matthew's love and knowledge for aviation has grown tremendously, mainly due to FSX. Garcia flies highly advanced aircraft in a professional manner on a highly complex virtual air traffic network simulating real world flying. In 2016 Matthew achieved his private pilot certificate from the FAA. Now he studies journalism at the University of Nebraska at Omaha.
Latest posts by Matthew Garcia (see all)