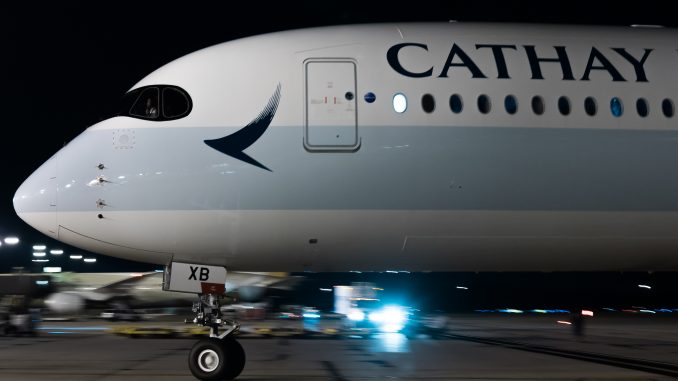 Hong Kong-based Cathay Pacific is continuing to expand its services, starting with a busy month for the airline. The carrier started a new four times per week service between Hong Kong and Seattle, along with the confirmation of taking over Hong Kong Express for $630 million from cash-strapped Chinese conglomerate HNA Group. In addition, the airline announced improvements to its European cargo services.
Cathay Pacific and Lufthansa have expanded their joint business agreement (JBA) that was signed in 2016. Under the enhanced JBA, cargo customers may reserve the "belly space" of passenger aircraft from Europe to Hong Kong, such as Munich, Frankfurt, Paris, Brussels, Madrid, Barcelona, London, Manchester, Milan, Rome, Zurich and the road feeder services on both sides.
Both airlines started joint cargo handling facilities in 2016. A few months later, the customers were able to reserve cargo space on all Europe-bound flights from Hong Kong.
Ronald Lam, Director Commercial and Cargo for Cathay, said in a press release, "Our cooperation with Lufthansa has reached an exciting new phase, which is of great benefit to our customers in Europe and undoubtedly strengthens one of the world's great trade lanes." Peter Gerber, Lufthansa Cargo and CEO added, "We are pleased that our joint customers will now be able to take full advantage of our partnership. Together, we can make air cargo even more appealing."
Cathay Pacific recorded a huge benefit last year. According to the latest annual result, "the cargo business benefited from robust demand in 2018" and "yield increased everywhere." The cargo service revenue was increased by 18 percent and the yield was risen by 14 percent. The airline believed that "reflecting an increase in high value specialist cargo shipment and higher fuel surcharges." Meanwhile, the airline's overall load factor was only 68 percent.

Will has been a travel agent in Hong Kong for almost three decades, as time goes by he hasn't lost his passion for his job, He still has plenty of enthusiasm for the airline industry and airport operations.