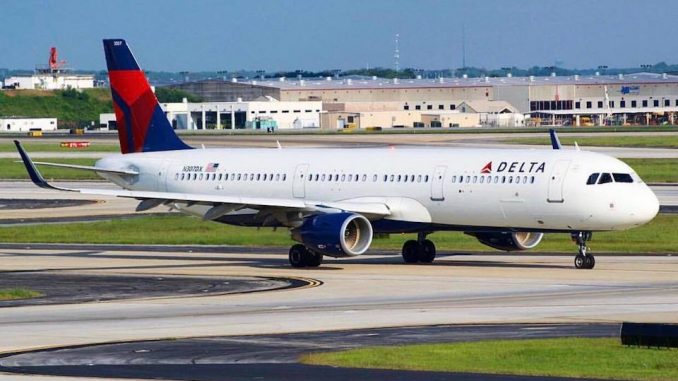 Delta has decided to take the first step towards providing free internet connection onboard its aircraft by setting up an "initial, limited test" on 55 domestic routes every day, starting on May 13.
In the never-ending quest to improve in-flight customer experience one of the hottest battlefields is represented by internet connectivity. While most carriers by now are already providing their passengers some kind of solution to connect to the internet, only a few of them have committed to making it part of the standard service they offer without demanding some kind of payment.
JetBlue in North America and Norwegian in Europe are an example of carriers that have decided to link their brand with the concept of "Free Wi-Fi" and have made the necessary investments to make sure that the majority of their fleet can provide a consistent experience to their customers.
So far, no megacarrier has locked their service commitment into a promise of "free Wi-Fi" although there have been reports of Qatar Airways testing the offer of "Complimentary Super Wi-Fi Internet" on select aircraft. Delta is now embarking in this journey that may one day see us surf the internet while flying the same way we do while we are sitting in our living room, with the same speed that allows us to stream movies while we check our emails or upload our latest pictures to the cloud.
"Customers are accustomed to having access to free Wi-Fi during nearly every other aspect of their journey, and Delta believes it should be free when flying, too," said Ekrem Dimbiloglu, Delta Air Lines Director of Onboard Product in a press release. "Testing will be key to getting this highly complex program right – this takes a lot more creativity, investment and planning to bring to life than a simple flip of a switch."
For the time being, streaming will not be supported, and the surfing experience will be limited to browsing, emails, shopping and social media. Delta's initial test on select domestic high-speed 2Ku Wi-Fi-equipped aircraft is designed to understand customer experience preferences, system performance, customer feedback and more, according to the company. "As with any test in uncharted territory, Delta will rely heavily on customer and employee feedback to navigate how to best make free in-flight Wi-Fi a reality," Dimbiloglu said.
Delta currently offers Wi-Fi on nearly all flights across its domestic and international networks and has installed high-speed 2Ku on 60 percent of its mainline aircraft. Every day there will be different segments taking part in the test, and passengers will be notified either via email or through a push message via the Delta app. Given the complexity of the project, there will likely be several test periods and a number of iterations before Delta is able to understand the right model that adds value to the inflight experience, Dimbiloglu explained.
During the tests, standard Wi-Fi for purchase and SMS messaging will continue to be available throughout the Delta network. In 2016 Delta was the first global airline to provide an all-free inflight entertainment through the seat-back screens and to personal devices, and in 2017 it was the first carrier in the U.S. to offer free text messages.
Vanni fell in love with commercial aviation during his undergraduate studies in Statistics at the University of Bologna, when he prepared his thesis on the effects of deregulation on the U.S. and European aviation markets. Then he pursued his passion further by obtaining a Master's Degree in Air Transport Management at Cranfield University in the U.K. followed by holding several management positions at various start-up carriers in Europe (Jet2, SkyEurope, Silverjet). After moving to Canada, he was Business Development Manager for IATA for nine years before turning to his other passion: sports writing.
Latest posts by Vanni Gibertini (see all)