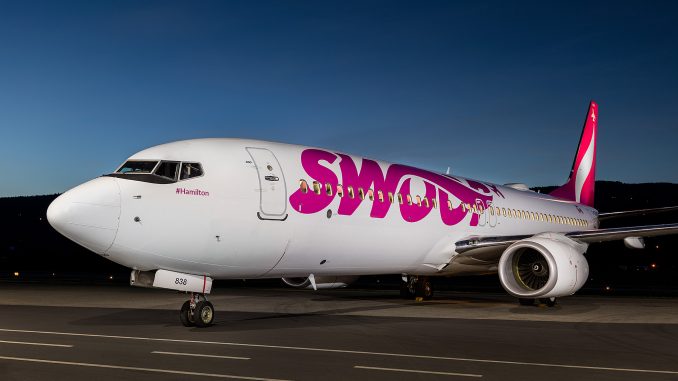 Since high average fares are quite typical of the Canadian market, it was not difficult to foresee the launch of one or more Ultra-Low-Cost Carrier (ULCC) ventures north of the 45th parallel. Despite being the first new ULCC, NewLeaf Airlines never really started their operations before they were eventually taken over by Flair Air in 2017, and a second start-up Canada Jetlines is only due to commence flights by the end of 2019, the incumbent carrier WestJet tried to get ahead of the game and launched its own ULCC called Swoop.
With a very bright pink logo and sassy slogans normally associated to a new unconventional competitor in the marketplace, Swoop is a six-aircraft airline based at Hamilton International Airport in Ontario (about a one-hour drive from Toronto) and Edmonton International Airport in Alberta with flights to 14 destinations in Canada, the U.S., Mexico and the Caribbean.
Their fleet is entirely made up of Boeing 737-800 aircraft with 189 economy class seats, exactly like the Irish-based low-cost airline giant Ryanair. Unlike their European counterpart, Swoop offers 39 extra legroom seats that are sold at a premium. Passengers are allowed only a small personal item for free, while carry-on bags and checked bags command an extra fee, between 30 and 36 Canadian dollars per segment (23 to 27 U.S. dollars), following very closely the ULCC business model made successful in North America by Florida-based Spirit Airlines.
The chance to try Swoop for the first time came with a promotional fare of 99 Canadian dollars (approximately 70 U.S. dollars) one-way between Hamilton, Ontario and Las Vegas. Like all Canadian carriers, Swoop routes are heavily seasonal and operatives are adjusted accordingly throughout the year.
As flights to Las Vegas are approaching their seasonal end, some weak days probably needed a load factor boost through promotional fares, and there came this one that provides a good opportunity to try out the new airline.
As I usually do, I tried to check in online 24 hours on the day before departure, just to find out that my itinerary was not eligible for online check-in. I assume this was due to the one-way international itinerary I had booked that would require a manual check of my passport and immigration documents.
In this instance, the inability to check-in online does not constitute a major inconvenience, since Swoop does not allow passengers to choose a seat for free during the check-in process; choosing a seat is only possible by paying a fee, otherwise a seat is assigned automatically without the possibility of it being changed. I was eventually assigned seat 18F, a window seat, while I would normally prefer an aisle seat to be able to move freely without disturbing other passengers.
John C. Munro Hamilton International Airport is a typical old-style regional airport, one that essentially assumes all passengers reach their departure airport by car. There is only one bus line connecting Hamilton Airport to downtown, but that does not operate on weekends.
Since my departure was on a Sunday, after taking a one-hour bus from Toronto Union Station to Hamilton Transit Centre, I had to take another bus to an out of town transit hub where a taxi would eventually take me to the airport following the payment of a bus fare surcharge. The entire journey from Toronto to Hamilton Airport took approximately two and a half hours.
The small check-in lounge was equipped with six Swoop check-in desks, all with a scale to weigh bags, but without the usual integrated conveyor belt: after labeling, bags had to be carried manually by passengers to the general baggage belt.  I had pre-booked a checked bag since it was cheaper than a carry-on and provided a much bigger allowance.
Security checks were a breeze since not many flights were departing at that time and I had arrived quite early at the airport. The departure lounge is not very big but extremely functional: the unmissable Tim Hortons coffee shop, a duty-free store, many seats in different configurations, power points to charge electronics and a playpen for children.
Boarding operations were surprisingly slow: both in the terminal and onboard there was no sense of urgency, unlike what happens on carriers that consider operational efficiency a must, like Southwest and Ryanair. Boarding was made in groups, but after priority boarding and group 1, all other passengers were allowed on board together.
There are no jet bridges or buses at Hamilton Airport: passengers have to walk across the ramp to get to the aircraft, and considering there were three flights boarding at the same time and all gates were next to each other there was significant potential to get passengers on the wrong flight. At the time of boarding the flight to Las Vegas, there were also a Swoop service to Edmonton, Alberta and a Norwegian flight to Dublin, Ireland.
Flight WO800 from Hamilton to Las Vegas was scheduled to depart at 7.30 p.m. and land at 9:00 p.m. local time, for a scheduled duration of 4 hours and 30 minutes. The extremely relaxed boarding procedure led to a short delay, with the flight pushing back at 7.43 p.m., and a longer than expected flight time of 4 hours, 43 minutes had us land in Vegas at 9.26 p.m.
The seats on the aircraft are quite standard, covered in grey leather, with a seat pitch that seems to be between 29 and 30 inches. It's quite surreal to see all the overhead bins almost empty with passengers keeping all their belongings between their legs. I asked to put my light jacket in the bins and the flight attendant was very helpful and put it up for me.
A very limited choice of food was offered on the menu: no sandwiches, only noodles, oatmeal and various snacks, with a good selection of soft drinks, spirits, beer, water, tea or coffee. There is no individual screen, as expected, and no content to be streamed to the passengers' own devices. However, every seat has a power plug to keep phones, tablets and a PC charged, and it is possible to connect to the internet for a fee.
Packages are available for 30 minutes, 2 hours or 24 hours and prices ranges from 12 to 36 Canadian dollars (9 to 27 US dollars). For passengers who have iPass or Boingo subscriptions, it is possible to use the existing account and the connection will be charged according to their respective plans.
The flight landed at Terminal 3 at McCarran Airport in Las Vegas and all passengers had to go through U.S. immigration. All major Canadian airport have pre-clearance facilities that allow passengers to clear U.S. Customs and Immigration before their flight and therefore arrive in the U.S. as domestic passengers.
However, Hamilton Airport does not have this facility, therefore Swoop flights from there can only arrive at U.S. airports already able to handle international arrivals, somehow limiting the range of destinations available for expansion.
The experience was certainly positive, although the ULCC business model has some aspects that leave me unsatisfied. Not being able to pick my seat without having to fork out $20-$30 to reserve it in advance is quite annoying, and it is even more annoying having to pay to carry with me even the bare minimum.
The personal item allowance is perfectly acceptable for short commuter flights of 90 minutes or less, but I find it hard to cram everything I need for a 4/5-day trip into a small backpack. Furthermore, each airline seems to have different maximum dimensions allowed, almost requiring a specific piece of luggage per each airline. Personally, I find it inconvenient, but if I lived in a place where a ULCC offers a wide range of destinations at attractive prices, I would probably adjust my travel habits to take advantage of their fares.
However, their fares seem to be the biggest problem: they are nowhere near low enough to make all this hassle worthwhile. I managed to scoop up a low 99-dollar fare, but that is more an exception than the rule. On my way to the airport, I saw billboards advertising 199 dollars one-way as lead-in price for the same route. That would add up to a 398 dollar round trip fare, without checked bags, without carry-on, and without even being able to pick a seat at check-in.
That fare is not too dissimilar of what can be obtained with traditional network carriers, once everything else is included. And that doesn't even take into account the possible cost and hassle of driving to a very out-of-the-way airport.
One of the elements that drove the success of low-cost airlines, from Southwest to easyJet to Spirit, was their ability to widen the catchment areas of the airports they served by offering very low fares: people were willing to drive a very long distance just to get those low fares. In this case, the difference between Swoop prices and the fares offered by traditional carriers does not seem big enough to generate the same effect, and this could be a problem in the long run.
Vanni fell in love with commercial aviation during his undergraduate studies in Statistics at the University of Bologna, when he prepared his thesis on the effects of deregulation on the U.S. and European aviation markets. Then he pursued his passion further by obtaining a Master's Degree in Air Transport Management at Cranfield University in the U.K. followed by holding several management positions at various start-up carriers in Europe (Jet2, SkyEurope, Silverjet). After moving to Canada, he was Business Development Manager for IATA for nine years before turning to his other passion: sports writing.
Latest posts by Vanni Gibertini (see all)