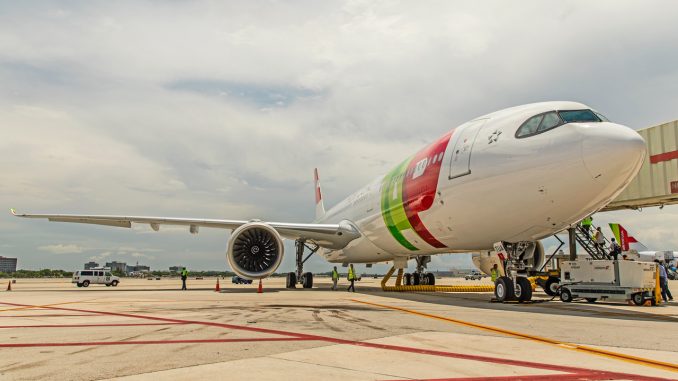 TAP Air Portugal flew its inaugural flight from its hub in Lisbon to San Francisco Monday with the brand new Airbus A330-900neo jet. The new service to San Francisco (SFO) marks the flag carrier's second regular trans-Atlantic A330neo flight to the U.S. after Chicago O'Hare and is the first non-stop service to exist between Portugal and the U.S. West Coast.
TAP will fly five weekly nonstop flights between Lisbon Airport and SFO operating on Mondays, Tuesdays, Thursdays, Saturdays, and Sundays departing Lisbon at 10:00 a.m. and arriving into SFO at 2:40 p.m. The flight returning back to Lisbon departs SFO at 4:10 p.m. and arrives back at 11:35 a.m. the following morning. The fight time is around 11 hours in total and travels almost 5,663 miles.
"For us, all Portuguese, this is a very important moment, and for Portuguese living in California even a more important moment having a direct flight from Lisbon to Portugal," said Maria João Lopes Cardoso, Consul General of Portugal in San Francisco. "This is (not only) a great boost for tourism but also for business."
"The San Francisco Bay Area has long been recognized as a center of innovation and technology and Lisbon is home to the world's largest tech conference. With this new service, TAP Air Portugal brings these tech centers closer together," said Jeff Littlefield, Chief Operating Officer for SFO Airport.
TAP is the launch airline for the new Airbus A330neo. As one of the world's fastest growing airlines, TAP has plans to deliver 71 more of the new aircraft by 2025. Portugal has become a more popular destination and TAP is continuing to add new service from the U.S. to Portugal.
"The U.S. is a very important market. Over the last year, TAP has been increasing the number of U.S. destinations and the number of daily frequencies to this country…and with the confidence of our passengers, the growth trajectory could not have been better," said Miguel Frasquilho, Chairman of TAP Air Portugal.
"The presence in Newark, in JFK, Miami, and Boston, TAP was the fastest growing European airline to the United States in terms of passengers in the last four years. The U.S. is our third most important market for revenue. I would say the direct flight between San Francisco and Lisbon makes a lot of sense. It is the perfect match."
Onboard the new jet, TAP travelers can look forward to large individual entertainment screens, Wi-Fi, and free texting. The business class cabin features 34 lie-flat seats in addition to standard amenities such as charging ports, individual readings lights, and storage space. Economy class seats feature shades of green, red and gray. Furthermore, the cabin also has economy class seats with three additional inches of legroom.
TAP has been expanding its presence in the U.S. this month having launched service to Chicago last week. Its U.S. destinations also include Boston, Miami, New York. The airline will launch service to Washington Dulles on Sunday.
"When I went to Portugal for the first time to do the privatization, I had never been to Portugal. I was born in Brazil, I Speak Portuguese, but I had never been to Portugal. And now it seems that everyone that I knew either wanted to go to Portugal or heard about Portugal but no one had been there." David Neeleman, TAP co-owner and founder of JetBlue told travelers on the inaugural flight to Lisbon.
"You have to have convenient access for people to go. Well, now we have it, and that's why Portugal is (booming) today because for the first time TAP is offering access."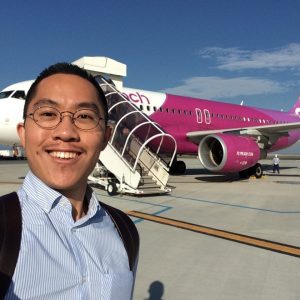 Most people hate long flights or overnight layovers, but Albert loves them. The airport and flying parts of traveling are the biggest highlights of any trip for him – as this avgeek always gets a thrill from sampling different airline cabin products and checking out regional developments happening at local U.S. airports. He's flown on almost every major carrier in the U.S. and Asia Pacific, and he hopes to try out the new A350s soon.

Albert recently completed his undergraduate studies in Business Accounting at USC in Los Angeles and he is currently recruiting for a corporate analyst position at one of the U.S. legacy carriers. During his college years, he interned at LAX for Los Angeles World Airports working behind-the-scenes (and on the ramp) in public relations and accounting. Outside of writing for AirlineGeeks, he enjoys trekking the Hollywood hills, visiting new hotspots throughout SoCal, and doing the occasional weekender on Spirit Airlines.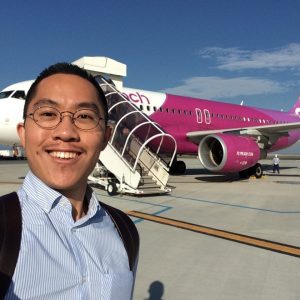 Latest posts by Albert Kuan (see all)