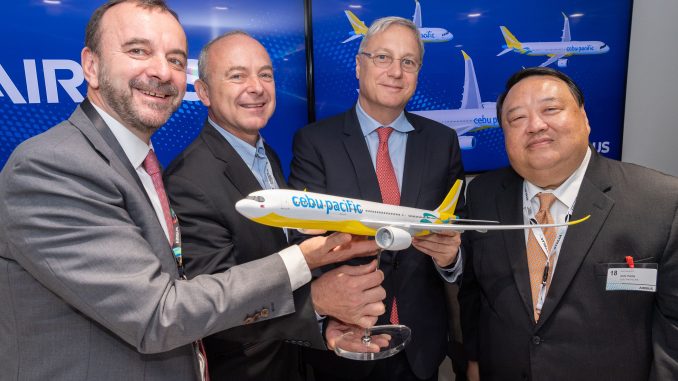 Philippine low-cost carrier Cebu Pacific placed a major order for new generation aircraft from Airbus on the second day of the 2019 Paris Air Show. The Manila-based carrier will begin operating A330neos and A321XLRs in a move that will enable the airline to expand to more destinations throughout the Asia Pacific and Australia. This order comes one day after Airbus announced the new A321XLR on day one of the Paris Air Show.
Cebu Pacific placed orders for 31 Airbus aircraft including 16 A330-900s, 10 A321XLRs and five A320neos. The airline is maximizing seating capacity to a new bar, fitting 460 seats in the A330-900s, 264 in the A321XLRs and 194 in the A320neos, all in a single class layout.
While A320 family jets are expected to feature an industry standard 3-3 configuration, A330-900s will hold a 3-3-3 configuration, increasingly common for the type on Asian low-cost carriers and similar to Air Asia's configuration onboard its new A330-900s. A 2-4-2 configuration is the common onboard the economy cabin of most other Airbus A330s operating around the world.
"The A330neo will give us the lowest cost per seat and allow us to continue offering the lowest fares. Moreover, the lower fuel burn matched with higher seat density will allow CEB to address growing demand for leisure and business travel, by upgrading aircraft and maximizing available airport slots in Manila and other megacities we serve," said Lance Gokongwei, President and CEO of Cebu Pacific.
Cebu Pacific has a wide array of destinations including Singapore, Hong Kong, Kuala Lumpur, Tokyo, Sydney and Melbourne from its seven focus cities in the Philippines.
Not including its subsidiaries, the airline has a fleet of 54 Airbus aircraft, made up of 36 A320s, one A320neo, seven A321s, two A321neos and eight A330s. Older aircraft will be replaced by incoming aircraft orders. This latest agreement supports the carrier's ongoing fleet renewal program which aims to have only new, environmentally efficient aircraft by 2024.
Gokongwei said: "Our strategy is to replace our fleet with bigger and more fuel-efficient aircraft to fly more passengers utilizing our existing slots while reducing our environmental footprint per passenger. We will be operating an all Airbus NEO fleet by end-2024 and retiring our older generation jets."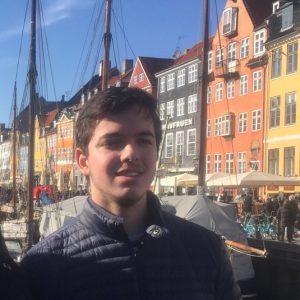 As a geography nerd, Jose has always been fascinated by the complexities of the airline industry and its ability to bring the world closer together. Born and raised in Peru, now studying in the UK. he has travelled around America, Europe and South East Asia. His favorite aircraft is the Boeing 767-300, which he has flown many times during his childhood; although now the A350 is slowly growing up on him.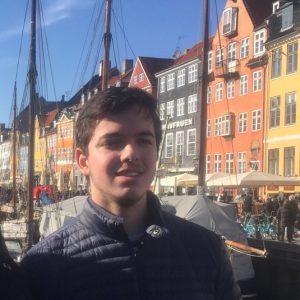 Latest posts by Jose Antonio Payet (see all)