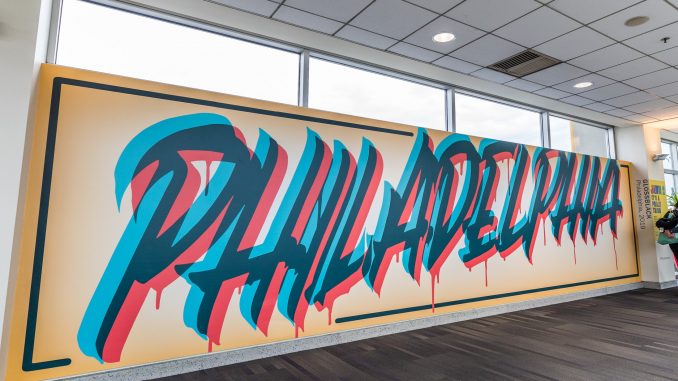 Philadelphia International Airport last week unveiled a new exhibit celebrating Philadelphia's history in the field of medicine.  The exhibit, located in Terminal A East, gives passengers a look at Philadelphia's storied history in the medical field from colonial times through the present. Philadelphia Airport Chief Executive Officer Chellie Cameron and Philadelphia Mayor Jim Kenney were present for the unveiling.
"All of us know about Philadelphia's historical significance as our nation's birthplace and the first U.S. capital," Cameron said. "This exhibit shares Philadelphia's prominence as the seat of medical innovation dating to Colonial times and its status today as an epicenter for advancements in medicine."
The exhibit, titled "Philadelphia A Global Medical Hub Since the 1700s," is a collage style exhibit has 80 panels which celebrate many of America's medical firsts that occurred in Philadelphia. That list is impressive and includes America's first hospital, medical school and college for women doctors.  The first successful brain surgery, heart surgery using a heart-lung machine and the discoveries of rabies, rubella and hepatitis B vaccines are also featured in the exhibit.
As part of the unveiling ceremony, Dr. Stanley Plotkin, who developed the rubella vaccine, as well as numerous other vaccines, was presented with a Mayoral Citation for his accomplishments.
In addition to educating visitors about Philadelphia's many impressive medical firsts, the exhibit honors pioneers in the medical field who practiced in Philadelphia and highlights the Philadelphia region's prominent reputation as a global hub for pharmaceuticals, biotech companies, educational institutions, and research institutions.
The airport's "cargo city," which AirlineGeeks toured with local AvGeeks during last year's AAviationDay events, includes a special climate-controlled cargo center dedicated solely to pharmaceutical cargo that must be kept at a regulated temperature to maintain the effectiveness of the drugs.
The exhibit will remain on display in Terminal A East until June of 2020.

Jordan joined the AG team in 2018 after attending AAviationDay in Philadelphia.He is actively pursuing his private pilot certificate and has been an aviation enthusiast since childhood.An attorney by trade, Jordan jokingly refers to himself as a "recovering litigator" and now focuses on subcontracts management.

Jordan focuses his writing on innovations in commercial aviation, aviation history, and other interesting topics he feels are worthy of discussion in the community.

Latest posts by Jordan Green (see all)