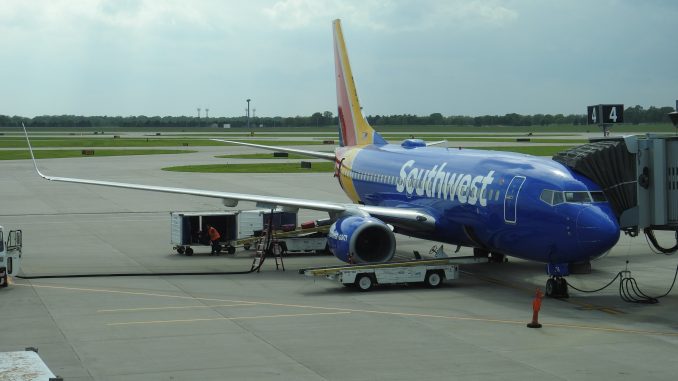 After publishing a Southwest trip review in 2015 based on my flights from St. Louis to Orlando, I assumed I wouldn't need to go back and write another report of 'The Symbol of Freedom.' Simply put, a Southwest experience is fairly similar for most routes. However, recent changes in Southwest's approach to St. Louis and their smaller cities in the Midwest have left me wowed, so I decided it would be best to highlight this travel adventure from the plains of Kansas to the Lake Erie shorefront.
For my trip, the flight I would take would be a small portion of Southwest Airlines Flight 496. Altogether, WN496 would operate legs across the United States to cities including Salt Lake City, Denver, Tucson, Las Vegas, Wichita, St. Louis and Cleveland, but I would be onboard for just two legs: Wichita to St. Louis and St. Louis to Cleveland. The aircraft to operate the two short flights would be a 10-year-old Boeing 737-700 with registration N935WN.
I arrived at Wichita Dwight D. Eisenhower National Airport two hours prior to departure since I was so early, Southwest's counter was still being used by passengers looking to check bags for the 3:30 p.m. departure to Phoenix.
The crowd did little to slow down my progress though as my bag was checked within ten minutes of arriving at the airport. A quick trip up the escalator and through security got me airside within 15 minutes of arriving. A quick trip to Chick-fil-a left me plenty of time to take advantage of Wichita's spacious terminal and large window viewing lounge chairs.
After an hour of sitting around the quiet airport, I watched Southwest 496 touch down on runway 19R and work its way to gate 4. Flight 496 would start boarding on time at 4:40 p.m. with Southwest's traditional boarding process taking shape around the lone Southwest boarding towers in Wichita. I took my spot at A41 and waited for my turn as preboards and A1 through A30 made their way down the jetbridge.
The Flight
Once onboard, I decided to move to the rear of the aircraft knowing that I would be able to move forward since I did not have to worry about changing aircraft during my layover. The aircraft was yet to receive the new Meridian seats, instead having the old school Innovator II seats. Southwest's spacious seating gave me plenty of leg room, even after putting my computer bag and camera bag underneath the seat in front of me. Sliding into seat 20A, I settled in for the one-hour flight.
As the boarding process started to conclude, our captain came over the intercom and said that we would wait for one passenger who had just bought a ticket on the landside area of the terminal and that "it would be a shame to leave without him." The last-minute addition would push our 5:10 p.m. departure to 5:17 p.m, but would also mean that the 143-seat Boeing 737-700 would not be leaving Wichita with a single empty seat.
Once pushed, the quiet Dwight D. Eisenhower airport did not slow our ability to quickly work our way to runway 19R and at 5:24 p.m. flight 496 was airborne and making its way to St. Louis.
The cloud cover would provide our only bumps in the first leg of the flight and those only lasted a few minutes before flight 496 reemerged into clear skies at 8,000 feet. At this point, I attempted to buy Southwest's inflight Wi-Fi, but the service was slow and unable to load PayPal for me to purchase internet.
Inside the cabin the mood was lively, I joined in on the talkative crowd and made light conversation with the gentleman in 20B, who was a fellow college student who had just finished spring camps for a local community college's football team and was returning home for the summer.
The aircraft would continue to climb over rural Kansas to its short cruising altitude of 39,000 feet. During this time the cabin crew would perform the beverage run and I would receive the Southwest standard of Coca-Cola and pretzels.
After crossing the state line, flight 496 began its descent into St. Louis. Just past the city of Columbia our aircraft began its more rapid descent into St. Louis, increasing its vertical speed from -1,000 feet per minute to -2,000 feet per minute.
Because of the winds, flight 496 would have a straight in approach to runway 11 after maneuvering behind an American 737 from Dallas in front of us. The short flight distance and large tailwinds meant that while the aircraft had pushed seven minutes late, we would reach St. Louis early with the wheels hitting the ground at 6:20 p.m. The touchdown was smooth and that transitioned into a rapid taxi to our gate in a long chain of recent Southwest and American Airlines arrivals.
Southwest's St. Louis late afternoon flights are unique in their ability to provide an easy transfer from the Midwest to the east with minimal downtime. Flight 496 would share the ground with other blue, red and yellow aircraft that had recently arrived from cities including Des Moines, Little Rock, Oklahoma City, Omaha, and Kansas City.
Since I was not changing planes, I was one of two passengers who had first choice of seating for flight 496's next leg to Cleveland. The other Cleveland-bound passenger and I took turns using the forward lavatory and moving our bags forward while the crew got to work restocking and cleaning the Boeing 737 before its final leg of the day.
Since we had arrived early and there was still some time before boarding began, conversation broke out in the forward cabin to pass time. The flight attendants decided to call upon our German first officer to have him pronounce words like various German towns and the phrase "I love you," causing the captain to lean out from the cockpit to respond "Now that is a romantic language."
The flight crew would shortly thereafter disband to their individual locations as I made my way to my new seat, seat 6A. The aircraft would load quickly with the flight crew telling everyone that there would not be a free seat available, meaning for the second time in a row flight 496 would be operating at full capacity.
With boarding complete, the fleet of Southwest aircraft began to push back to continue their flights eastward to cities like Columbus, Chicago-Midway, Orlando, Boston, Philadelphia, Washington-Reagan and Raleigh-Durham. Flight 496 to Cleveland would push three minutes early at 7:12 p.m.
Following flight 276 to Columbus, we worked our way across St. Louis-Lambert International Airport to runway 12R. After waiting for the Columbus-bound jet to depart, we would take our turn and begin the second leg of my journey to Ohio.
Unlike 496 from Wichita, the mood in the cabin was quieter as the sunset started to darken the inside of the cabin.
The final rays of sunlight would be extinguished as we worked our way through the clouds in the skies between Columbus and Cleveland. Despite the high altitude of the clouds and the snow falling outside our aircraft at 10,000 feet, the ride remained smooth and the aircraft continued its linear approach into the Cleveland metropolitan area. The ride from Cleveland would be almost as quick as the Wichita leg, with Flight 496 concluding its lengthy day by touching down at Cleveland Hopkins International Airport on time at 9:20 p.m.
We cleared runway 6R to make room for the next arriving aircraft and worked our way to gate B8 as the first officer became the first person to welcome everyone to Cleveland.
Once parked at gate B8 and I was able to step off the plane, passengers quietly worked their way through the darkened Cleveland airport to the baggage carousel. After collecting my bag, I went outside into the cool Cleveland air to meet my parents and get myself some sushi (shameless plug for Wasabi Japanese Steakhouse in Beachwood).
Review
At the end of the day, this Southwest review feels very similar to my review in 2015, I see the same advantages that Southwest offers in their fantastic flight crews, comfortable seats and two free checked bags that have helped the airline become the largest domestic carrier in the United States. I also recognize the same areas for improvement, including wanting to see the airline add inflight seatback power and improve their wifi.
But while this trip review might just read as another Southwest trip review, I do see some special things here that need to be noted. Most trip reviews I have seen for Southwest tend to cover large markets, such as my colleague Joe flying the inaugural Boeing 737 MAX 8 flight between Dallas-Love and Houston-Hobby.
However, few talk about the small cities that Southwest services. The airline had struggled to find a recipe that worked for these ex-AirTran cities after integrating them into their route map after their merger in 2015.
I for one will admit that I had chosen other brands over Southwest in Wichita since I found Southwest's flight times to Chicago-Midway and Dallas-Love either inconvenient or uncompetitive with airlines with similar routes like United and American. But I was also was concerned when they were rumored that they would suspend Wichita and other Midwest cities routes in 2016.
The airline's last chance effort by bringing in nonstop flights to Phoenix and St. Louis seems to have paid off. The airline has had no rumor of pulling service since the new routes were launched and the airline added Southwest Cargo to Wichita in the years following the switch.
The revamping of St. Louis to provide a banked schedule for Midwest flying has been a major advantage for Southwest travelers. I know many people who have used or considered Southwest since the Southeastern-bound flights are more convenient and even I who rarely flies have used the route on two of my last three eastern going flights with both flights to Cleveland and Atlanta leaving little downtime in St. Louis. With a solid onboard product and now a solid base to connect to I have definitely added to Southwest to my list of airlines to use when I fly from the "The Aviation Capital of the World."
Although Ian McMurtry was never originally an avgeek, he did enjoy watching US Airways aircraft across western Pennsylvania in the early 2000s. He lived along the Pennsylvania Railroad and took a liking to trains but a change of scenery in the mid-2000s saw him shift more of an interest into aviation. He would eventually express this passion by taking flying lessons in mid-Missouri and joining AirlineGeeks in 2013. Now living in Wichita, Kansas, Ian is in college majoring in aerospace engineering and minoring in business administration at Wichita State University.
Latest posts by Ian McMurtry (see all)