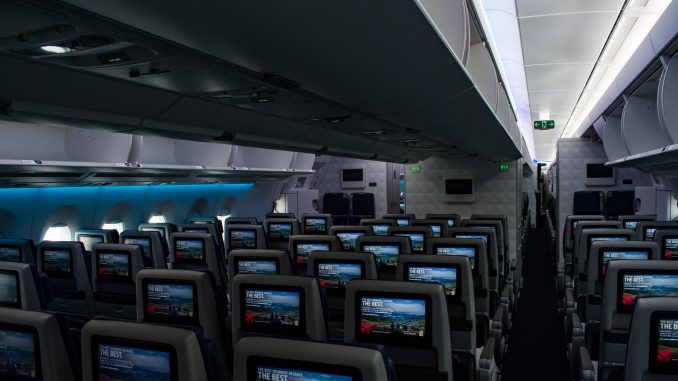 Delta Air Lines this past week announced an interesting passenger enhancement. It's interesting and albeit surprising for two reasons. First, it's an actual passenger enhancement, not a devaluation of a frequent flyer program or gutting of some other nice thing. Passengers will genuinely be having a better experience. Second, it impacts economy passengers.
Enhanced Service
Starting this November on international flights of 6.5 hours and longer, along with some select shorter ones, economy class passengers flying Delta will be given hot towels and a welcome cocktail along with an entirely redesigned meal service. Flight attendants will also be given additional training to help create consistency in what Delta calls an elevated coach offering.
Here's how the whole new thing is supposed to go. The purser or lead flight attendant is supposed to greet passengers in the gate house, this will be followed by a personal greeting at the boarding door.
Then shortly after departure economy passengers will be offered free "Welcome Aboard" cocktails featuring Bellinis, a sparkling wine mixed with peach puree.
After this customers can expect a refreshing hot towel service. It is unclear if the hot towel will indeed be a hot towel similar to what is offered on domestic first class flights of a warmed moist towelette, which would be a page from the now-defunct carrier Air Berlin's book.
Meal service is where the most enhancements take place. Passengers will be given a paper menu and offered choices of appetizers and entrees to mix and match their meal. Larger entrees are supposed to be inspired by Delta One dishes. Dessert will then be served separately with the usual fixing of water, coffee, tea, or complimentary wine.
A second hot towel service will commence prior to arrival to give passengers a chance to freshen up. This will be followed by a thank you and a chocolate.
Overall Better Economy Service
This along with Delta's decision to keep nine abreast seating on its Boeing 777s instead of the industry standard 10 abreast seating along with amenity kit offerings actually will make flying in economy on Delta the least miserable experience out of the main U.S. carriers.
Delta seems to be placing a bet that it can demand a revenue premium on its economy offering over what competitors can do and this will result in passengers booking away from other airlines and flying Delta for the better experience at potentially higher costs.
It Doesn't Matter
These investments in coach could potentially not lead to anything useful. Most economy passengers are extremely price sensitive and this has been proven by the success of basic economy. People are willing to endure considerable punishment for a cheap ticket.
Initially, when low-cost carriers were gaining popularity in the U.S., the main domestic carriers actually matched fares and argued that customers would realize that the legacy carrier fares were better and therefore not book with the low-cost airlines.
That didn't happen. People instead still booked the cheapest fare. Some may argue that these small improvements will make economy passengers feel human, however passengers have proven that they don't need to feel human if they save a few bucks. They're happy to be self-loading cargo.
While the improvements to the Delta economy experience seem nice, it's a bit of a stretch to think that it will actually make a difference in the long run.

Hemal took his first flight at four years old and has been an avgeek since then. When he isn't working as an analyst he's frequently found outside watching planes fly overhead or flying in them. His favorite plane is the 747-8i which Lufthansa thankfully flies to EWR allowing for some great spotting. He firmly believes that the best way to fly between JFK and BOS is via DFW and is always willing to go for that extra elite qualifying mile.

Latest posts by Hemal Gosai (see all)