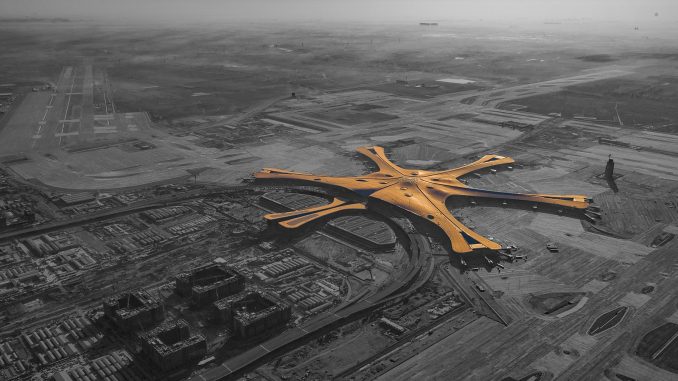 The new Beijing Daxing Airport conducted its first comprehensive rehearsal on Friday. According to CCTV, Chinese state media, the jumbo airport is set to begin operations on September 30.
The Chinese capital owns Beijing Capital Airport in the northeast of the city, which is the second busiest airport in the world and handled 101 million passengers last year. Based on the Chinese government's estimates, the passenger volume in Beijing could reach 170 million by 2025, meaning that the overcrowded Capital airport couldn't meet the huge air traffic demand in the future.
The Chinese government spent five years to complete the construction and its transport systems, such as high-speed railway, highway and subway. Daxing airport has the largest terminal with four runways, which is located in the south of the capital. Daxing Airport may handle 100 million passengers and have seven runways eventually. According to the Civil Aviation Administration of China (CAAC), the new airport can generate 600,000 new jobs and contribute $130 billion to the regional economy.
The major Chinese airlines are gearing up for the new airport, China Southern Airlines has built Asia's largest hangar, operational control center and aviation food production center. The airline will have 40 percent of the total airport slots. China Eastern Airlines was offered 30 percent of the time slots and will transfer part of their flight operations to Daxing. Also, Air China will operate some flights out of the new airport.
Finnair and LOT Polish Airlines have announced that they will operate to Daxing from Helsinki and Warsaw respectively. Meanwhile, both airlines will keep their services at Capital airport.
In addition, British Airways becomes the first international airline to move all operation to Daxing Airport. The last British Airways flight to Capital Airport will depart on Oct. 25, 2019 from London's Heathrow Airport. "We are excited to be moving to Beijing Daxing. It will also support our ambition to increase leisure and business travel between China and the U.K," Noella Ferns, British Airways' Executive Vice President in Greater China and the Philippines said.

Will has been a travel agent in Hong Kong for almost three decades, as time goes by he hasn't lost his passion for his job, He still has plenty of enthusiasm for the airline industry and airport operations.