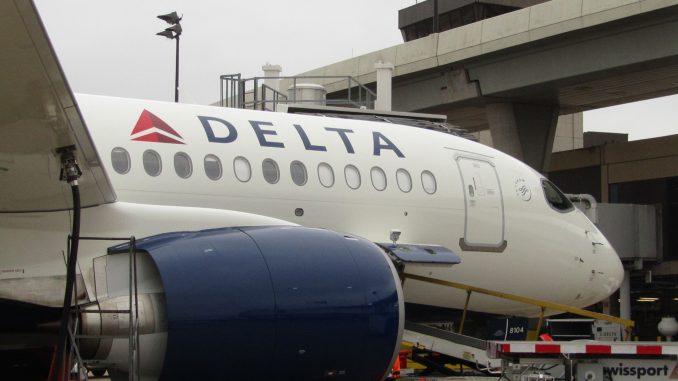 Airbus has officially begun manufacturing the A220 at its U.S. plant in Mobile, Ala. The first U.S. built aircraft, formerly known as the Bombardier C-Series, is set to be delivered to Delta Air Lines in the latter half of 2020. 
"The expansion of our commercial aircraft production in Mobile to a second product line – with 400 additional jobs to support it – further solidifies Airbus' standing as a truly global aircraft manufacturer, and confirms without a doubt that Airbus is an important part of America's manufacturing landscape," said Airbus Americas Chairman & CEO C. Jeffrey Knittel in a press release from the manufacturer. 
"With Mobile, and our production network in Asia, Canada, and Europe, we have strategically created a worldwide industrial base to better serve our customers," he continued.
By producing the A220 on United States soil, Airbus can sell aircraft to U.S. based carriers as a domestic aircraft, avoiding the potential high tariffs on Canadian-built aircraft. Boeing filed a petition against Bombardier in 2017 for selling the C-Series to U.S. carriers far below the production cost. After investigation, the United States International Trade Commission found that the Canadian aircraft posed no threat to the U.S. industry.
Production of the A220 at the Mobile Aeroplex at Brookely was announced by Airbus in October 2017 with the construction of the hangar and additional buildings began early this year. The plant will eventually be able to produce between 40-50 A220 aircraft per year. 
After production at the Mobile plant, the aircraft will then be sent to Mirabel, Quebec, Canada for the primary final assembly will take place. The A220 began its life as the C-Series in Mirabel, home of Bombardier before Airbus acquired 50.01 percent of the program's stake in October 2017.
Airbus first began stateside production in 2015 with the first five A321 aircraft being delivered shortly after. The plant now produces four airplanes a month, nearly 50 aircraft a year.
Matthew Garcia became interested in aviation at the age of 12 when he installed Microsoft Flight Simulator X on his computer. He was instantly "bitten by the bug" and has been in love with aviation ever since. Matthew took his first introductory flight in 2013 and began normal flight training in February of 2015. Over the years, Matthew's love and knowledge for aviation has grown tremendously, mainly due to FSX. Garcia flies highly advanced aircraft in a professional manner on a highly complex virtual air traffic network simulating real world flying. In 2016 Matthew achieved his private pilot certificate from the FAA. Now he studies journalism at the University of Nebraska at Omaha.
Latest posts by Matthew Garcia (see all)