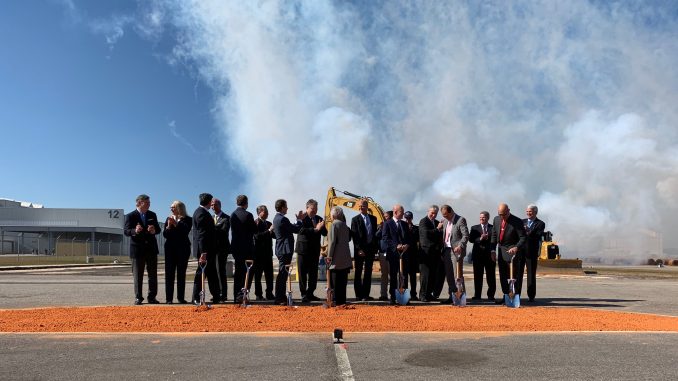 On a sunny Wednesday afternoon, Airbus wrapped up its three day North American tour by breaking ground on its newest final assembly line (FAL) for the Airbus A220 (formerly known as the Bombardier CSeries) in Mobile, Ala. The aircraft manufacturer, who is no stranger to Mobile, already has a final assembly line for the A320 family in Mobile's Aeroplex at Brookley.
Since 2015, Airbus has sent out 103 A320 family aircraft from Mobile. Most of the aircraft assembled in Mobile are the A320 and A321 for seven U.S. based airlines. To this day, no A319s have been assembled in Mobile. Airbus assembles approximately a little more than four aircraft per month – which is right where they want to be.
The A220 program has their work cut out for them with an order book of more than 500 aircraft. With their existing footprint, building the final assembly line in Mobile was a no brainer. When completed, the A220 FAL will be adjacent to the A320 facility, and will be capable of producing both the A220-100 and A220-300 models. When fully up and running the facility will be producing four A220 aircraft per month.
The A220 aircraft produced in Mobile will be exclusively for U.S. airlines. As of now, those airlines are Delta, jetBlue and start-up airline dubbed "Moxy." Production of the A220 in Mobile is expected to begin in the third quarter of 2019 with the first delivery of a Mobile built A220 scheduled for early 2020. Due to its outstanding order book and the urgency to begin production, Airbus will assemble the aircraft in Mobile before the construction of the final assembly line is fully completed.
In attendance for the groundbreaking were Airbus executives, Airbus manufacturing employees, state officials and airline representatives. Kay Ivey, the Governor of Alabama, said six years ago Mobile wasn't producing aircraft. Mobile is now poised to be the fourth largest commercial aircraft production site in under a decade.
After each speaker made their remarks, they signed a steel beam that will be part of the A220 FAL. Later, everyone in attendance was invited to sign the beam. The event ended with a traditional groundbreaking ceremony with a surprise fireworks display in the background.
Story and photos by AirlineGeeks photographer Shaquille Khan
AirlineGeeks.com began in February, 2013 as a one-man (er… teenager, rather) show. Since then, we've grown to have 20 active team members, and yes, we're still growing. Some of us are looking to work in the aviation industry as professionals when we grow older. Some of us are still trying to decide what we want to do. That's okay though, because we're all here for the same reason: we love the airlines. We're the youngest team of airline industry journalists out there.
Latest posts by AirlineGeeks.com Staff (see all)