Korean Air has announced major changes to its Japan flight schedule for the winter travel season. The Seoul-based carrier will be suspending and reducing some of its major routes to Japan from several of its hubs and focus cities in South Korea. While some will be temporarily suspended, others will be suspended indefinitely. At the same time, the South Korean flag carrier will introduce new services and increase the frequency of routes in Southeast Asia, Oceania and China.
Korean Air said in late July that demand for travel to Japan has dived in the weeks since Japan restricted exports of key semiconductor-manufacturing materials to South Korea. As a result, the airline has decided to suspend several routes to Japan because of the drop-off in reservations.
Korean Air will suspend the Busan-Osaka route from Sept. 16, 2019. Currently, the route is operated 14 times a week. From November 1, 2019, the airline will also suspend the Jeju-Narita route, which is currently operated three times a week and Jeju-Osaka, which is operated four times a week.
The airline will also temporarily suspend some of its other routes at its Incheon hub. The Incheon-Komatsu and Incheon-Kagoshima routes will be put on suspension from Sept. 29 to Nov. 16, 2019. These routes currently operate three times a week. The Incheon-Asahikawa route, which operates five times a week, will be suspended from Sept. 29, 2019 to Oct. 26, 2019.
The popular Incheon-Osaka and Incheon-Fukuoka routes will see less frequency from Oct. 27 through Nov. 16, 2019. Both routes currently have 28 flights a week and the frequency will be decreased to 21 flights a week between Oct. 27 and Nov. 16. Furthermore, the frequency of Incheon-Okinawa flights will be reduced from seven to four flights a week. Busan-Narita and Busan-Fukuoka flights will be reduced from fourteen flights a week to seven flights a week between Sept. 29 and Nov. 16.
In the meantime, Korean Air will strengthen its route competitiveness focusing more on high-demand markets such as Southeast Asia, Oceania, and China during the winter season.
In Southeast Asia, Korean Air will launch a new daily route to Clark in the Philippines, starting from Oct. 27. The airline will also add four more flights a week for the tourist-heavy Incheon-Chiang Mai/Bali route. This increases the number of flights per week to eleven. In Oceania, the frequency of the Incheon-Brisbane route will be increased from five flights a week to seven.
Korean Air is also planning to expand its network to China with the launch of new direct services from Incheon. The airline plans to start direct flights from Incheon to Zhangjiajie and Hangzhou. The airline wants to serve these Chinese cities three times a week each. The airline also plans to serve Nanjing from Incheon four times a week. The service between Incheon and Beijing will also be operated 17 times a week, up from the previous 14 a week.
Asiana Airlines, South Korea's second-largest airline, has suspended travel between Busan and Okinawa from Friday to late October. Budget airlines in South Korea have followed suit with their own suspensions.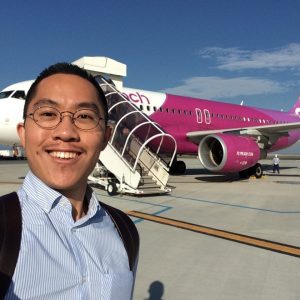 Most people hate long flights or overnight layovers, but Albert loves them. The airport and flying parts of traveling are the biggest highlights of any trip for him – as this avgeek always gets a thrill from sampling different airline cabin products and checking out regional developments happening at local U.S. airports. He's flown on almost every major carrier in the U.S. and Asia Pacific, and he hopes to try out the new A350s soon.

Albert recently completed his undergraduate studies in Business Accounting at USC in Los Angeles and he is currently recruiting for a corporate analyst position at one of the U.S. legacy carriers. During his college years, he interned at LAX for Los Angeles World Airports working behind-the-scenes (and on the ramp) in public relations and accounting. Outside of writing for AirlineGeeks, he enjoys trekking the Hollywood hills, visiting new hotspots throughout SoCal, and doing the occasional weekender on Spirit Airlines.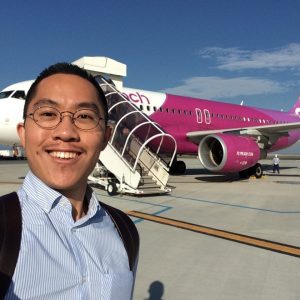 Latest posts by Albert Kuan (see all)