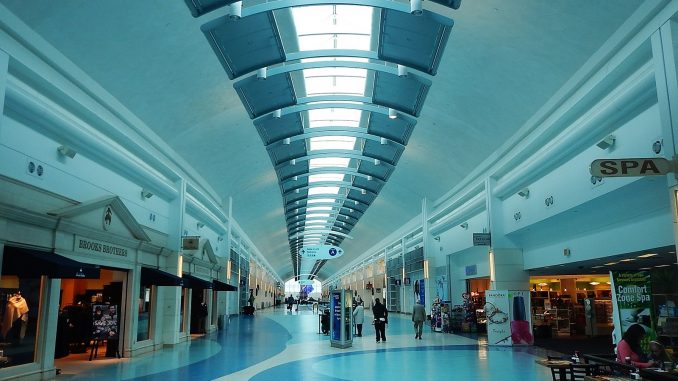 In recent decades, the push to improve green technology has led to the creation of new alternative energies like solar power and wind turbines. This push for green technologies has also pushed airports to achieve a new type of rating as they build or evolve their current structures.
The sought-out certification known as the Leadership in Energy and Environmental Design (LEED) is a U.S. Green Building Council (USGBC) award that is given to structures both public and private that prove to be environmentally responsible in their construction and operation. The award was originally created in 1993 and would grow to become the standard in recognizing buildings that push to be green. The USGBC is a non-profit organization that is one of the leaders in promoting and certifying green projects and has awarded projects both domestically and internationally.
According to the USGBC's website, the LEED certification comes with four rating levels, these four are certified, Silver, Gold and Platinum. There is a point difference that ranks each structure with Certified ranging from 40 to 49 points, Silver ranging from 50 to 59 points, Gold ranging from 60-79 points and Platinum being any structure to achieve greater than 79 points. These points are determined by a building's sustainability, water and energy efficiency, construction materials and innovation of design.
Despite the award being around for years, it would take until 2010 for a United States airport to finally make a push to get their structure LEED certified. Boston Logan International Airport's Terminal A would receive the LEED Certified award for its use of reduced water in bathrooms with waterless urinals and low-flow sinks and for energy reduction via a heat-reflecting roof and naturally dimming lights. The terminal is currently still LEED Certified and utilized by Southwest Airlines and Delta Air Lines. No other Logan Airport terminals, though, have been altered to receive a LEED award.
While the start was slow, Boston receiving the award to be LEED Certified it opened the doors to many airports following suit. New projects pushed to be the new standard for LEED certification with many terminals, including Los Angeles International Airport's Tom Bradley International Terminal, John F. Kennedy International Airport's Terminal 4, and Hartsfield-Jackson Atlanta International Airport's Terminal F all taking home LEED Gold certification.
However, the first LEED Gold terminal would be found in California with the construction of San Francisco International Airport's Terminal 2. Taking in 43 points total, the airport's rebuilt structure scored high in water efficiency, energy and atmosphere, indoor environmental quality and innovation. The terminal opened to the public in the spring of 2011 and was LEED Gold certified by December. San Francisco's terminal reduced energy consumption by 15 percent below the city's standards and also reduced water quantity by 40 percent.
San Diego International Airport would take the greatest step in 2014 when its terminal would be the first airport terminal to receive the highest honor of being LEED Platinum. The airport went well above and beyond to make sure that it would receive the award, pushing everything from basics like low-flow faucets and solar panel installation to drought-tolerant landscaping and stormwater pollution prevention to keep airfield materials from draining into San Diego Bay.
Originally titled "The Green Build", San Diego strived on making sure the building process was also as green as possible. Local companies helped with construction with new items or recycling the old structures for use in the project as the airport valued the local market to reduce transportation costs. Altogether, The Green Build would clock in at $907 million, $45 million less than the original budget.
After finishing construction, airport builder Turner Construction Company Operations Manager Dan McGuckin noted that "From the outset, The Green Build was designed with an eye toward the environment. Not only were we able to reduce our environmental footprint during the construction process, but we've constructed a new terminal that will be 32 percent more energy efficient than the standard code. We're extremely proud of that."
And while Californian airports have been a key playing in pushing LEED, the city of Chicago has done similar quests in the recent years to make sure all of its new projects or renovations have the LEED seal of approval. At Chicago O'Hare International Airport, renovation and building projects have landed the airport LEED Silver awards for the FedEx World Services Center, Signature Flight Support building and South Air Traffic Control Tower. The latest project on the North Air Traffic Control Tower would take the airport to the next level, landing its first LEED Gold award in April 2019.
The size and scale of the endeavor haven't stopped smaller airports for pushing to receive the LEED award. Appleton International Airport's General Aviation Terminal and Chattanooga Metropolitan Airport's Main Terminal have both received the LEED Platinum award for their construction. Chattanooga would also be noted for their implementation of a solar farm off of Runway 20 which was completed in the summer of 2019. This 2.64-megawatt facility has allowed the Tennessean airport to become the first airport in the United States to run entirely off solar power.
When it comes to LEED airport certifications, the USGBC has also allowed international structures to receive the award. Schiphol Airport Amsterdam's TransPort Office Building received the LEED Platinum certification in 2011, New Delhi's Indira Gandhi International Airport would take a LEED Gold rating in 2011 and Bangalore International Airport's Terminal 1 would receive a LEED Silver award in 2008 before upgrading the building to LEED Gold after a renovation in 2013.
But not all airports see the need to be LEED-certified. Wichita Dwight D. Eisenhower National Airport constructed a new airport in 2013 but never took the extra step to become LEED certified, despite meeting all demands in the design and operation phases. Because the USGBC charges thousands of dollars to obtain a certificate, Wichita decided that the cost would greatly benefit the airport since it is a government structure and an enhanced public image would not benefit the airport.
The city saw the LEED process as a path to follow despite never having a plaque to hang on the wall establishing it was certified. Despite this, the terminal has still received other awards for being green including the Airports Going Green Award.
What was once a forgotten push has now become standard practice. Whether or not the terminal decides to push for certification is up to the city, but it has now become common practice to start by building designs that are within LEED requirements. The push to be the best has allowed airports to strive for any award that shows they are connecting with their local economies, putting the environment first and thinking about themselves in the long-term with terminals that are more efficient than ever.
And with new terminal projects on the horizon in cities like Chicago, New Orleans and Kansas City, the list of airports with LEED requirement structures is destined to grow more and more every year.
Although Ian McMurtry was never originally an avgeek, he did enjoy watching US Airways aircraft across western Pennsylvania in the early 2000s. He lived along the Pennsylvania Railroad and took a liking to trains but a change of scenery in the mid-2000s saw him shift more of an interest into aviation. He would eventually express this passion by taking flying lessons in mid-Missouri and joining AirlineGeeks in 2013. Now living in Wichita, Kansas, Ian is in college majoring in aerospace engineering and minoring in business administration at Wichita State University.
Latest posts by Ian McMurtry (see all)