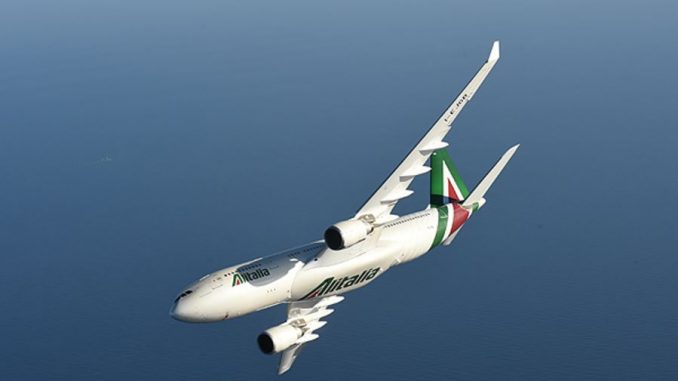 Another deadline has passed for Alitalia and there is still no indication of a likely solution to the Italian flag carrier's long-standing troubles. A binding offer that was due to be presented by Oct. 15 on behalf of the consortium led by Ferrovie dello Stato and Atlantia did not materialize due to internal contrasts within the group of investors that also includes the Italian Ministry of Finance and Delta Air Lines.
It was Delta's position in the venture that was challenged by Atlantia on several occasions during the past weeks. Atlantia wrote a letter to the Italian Minister of Finance Stefano Patuanelli urging him to intervene in order to obtain a bigger commitment from the U.S. carrier.
Delta Air Lines has so far only promised to provide a maximum of 120 million euros for approximately 12 percent of the new Alitalia, but Atlantia would like to see a bigger cash injection in order to have more capital for an ambitious relaunch plan. Delta's plan, Atlantia's letter reads, is nothing more than "a risky rescue mission" with "time-limited effects" and "would not constitute a platform to relaunch Alitalia."
After this letter, dated Oct. 2, various meetings had taken place among the various stakeholders to find a consensus. Altantia and Ferrovie dello Stato have also entertained conversations with Lufthansa in order to explore a possible interest by the German carrier to replace Delta Air Lines as the industrial partner in the consortium.
However, it was immediately clear after the preliminary meetings with Lufthansa CEO Carsten Spohr that the Cologne-based airline was not interested in owning any equity in the new Alitalia. The Cologne-based carrier was merely interested in proposing a commercial partnership that entailed the exit of the Italian flag carrier from the SkyTeam alliance and entrance into Star Alliance.
The negotiations seem to have reached an impasse, with Atlantia demanding a more committed industrial partner and Delta Air Lines unwilling to commit to more than a 12 percent stake into the new Alitalia.
As the deadline was approaching, Atlantia and Ferrovie dello Stato issued press releases confirming their commitments to creating a plan to save Alitalia. The two, however, imposed some strict conditions to the government and requested further eight weeks to complete the plan, the Italian newspaper Corriere della Sera reported.
The first condition was the participation of a strong industrial partner, willing to make a significant equity investment in the company. Clearly, the 100-120 million euros offered by Delta Air Lines are not deemed to be sufficient. Delta is also coming off of a 1.9 billion dollar investment in South America's LATAM.
The second condition is an agreement on governance for the new company where the new CEO would be decided by Atlantia and Ferrovie dello Stato with the endorsement of the government. Delta Air Lines has always appeared very keen on placing its own people in key positions, but the majority of stakeholders do not seem to be willing to make that concession to Delta or any other industrial partner not investing significant equity.
Furthermore, the three administrators will have to continue managing the airline until the operation is concluded, and the government should provide them with the means to do their jobs. This would entail, according to Corriere della Sera, providing enough funds for the severance payments resulting from the approximately 2,000 layoffs envisaged in the preliminary plan, and provide another bridge loan of approximately 250 million euros to ensure operational continuity throughout the changeover.
Alitalia was injected with a 900 million euros bridge loan in 2017 immediately after it went into bankruptcy protection, but now most of that money is gone and the airline is losing approximately 750,000 euros per day. Its cash reserves are estimated to be around 310 million euros, according to Corriere della Sera.
Finally, the 250 million euro loan should not be considered as state-aid by the European Commission, and the government should commit to maintaining fair market conditions for Alitalia. The deal would mean stopping marketing incentives to low-cost carriers from smaller regional airports and a review of fifth freedom rights allowing foreign carriers to operate international flights out of Italy to third countries.
Emirates Airline is currently one of the carriers operating a fifth freedom flight to Italy. The Dubai-based airline operates a daily service between Milan's Malpensa Airport and New York's John F. Kennedy International Airport, a route also served by four other carriers, Alitalia, Air Italy, American Airlines, Delta Air Lines, while United Airlines operates to Newark Liberty International Airport.
It is unlikely that Alitalia's administrator will grant the eight-week extension requested by Atlantia and Ferrovie dello Stato to re-engineer the relaunch plan, but the main problem appears to be the lack of an industrial partner. Since the only two carriers that have expressed some interest are not considered suitable, it is difficult to see who else could intervene at this late stage to make a sizeable financial commitment of at least 200 million euros, provide all the expertise to design a turnaround plan and, in exchange for that, leave all the decision-making power in the hands of the majority stakeholders and the Italian Government.
The deadline to present a new plan was Oct. 15 and that date has come and gone and with no plan in sight. There is, however, a letter signed by Atlantia and Ferrovie dello Stato saying they are committed to preparing a plan, at the conditions detailed above, but they need eight weeks to do it.
The Court of Civitavecchia, near Rome, is ultimately responsible to oversee Alitalia's management under bankruptcy and the letter may not be enough to keep the administrator in charge and wait for another elusive plan. If not, it will be game over and Alitalia will have to be liquidated.
If yes, the administrator will have to decide how much time to allow Atlantia and Ferrovie dello Stato to create a viable plan, together with an industrial partner at present nowhere to be seen. All this hoping the company doesn't run out of cash in the meantime.
Vanni fell in love with commercial aviation during his undergraduate studies in Statistics at the University of Bologna, when he prepared his thesis on the effects of deregulation on the U.S. and European aviation markets. Then he pursued his passion further by obtaining a Master's Degree in Air Transport Management at Cranfield University in the U.K. followed by holding several management positions at various start-up carriers in Europe (Jet2, SkyEurope, Silverjet). After moving to Canada, he was Business Development Manager for IATA for nine years before turning to his other passion: sports writing.
Latest posts by Vanni Gibertini (see all)