In mid-June, Aegean Airlines was once again named Europe's Best Regional Airline for the ninth consecutive year by Skytrax World Airline Awards. Commonly referred to as the "Oscars of the aviation industry," Skytrax has come under scrutiny on multiple occasions for the various awards it has handed out, including the recent downgrading of Turkish Airlines' status to a three-star airline.
Having won the same Skytrax award nine times in a row, however, I knew I needed to fly Aegean Airlines when I traveled to Greece.
Edward Plast, CEO of Skytrax, acknowledged Aegean's heavy investment in its employees when awarding the airline this year at the Paris Air Show: "This is a major recognition for Aegean Airlines front-line staff who are responsible for achieving such high customer satisfaction. Achieving this consistency to be voted as the Best European Regional Airline for a ninth consecutive year is not an easy task and it is a great triumph for Aegean Airlines to have achieved this major recognition from customers."
Last year, AirlineGeeks sat down with Dimitris Gerogiannis, CEO of Aegean Airlines, to discuss the airline's history, future and award-winning customer service formula. With this year marking the 20th anniversary of the Athens-based airline, which has since grown to become Greece's largest carrier, it was time to put that to the test.
Booking
When searching for nonstop flights between Madrid and Athens, I had the option to choose either Iberia, Air Europa, Vueling or Aegean Airlines. In May, I opened an Aegean Airlines Miles+Bonus account, one of the most lucrative Star Alliance mileage programs, and was looking forward to earning my first set of points from this flight. Just two days before booking my flight, Miles+Bonus sent me a coupon for 40 percent off any intra-Europe flight.
With 40 percent off the original ticket price, it was clear that I'd choose to fly with Aegean Airlines since Iberia and Air Europa tickets were more expensive before even applying the coupon. In total, I paid $137 for the one-way flight.
For most international flights, Aegean Airlines offers the Upgrade Challenge. After purchasing your flight, there is an option to name the price you are willing to pay to upgrade to business class. I bid the minimum, 100 euros ($110.86), understanding that the peak summer season means all seats in the business class cabin would probably be sold out.
To my surprise, I received an email 48 hours prior to departure telling me that the upgrade had cleared. As part of the deal, I was now entitled the full business class experience including airport priorities, lounge access and an additional checked bag.
Airport Experience
Departing from the center of Madrid, I arrived at Adolfo Suárez Madrid–Barajas Airport in less than 40 minutes via taxi. The city's metro system connects to the airport as well with stations in Terminal 2 and Terminal 4.
Now a business class passenger, I was able to skip the queue and utilize the dedicated premium lane. Check-in was seamless, as was the security screening.
Terminal 2 at Madrid Airport is the airport's oldest and mainly serves European and Intra-Schengen flights. Airlines that can be found at the terminal included multiple European Star Alliance and SkyTeam members such as Lufthansa, Alitalia, Air France and Aegean Airlines.
As a business class passenger, I had access to the Sala VIP Puerta De Alcala lounge located right next to my departure gate. All Star Alliance passengers flying premium cabins on Aegean Airlines, LOT Polish Airlines, SWISS, TAP Air Portugal, Brussels Airlines and Lufthansa have access to this Priority Pass Lounge.
The lounge itself was quite busy for a Saturday, but there were numerous seats available throughout. Plenty of food and drinks, both alcoholic and non-alcoholic, were also available in a buffet set-up. For AvGeeks, the lounge boasts fantastic views of the terminal action and Runway 14R/32L movements.
While the lounge was an acceptable lounge offering for an intra-Europe flight, it did not measure up to Aegean's recently renovated lounge in Athens which offers comfortable seats and a great selection of Greek food.
The Flight
During the summer season, Aegean Airlines flies to Madrid 10-times-weekly mainly using its largest aircraft, the Airbus A321. The winter season sees a frequency reduction to daily service utilizing a mix of A320 and A321s.
SX-DVP, an 11-year old Airbus A321, operated my flight to Athens. All Aegean Airlines A321s are configured with 196 seats in a two-class configuration consisting of economy and business class. All 48 seats between the first and second set of exit doors offer additional legroom; however, only the first four rows are used for the business class cabin.
The airline charges extra for "Up Front" seats, which have the same amount of legroom as business class, but the prices are usually reasonable and are worth the extra few dollars. On a domestic Aegean flight, I was able to snag an Up Front seat for as low as $5.
In business class, Aegean Airlines offers the standard "EuroBiz" configuration, which means a blocked middle seat transformed into a side-table, within the 16-seat cabin. Only a pair of red curtains were used as a partition between business and economy during the flight.
Despite having been upgraded quite easily, every single seat on the flight was occupied. The same seemed to be the case on the four other Aegean flights I took during the busy summer season.
I was initially seated in seat 1A but switched to seat 3A so a fellow passenger could sit with her two kids. Despite seat 1A being a bulkhead seat, seat 3A had additional legroom.
On the ground, flight attendants offered business class passengers a choice of orange juice, sparkling wine or water. I had an orange juice, after which the flight attendant came through the cabin handing out menus for this 3-hour and 30-minute flight.
Once we pushed back, the airline's safety video featuring Greek NBA star Giannis Antetokounmpo was screened on the overhead monitors. While no safety video can compare to the bar set by Virgin America's #VXsafetydance, this was a unique and attention-grabbing video.
Flight attendants then walked through the cabin distributing Aegean's signature candy to all passengers on the flight and after a long taxi, we took off from Runway 14L bound for Athens.
After passing 10,000 feet, flight attendants immediately sprung into action to begin a full drink and meal service in both business class and economy. Aegean Airlines embraces its Greek heritage onboard with traditional Greek food and drinks, duty-free items and content promoting the nation on its overhead screens. The airline's bi-monthly Blue magazine is also available in the seatback pocket for all passengers.
The airline recently activated AEGEAN Stream, a service available in the carrier's mobile app which offers entertainment options such as newspapers and magazines for passengers. There is no in-flight WiFi available currently to passengers; though, the carrier is evaluating proposals from potential partners to add the service in the future.
In an effort to distinguish its in-flight meal service from its competitors, Aegean Airlines teamed up with four of Greece's most well-known chefs and wine experts to curate unique menus for its flights. The airline calls its in-flight service "Gastronomics" and claims it to be an "all-inclusive flavor experience which allows you to enjoy all manners of Greek dishes and wines."
The business class flight attendant began by offering passengers a drink of their choice and crackers. Shortly after, she came by with placemats and the appetizer tray was served. The smoked trout salad was fresh and quite a large portion.
While the two flight attendants serving business class had 16 passengers to serve during this flight, the service was extremely efficient and personalized. The flight attendant passed through the cabin offering drink refills and more bread on multiple occasions. She was enthusiastic to help pair the proper drink with each course.
For the main course, there was an option between chicken thigh in saffron sauce and brown rice or a veal fillet in Santorini tomato sauce served with potato mash. I chose the latter, which tasted fantastic, despite the presentation.
Despite being full after these two dishes, the flight attendant insisted that I have a slice of Tangerine Cake to finish off. Without a doubt, I can say that this was easily the best dessert I've ever had in the air. After the meal service, Aegean Airlines offers a traditional Greek cheese plate for passengers who wish to skip dessert.
About 1-hour and 30 minutes into the flight, the meal service was complete. Having served everyone, the flight attendant continued walking through the cabin and offering more drinks and snacks. She introduced Mastiha, a Greek liquor, to a tourist sitting in front of me who was visiting Greece for the first time. He greatly enjoyed it.
Following the meal, it was time to rest a bit before landing in Greece. The seat itself, like most European business class seats, does not compare to those found in domestic first class on U.S. carriers. The legroom, as previously mentioned, was fantastic, though, as was the ample space between seats.
Approximately 30 minutes prior to landing, the flight attendant once again came through the cabin offering passengers another round of drinks and Gemista cookies, a Greek chocolate cookie brand.
She passed through the cabin one last time to offer Aegean's traditional candies and thank everyone for flying Aegean Airlines. Just before 6 p.m., we touched down on Athens' Runway 3R and taxied to our gate. Despite arriving at a jetway, we were deplaned via stairs where a special bus was available for business class passengers. This sped up the process and made for a comfortable bus ride. Within a few minutes, the bus dropped us off at baggage claim and my business class experience had come to an end.
The Verdict
While Aegean Airlines doesn't offer a special hard product in its business class cabin, it's the soft product that sets it apart from European competitors. As Dimitris Gerogiannis, CEO of Aegean Airlines, told me in an interview last year, the airline heavily invests in its people.
"We continue to invest in our people because we clearly see that this is what differentiates us from the other companies," said Gerogiannis. "It's not the Airbus or the Boeing. It is not the seat A or seat B, it is the people who make the difference in the service industry. Therefore, we invest a lot in our people, in development, and training them."
This flight was a testament to the airline's philosophy. No, the seat wasn't perfect, but the service and interaction with the crew were top-notch, something few airlines are able to deliver these days.
After this flight, I flew Aegean Airlines four times in economy and experienced the same level of dedication and hospitality from the crew. It quickly became clear why Aegean Airlines has been named Europe's Best Regional Airline for nine consecutive years.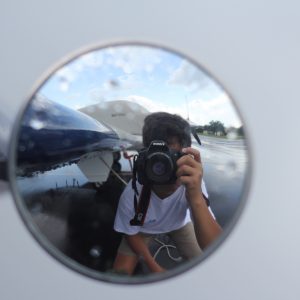 Mateen has been interested in aviation from a very young age. He got his first model airplane at six and has been airplane spotting since he was nine years old. He has always had a passion for aviation and loves learning about different aspects within the industry. In addition to writing for AirlineGeeks, Mateen is also an editor for his high school's newspaper. You can also find him on Instagram (@Plane.Photos) where he enjoys sharing his aviation photography with thousands of people everyday.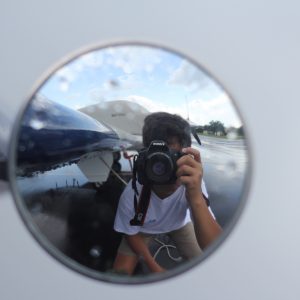 Latest posts by Mateen Kontoravdis (see all)