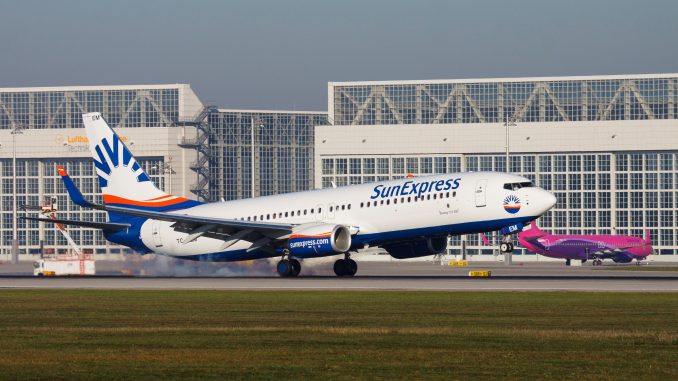 Boeing received a sign of hope for its struggling Boeing 737 MAX program as Turkey's SunExpress has announced an order for 10 of the currently-grounded aircraft. The order was announced at the ongoing 2019 Dubai Airshow and is worth approximately $1 billion. The 10 aircraft are in addition to the airline's 32 aircraft already on order.
The order is the second order for the aircraft since the crash of Ethiopian Airlines flight 302 that crashed in March 2019, after which the aircraft was grounded worldwide. Earlier this year,  the International Airlines Group signed a letter of intent for 200 Boeing 737 MAX aircraft with both orders represent a show of confidence for both Boeing and the aircraft.
SunExpress is a Turkish leisure airline that is a joint venture between Lufthansa and Turkish Airlines, the latter having an order for 75 Boeing 737 MAX aircraft of which 12 were delivered before the aircraft was grounded. Since the grounding, Turkish has been critical of Boeing and has turned to Airbus to increase deliveries of the Neo aircraft the airline has on order. Like many operators, Turkish has been forced to cancel flights due to the grounding.
Jens Bischof, CEO of Sun Express, announced the order, reassuring his airline's confidence towards the North American manufacturer saying: "We have a long-standing, strong and trustful relationship with Boeing and thus we decided to turn our options into an order. However, it goes without saying, that this requires the undisputed airworthiness of the model, granted by all relevant authorities. Our utmost priority at Sun Express is and has always been safety."
For many airlines, the grounding of the MAX is likely to last at least a year. Major operators in the United States have extended the cancellation of MAX flights to March 2020. Currently, there is no timeline for the aircraft's return to service with Boeing still working on a fix. The manufacturer has faced criticism over its response to the crashes, as well as the certification process for the aircraft.
Boeing, however, has managed to spring more interest for the grounded jet at the Dubai Airshow. The chairman of Indian low-cost carrier Spice Jet, Ajay Singh, revealed intentions to order additional Boeing 737 MAX for its next phase growth plans, which includes developing a hub in the United Arab Emirates to reach destinations throughout Europe, Africa and the Middle East with single-aisle aircraft.
AirlineGeeks.com began in February, 2013 as a one-man (er… teenager, rather) show. Since then, we've grown to have 20 active team members, and yes, we're still growing. Some of us are looking to work in the aviation industry as professionals when we grow older. Some of us are still trying to decide what we want to do. That's okay though, because we're all here for the same reason: we love the airlines. We're the youngest team of airline industry journalists out there.
Latest posts by AirlineGeeks.com Staff (see all)