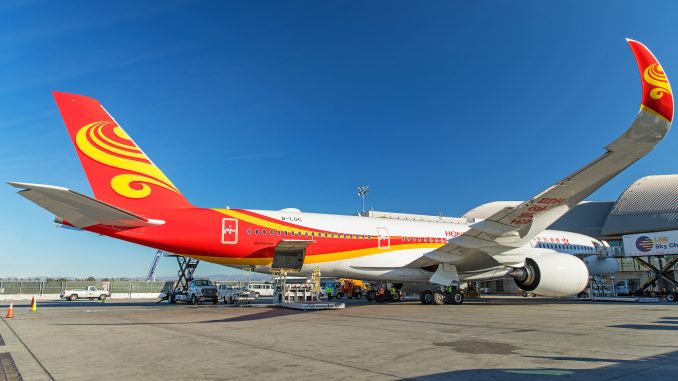 Hong Kong's Air Transport Licensing Authority (ATLA) has informed Hong Kong Airlines to find increased funding by December 7, otherwise, the carrier's operating license may be revoked.
Earlier, the cash-strapped airline failed to pay staff salaries on time, ATLA met with the airline's management members on November 29 due to the salary incident. The governing body is "extremely worrying" and believed the airline's financial situation has "deteriorated rapidly."
An ATLA spokesman said, "After careful consideration of the financial position of HKA at present, ATLA must take immediate and resolute action to prevent further deterioration of HKA's situation in order to protect public interests."
In ATLT's statement, it added that the airline must make a cash injection to reach the level stated by ATLA. If Hong Kong Airlines fails to achieve the government's requirement, ATLA will take further action, which includes to revoke or suspend the airline's license. However, it didn't mention how much capital needs to be injected to meet government demands in the statement.
Earlier, the cash-strapped airline canceled Hong Kong-San Francisco and Hong Kong- Los Angeles routes. In the airline's statement, the carrier will pull out of the North American market as Hong Kong – Vancouver will be ceased on February 12. Meanwhile, the airline will suspend the service to Tianjin, China and Ho Chi Minh City next February as well. The airline also said that it will continue to monitor the situation closely and adjust its business plan. In addition, inflight entertainment will be suspended from December until further notice.
According to local media, China's HNA Group, the airline's parent company is willing to invest 4 billion RMB ($568 million USD )to its "cash-strapped subsidiary." However, it didn't provide more details in the statement, but expected Hong Kong Airlines to benefit from the new policy.

Will has been a travel agent in Hong Kong for almost three decades, as time goes by he hasn't lost his passion for his job, He still has plenty of enthusiasm for the airline industry and airport operations.