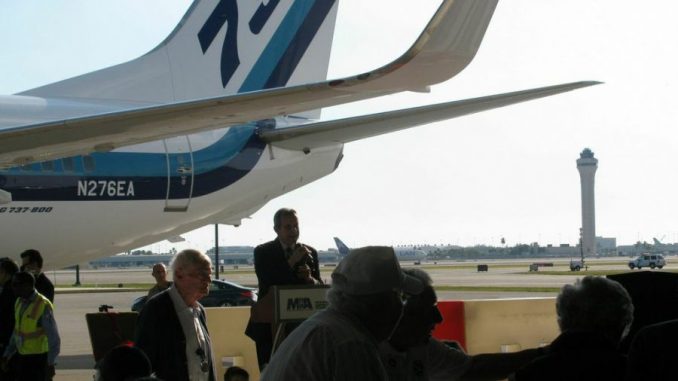 In a leaked internal email, it was revealed that Phoenix-based Swift Air will purchase Miami-based Eastern Airlines. The email was sent Friday morning to Eastern employees from Eastern CEO, James Tolzien. It appears that the deal will be completed by the end of August and will see the Eastern brand co-exist with Swift Air.
The email mentions some efforts Eastern has made in recent months to help reduce costs on the struggling carrier. These include returning an two aircraft to lessors in addition to an aircraft that was returned in April.
Also included is the cancellation of two money-losing contracts for the company, as well as canceling projects with a new hanger and the Amadeus reservation program. The company has also made cuts in personnel, reducing its staff from 240 to 103 employees.
According to James, Swift is currently in the process of gaining certification for the Boeing 737-800. These 737-800's will be painted with the Eastern name and logo. It is unclear what the structure of the two companies will be, whether the two operators will be merged onto one certificate, or if the two companies will be kept separate.
The new Eastern was launched in December of 2014, as a relaunch of the historic airline. Since then, the airline has operated charter services, including Cuba trips and sports teams, most notably the Florida Panthers and San Francisco Giants.
Vice-President Mike Pence charted one of Eastern's aircraft for his campaigning during the 2016 election. However, despite some success in charter markets, the goal of achieving scheduled service has eluded the carrier.
Swift Air is a 20-year-old charter carrier based in Phoenix. Similar to Eastern, the carrier has operated charters for various vacation companies and sports teams. The carrier uses the older classic Boeing 737's. Recently, Vincent Viola, majority owner of the Florida Panthers, purchased a minority share in Swift Air. Before purchasing a share of Swift Air, Viola was a majority shareholder in Eastern Airlines.
Although nothing official has been announced from either party, this is a strong indication that a deal is in place. Although the new Eastern is only a few years old, it has seen its share of financial struggle. Many who enjoy reminiscing about the old Eastern will be glad to know the brand will continue for the foreseeable future.  

Daniel has always had aviation in his life; from flying to the United States when he was 2, to flying to Tampa and Las Vegas for family vacations. Aviation has always had a strong influence in his life. Daniel grew up in Indianapolis, Indiana and moved to his current South Florida home in 2010. He favors Ft. Lauderdale-Hollywood International Airport but also fly's out of Miami International Airport when traveling back to his native England. He is currently attending Nova Southeastern University in Davie, Florida and is on track to graduate in 2018 with a degree in Human Factors in Aviation and his pilot's license. When he graduates he hopes to become a commercial pilot.

Latest posts by Daniel Morley (see all)