American Trans Air, or more commonly known as ATA, was founded in August of 1973 in Indianapolis, Indiana. It was founded by the Ambassadair Travel Club to provide aircraft for the club. The club's first aircraft was a Boeing 720 named "Miss Indy," followed by the addition of a second aircraft, another Boeing 720 named "Spirit of Indiana" added in 1978. In 1981, ATA received their common air certificate and commenced charter operations the same year.
With a fleet of eight Boeing 707s and 720s based at Indianapolis, charter operations grew to include the first DC-10 in 1983. By 1984, owner J. George Mikelsons decided to form Amtram Inc., a holding company for ATA and Ambassadair as well as another future subsidiaries of the company. Within that same year the Boeing 707s  were replaced with Boeing 727-100s. The airline also added Lockheed L-1011's to the fleet in 1985. The next year ATA began scheduled operations, 13 years after being founded, with a flight between Indianapolis and Ft. Meyers.
In 1989, ATA introduced the Boeing 757-200, which would become a backbone for the airline in the coming years. Using these new aircraft, ATA commenced international service from New York's John F. Kennedy to Riga, Latvia via Belfast. The service was introduced because of J. George Mikelsons Latvian ancestry, however the service was unprofitable and was ended after only a few years.
During the 1991 Gulf War, ATA operated services for the Department of Defense, transporting over 100,000 military personnel. ATA also operated a Boeing 727 on a military shuttle between Nellis Air Force Base and the Tonopah Testing Range. The contract ended just after a year of service when the Tonopah F-117 Operations ended. After this contracted ended, ATA updated the 727 to the -200 model, replacing all the -100's by 1993.
Throughout the 1990s, ATA focused on growing their scheduled service, as well as continuing to strengthen ties with the U.S military. They built up a hub at Chicago's second airport, Chicago-Midway, and focused on leisure destinations. Flights were operated across the country, including Hawaii. ATA also operated flights for UK tour operator Travel City, between Gatwick and Manchester to Orlando, via Gander. The partnership lasted till 2002 when Travel City switched airlines.
At the turn of the century, ATA placed a large order with Boeing for 39 737-800 and 12 757-300. With this order, ATA became the North American launch carrier for the 757-300. Also, ATA was designated a major carrier by the U.S. government. At the same time, a regional service was launched through the purchase of Chicago Express in 1999, which was quickly renamed ATA Connection and operated from their Midway hub and Indianapolis. The service offered turboprop connections to smaller Midwest cities.
In 2001, the new aircraft deliveries began. The new 737s became the backbone for ATA's fleet, and were deployed on routes to Mexico and Hawaii. The airline also transitioned from being a vacation-focused airline to a more business-oriented airline. In 2002 American Trans Airlines disappeared as a name. The holdings company for ATA was renamed to ATA Holdings Corp. Later in the year, the airline itself changed names to ATA Airlines. This name change was due to public confusion between American Trans Airlines and AirTran Airways.
Unfortunately for ATA, the airline struggled after the terrorist attacks on the World Trade Center in September of 2011. Both ATA and ATA Holdings experienced severe financial struggles. On October 26, 2004, ATA filed for Chapter 11 bankruptcy. As part of the bankruptcy, ATA Connection ceased operations as the airline looked for ways to save money. In a sudden event that would hope to provide the company much needed cash on hand, AirTran Airways made a bid for ATA's 14 gates at Midway for $90 million. However Southwest Airlines made a larger bid and the AirTran bid fell apart.
In the beginning of 2005, ATA entered a partnership with Southwest Airlines. Six gates at Midway were transferred to Southwest as well as 27% of non-voting stocks and a new codeshare agreement between the two airlines. As part of the new deal with Southwest, ATA reduced flights at Indianapolis to focus on their Midway hub, as well as a focus on business destinations not served by Southwest, such as LaGuardia and San Francisco. They also began point-to-point service at Southwest focus cities.
In October, ATA began announcing its destination cuts. The airline ended service to Minneapolis, Newark, and Boston. A month later they announced three more cuts; Denver, San Juan, and their headquarters in Indianapolis. A third round of cuts took place in April 2006 with Ft. Meyers, San Francisco, and Orlando. This left ATA with only 18 daily departures and one gate at Midway, and only 52 daily departures system wide.
In January 2006, finance firm MatlinPatterson invested over $100 million into ATA and made the company private, as well as brought ATA out of bankruptcy in February of 2006. However, the current state of ATA was a shell of what the airline was at its peak. MatlinPatterson attempted to return ATA to profitability but the poor market and high fuel cost plagued the airline in its last two years.
At the time, most of ATA's operations were supported by the airlines charter operations, however the airline once again began expanding its scheduled operations. ATA added flights on the west coast, increasing service to Hawaii, and worked to strengthen its partnership with Southwest. The airline helped charter operations by replacing their fleet of aging L-1011's with ex-Northwest DC-10-30's. These aircraft were to be used on military charters, which had become key to ATA's business model.
In their final full year of operations, ATA Holdings acquired World Air Holdings, with subsidiaries World Airways and North American Airlines. The new holdings company was renamed Global Aero Logistics. They also announced more cuts at Midway, reducing the former hub to only four destinations. With a focus now on the west coast, ATA mainly focused on flights to Hawaii and leisure destinations in Mexico.
In 2008, the end was near for ATA. The airline had failed to regain profitability from the first bankruptcy and was facing mounting losses. On April 2nd, 2008, ATA declared bankruptcy and ceased all operations effective immediately. The sudden demise was due to the loss of a major military contract. The shutdown became effective April 3rd, 2008 at 4:00 AM. At the time several flights were in the air, but no more flights departed. The last ATA flight landed at Phoenix Sky Harbor at 8:46AM. The flight marked the end of 35 years of service for ATA.
Although ATA became a victim of the economic climate, they will be remembered for offering vacationers an alternative to low cost carriers. They also provide military families with safe flights home. Today the ATA brand is owned by Southwest, however there are no plans by them to operate service as ATA again. An airline in Iran uses the name ATA but have no relation to the former U.S. airline. Although the airline is now in the history books, their legacy will be regarded as one of the few charter carriers that made it into the scheduled industry.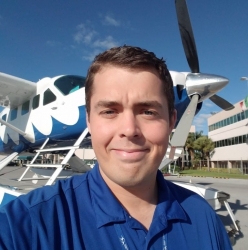 Daniel has always had aviation in his life; from moving to the United States when he was two, to family vacations across the U.S., and back to his native England. He currently resides in South Florida and attends Nova Southeastern University, studying Human Factors in Aviation. Daniel has his Commercial Certificate for both land and sea, and hopes to one day join the major airlines.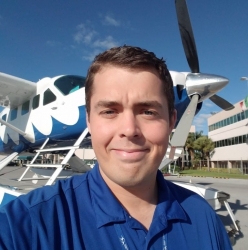 Latest posts by Daniel Morley (see all)