The happiest place on earth is missing one thing for the avid avgeek; an airport. However, Disney World's airport is, in fact, hiding in plain site for visitors to the park. Although no longer in service, the runway for the former airport is still visible from World Drive for those heading towards Disney's Contemporary Resort.
The airport, named Lake Buena Vista Airport or Lake Buena Vista STOLport, was built in 1971 to be a proof-of-concept for a much larger international airport on the Walt Disney World site. Walt Disney's original plan for the site in Florida was to have a large international jetport on the southern end of the Lake Buena Vista site. This plan, however, fell through when Eastern Airlines decided not to sign on to help fund and build the airport.
At the airport's conception, its facilities were very rudimentary. There was only space for four aircraft to park at one time as well as no hangar to protect aircraft from the turbulent summer weather in Central Florida. There was also only one narrow runway for aircraft to land on, which would have been difficult for passenger traffic growth. Although the facilities were quite basic the airport did see quite a bit of use.
With the limited runway, only 2,000 feet in length, only certain aircraft could land and takeoff from the airport. Shawnee Airlines, a regional carrier serving interstate traffic in Florida, served the airport from Orlando and Tampa International. This service was offered on Eastern Airlines timetable as regional connecting service for their flights to Orlando and Tampa. The service used de Havilland Twin Otters, which had excellent STOL (Short takeoff and landing) performance. Also, Executive Airlines, another Florida interstate carrier, offered service to and from Walt Disney World.
The end for the STOLport was brought on by the creation of EPCOT. The Imagineers at Disney wanted to connect Epcot to the monorail system around Magic Kingdom. The new expansion south of Epcot meant airplanes landing at the airport would fly very low over the new monorail track, which would be a major concern. Disney World's lawyers were terrified of this idea, and soon had the airport shut down in the 1980s.
As of now a temporary flight restriction, or TFR, has been established over Walt Disney World since 2003, preventing any aircraft from operating within a 3 nautical mile radius of the park below 3,000 feet. This means it is extremely unlikely that Walt Disney World will ever see airplanes flying in and out again. Unfortunately, no matter how convenient it would have been, Mickey will have to join the rest of us and fly to Orlando International when he goes on vacation.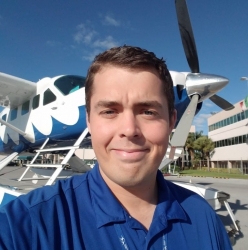 Daniel has always had aviation in his life; from moving to the United States when he was two, to family vacations across the U.S., and back to his native England. He currently resides in South Florida and attends Nova Southeastern University, studying Human Factors in Aviation. Daniel has his Commercial Certificate for both land and sea, and hopes to one day join the major airlines.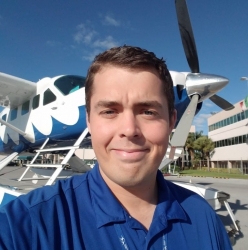 Latest posts by Daniel Morley (see all)