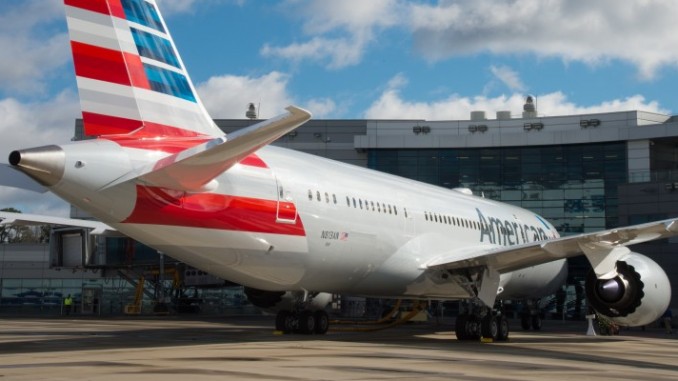 On February 16th, 2016, Boeing South Carolina celebrated a significant achievement with the delivery of the 100th airplane manufactured at the North Charleston production site. American Airlines proudly took delivery of the milestone aircraft, a 787-8 Dreamliner.
"The 787 has quickly become an important part of our fleet, allowing us to fly profitably to new places like Auckland, New Zealand," said Chuck Schubert, Vice President of Network Planning at American Airlines. "When we're trying to match the right plane to each route, the 787 is a great aircraft to have."
For American, this aircraft will be their 14th Dreamliner and the very first 787 built at Boeing's South Carolina facility. The aircraft is clearly popular with the airline, as American has an additional 28 Dreamliners on order.
This delivery is also an unforgettable achievement for Boeing South Carolina. "Reaching this milestone is a testament to the hard work and dedication of our entire team," said Beverly Wyse, Vice President and General Manager of Boeing South Carolina. "As we continue to prepare for the new 787-10 and production rate increases, we're excited about what the future holds here in North Charleston."
We're marking delivery of our 100th BSC-built #Boeing Dreamliner with @AmericanAir! pic.twitter.com/TWunW5lLEg

— We Are Boeing SC (@weareboeingsc) February 16, 2016
Boeing South Carolina primarily serves as a second final assembly and delivery site for 787s, but it is also a fabrication site for aft fuselage sections of the Dreamliner. The Interiors Responsibility Center South Carolina also produces interior components of the airplane, such as overhead bins and crew rest areas.
MORE PHOTOS:
Ashley is currently a senior in high school and plans on pursuing a career in aviation or journalism. Her favorite airplanes include the Boeing 777, 737MAX, and Airbus A350. She enjoys taking flights on various airlines to different airports and planespotting at her local airports.
Latest posts by Ashley Magoon (see all)