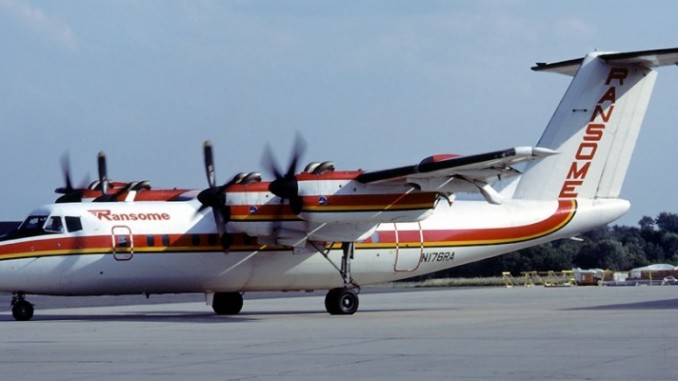 In 1967, Northeast Philadelphia Airport became home to a new regional carrier, Ransome Airlines. The airline would operate flights on behalf of many widely known carriers for most of its 28 year history, and would also receive a significant opportunity unique to a majority of regional carriers.
For the first three years, the new carrier operated flights on the East Coast with a fleet of Beechcraft Model 18 airplanes. In 1970, Ransome began their series of airline partnerships with Allegheny Airlines. This code share agreement allowed Ransome to operate as Allegheny Commuter. Their hub during this time was Pittsburgh International, though their hub at Northeast Philadelphia Airport would remain.
In 1982, the airline reverted back to its original branding and its own routes, which covered flights to cities such as Boston and Washington D.C.. Two years later, Ransome entered a code share agreement with Delta Air Lines, enabling it to operate as a Delta Connection carrier.
Their agreement with Delta was short lived, as Pan Am announced plans to purchase Ransome in 1986. The next year, the airline was renamed Pan Am Express following the completion of the acquisition. The global carrier decided to move some Pan Am Express flights to Tegel Airport in West Berlin, a significant change for a small airline. Though some of their aircraft now served European destinations, their route network in the US continued, with expanded service to Canada. During this time, their main aircraft were a fresh fleet of ATR42s and the Dash 7.
When Pan Am collapsed, their regional affiliate was purchased by TWA and subsequently named Trans World Express. All European routes were cancelled, and the airline's hub was centralized at JFK. Unfortunately, due to lack of profit, TWA shut down Trans World Express in 1995, effectively terminating the airline that was originally Ransome Air. Following their shutdown, their ATR42s were acquired by Mahalo Air and their route network controlled by Trans States Airlines.
Ashley is currently a senior in high school and plans on pursuing a career in aviation or journalism. Her favorite airplanes include the Boeing 777, 737MAX, and Airbus A350. She enjoys taking flights on various airlines to different airports and planespotting at her local airports.
Latest posts by Ashley Magoon (see all)