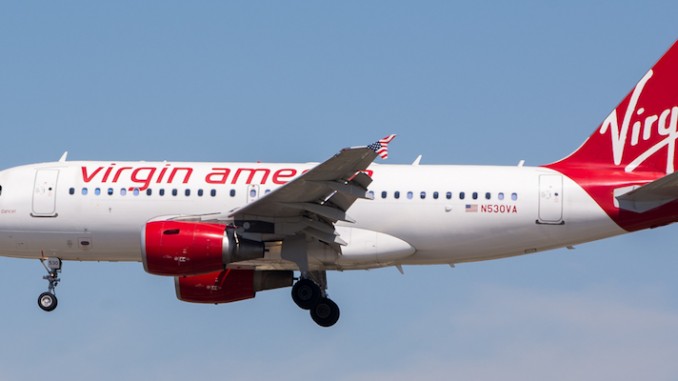 After growing attention over the past week between rivals, Alaska Airlines has announced that it will be purchasing Virgin America in a deal valued at over $2.6 billion. The merged carrier will gain a further focus on the West Coast, with larger hubs based in both Seattle and San Francisco as well as key slots on the East Coast in New York – LaGuardia, New York – JFK, and Washington Reagan.
David Cush, Virgin America's president and CEO stated, "Our mission has always been to create an airline that people love – and we accomplished that while changing the industry for the better. Joining forces with Alaska Airlines will ensure that our mission lives on, and that the stronger, combined company will continue to be a great place to work and an airline that focuses on an outstanding travel experience."
The combined airline will retain the Alaska Airlines name, as well as their headquarters in Seattle and CEO, Brad Tilden. The new Alaska Airlines will consist of a combined $7 billion in revenue, with over 39 million passengers a year and more than 1200 daily departures. Tilden's goal is for the deal to close by January 1, 2017, with the combined carrier's single operating certificate being granted in the first quarter of 2018. However, the new airline will most certainly have its challenges moving ahead. Currently Alaska operates an all-Boeing fleet, whereas Virgin America operates with only Airbus aircraft. While both airlines are known for their strong customer service reviews and loyal employee base, each caters to a unique type of customer. Virgin America is known for its chic, mood-lighting feel in all of its aircraft, whereas Alaska stays true to its more basic yet business friendly "Seattle's hometown airline" image.
"Our employees have worked hard to earn the deep loyalty of customers in the Pacific Northwest and Alaska, while the Virgin America team has done the same in California. Together we will continue to deliver what customers tell us they want: low fares, unmatched reliability and outstanding customer service," stated Tilden. "With our expanded network and strong presence in California, we'll offer customers more attractive flight options for nonstop travel. We look forward to bringing together two incredible groups of employees to build on the successes they have achieved as standalone companies to make us an even stronger competitor nationally."
The merger has been closely followed by analysts over the past week, as news broke that both Alaska Airlines and JetBlue were bidding on Virgin America, a carrier that went public less than two years ago. At a time when nearly all airlines are healthy thanks to better capacity management and low fuel costs, Alaska was able to prevail thanks to its impressive balanced sheet and escalated offer in the bidding war. The companies are working together in hopes of providing over $225 million in annual cost savings, as well as growing their bases and further focusing on their West Coast operations.

Joe joined AirlineGeeks in 2014, and in his current role as Editor-in-Chief manages a growing team of writers both in North America and Europe. He enjoys spending the bulk of his time researching, learning and analyzing the latest trends in the airline industry, all while mentoring new members of the AirlineGeeks team who seek to do the same. Areas of research include revenue management, codeshare and alliance partnerships and airline financial results.

Latest posts by Joe Pesek (see all)