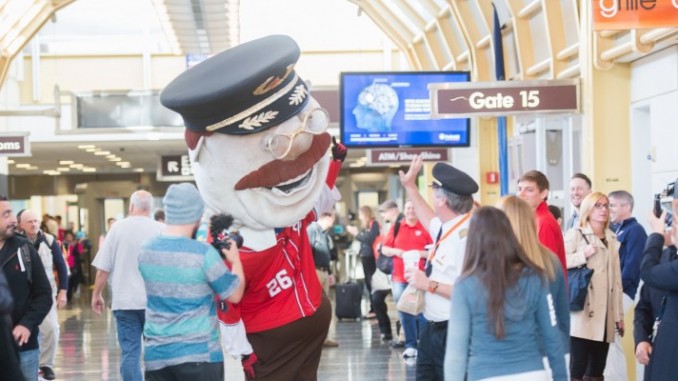 Opening Day for Major League Baseball is a day avid sports fans religiously head to stadiums, to see their favorite teams perform after time away at spring training.  However, Delta Air Lines, the official airline of the New York Yankees and the Washington Nationals, is making it a day for aviation aficionados to take to the skies.
Following our coverage of the eight-year partnership extension between Delta Air Lines and The New York Yankees, Delta has updated us on their plans for Opening Day – the day that gives the regular season "clearance for takeoff."
Unfortunately, due to inclement weather the Yankees have postponed their big day until Tuesday, April 5th. However, it appears that the other eleven games planned for Opening Day will go on without the Yankees who were scheduled to face the Houston Astros at Yankee Stadium.
At both John F. Kennedy International Airport and LaGuardia Airport in New York City, sports fans wearing team apparel will receive early access for premium boarding.  Additionally, those sporting their favorite team, will be able to purchase premium items at a discounted price.  And for those unaware with all that's happening in baseball today, there will be the chance of flying into an airport surprised.  Delta has informed us that they will be giving away free gear and tickets at JFK and LGA.  And in the Delta Sky Clubs, at both airports, there will be baseball-themed food for travelers.
When Delta released their brand new prominent and permanent signage at Yankee Stadium, in an exclusive event, there were galley carts floating around with popcorn in baseball themed bags.  We wouldn't be surprised if those, and other items, made another appearance.  Prior to tasting baseball flavored treats, or even making their way to the gate, or Sky Clubs, passengers will receive team-branded luggage tags at check-in.
Additionally, on March 28th, Delta became the Official Airline and Official Private Jet Carrier of the Washington Nationals.  The airline says this is it "stepping up to the plate in Washington."  To celebrate, this five-year sponsorship, and partnership Delta invited Four of the Washington Nationals Racing Presidents to Ronald Reagan National Airport, on Opening Day.  George, Abe, Tom, and Teddy were the mascots in attendance. They assisted their new favorite airline in welcoming passengers on board a flight to the airline's hometown, Atlanta, Georgia.  Passengers onboard that flight will be front and center for gifts from the team including tickets to the Opening Day game in Delta's hometown, Atlanta, Georgia.  The Washington Nationals will play the Atlanta Braves at Turner Field.  Alongside Delta, the special four will also hand out signed team merchandise!
Ultimately, Delta is shaping up to bring more baseball fans to aviation, and more sports to AvGeeks.
In 2013, Malick dusted off his copy of Flight Simulator X and installed it once again, in hopes of passing the tutorials.Well he did that, and so much more!He had always loved flying but, that was the pivotal moment in his life where he realized that aviation was his "thing."Now, in 2015, he plans to begin taking flight lessons at Long Island's MacArthur Airport (KISP).He just can't get enough of the roaring engines, and beautiful wing flexes.Those unique features keep the airline industry booming with news.Malick was always one to stay on top of it and break it to all of his friends.That, and a day at ABC sparked his interest in journalism, and he ended up here, at AirlineGeeks.com, and couldn't be happier.He knows that whether he goes into broadcast journalism, or into piloting as a career, or even something totally different, his heart will always long for a clear blue sky.
Latest posts by Malick Mercier (see all)