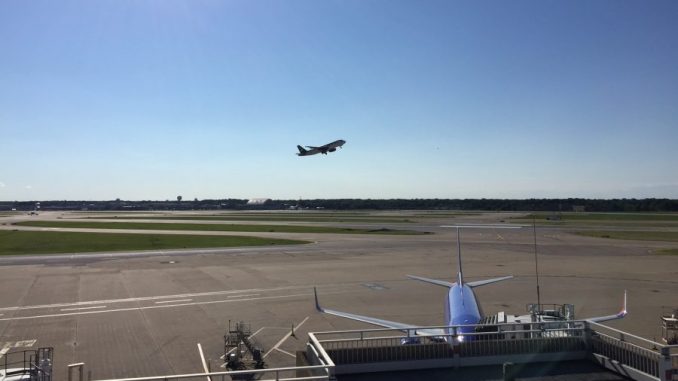 Since the creation of the first airport in 1909 by Wilbur Wright, cities and states have come together to create one of the most expansive airport systems in the world. Over the next few months, our writers have taken an in-depth look at each state to see what airports it has to offer, what its history entails, and what changes we can expect in the future that will continue to shape the airline industry.
The Buckeye State, home to nearly 12 million Americans, is known throughout the country as a powerhouse in college football, election year swing-state mentality, and the "Birthplace of Aviation." The state is fortunate to showcase two major airports, as well as a third in nearby Kentucky that serves the greater Cincinnati area. With a growing population and numerous tourist destinations, Ohio continues to grow in aviation even as it endures its fair share of difficult times.
MAJOR AIRPORTS
Cleveland-Hopkins International Airport – Cleveland, OH (CLE)
Often referred to as the "mistake by the lake", Cleveland has a difficult history of losing sports teams in recent years and difficult weather. However, it also has a history of being a booming city in the 1920s, at one point being the fifth largest city in America.
The airport was founded in 1965, becoming the first municipally owned airport in the country. It also included several other firsts, including the first airport to have direct rail service to the city and the first air traffic control tower. Cleveland-Hopkins quickly took off, aided by the city's growing population and business interests. While United Airlines began treating the city like a hub, the airport scored a real opportunity when it was selected to be Continential's hub in 1986. The airport quickly built out its terminal, adding an additional concourse, Concourse D, that would serve large amounts of regional flights on a daily basis.
Unfortunately, the regional hub model in America was not meant to be. When Continental was merged with United in 2010, it would remain a hub for four years before United made the decision for it to be axed. There was little point in having a hub in Cleveland, Chicago and Washington, and as such Cleveland saw significant cuts to daily flights, and was forced to close Concourse D. However, not all hope is lost for the airport. Ultra low-cost carriers such as Spirit and Frontier have begun offering more flights into the airport to across the country, and have spurred fare wars that continue to keep customers coming back to the airport. Most recently, Southwest Airlines has added new routes to the airport, opting to move flights from nearby Akron-Canton Airport.
John Glenn Columbus International Airport – Columbus, OH (CMH)
Opened in 1929 on a site selected by Charles Lindbergh, Columbus International has grown to an airport that serves 140 destinations to over 7 million passengers. The first major airline to fly into Columbus was TWA, and was a successful airport during a time when the airline industry was heavily regulated. However, after 9/11 and airline deregulation, the city seemed no longer fit for a hub after losing TWA as well as America West.
In 2007 excitement was in the air, as new airline, Skybus, began its grand ambition to offer low-cost service from Columbus to cities all across the United States via secondary airports like Burbank instead of Los Angeles International. Unfortunately due to rising fuel costs and a difficult economic environment, Skybus was forced to shut down just over a year later. While the airport no longer has any airline that considers Columbus to be a hub, it benefits from having service to nearly every major hub across the country. The largest airline to capitalize on the free space has been Southwest Airlines, which now offers service to 16 destinations.
OTHER AIRPORTS
Dayton International Airport – Dayton, OH (DAY)
While smaller than its nearby competitor, Cincinnati International (CVG), Dayton International Airport has quickly become known as the "Easy to and through" airport for southwest Ohio. Throughout its history, Dayton served as a hub for Piedmont Airlines as well as Emery Worldwide. Over the past few years the airport has struggled as it has lost much service it used to have, particularly operated by Southwest Airlines, which has since abandoned the airport in favor of Cincinnati International Airport. However, similar to CVG, the airport looks forward to its new ultra low-cost carrier, Allegiant, beginning new service this year.
Akron/Canton International Airport – Akron, OH (CAK)
Serving as a backdrop to Cleveland International, Akron/Canton grew quickly throughout the early 2000s, attributed also to growth from AirTran. However, since the purchase of AirTran by Southwest, the airport has seen a reduction in service. Currently it offers regional service from United, Delta and American to nearby hubs. The area hopes that with continued population growth in the nearby cities of Akron and Canton, the airport can once again prosper, but its future looks grim based on Southwest's recent assessment to leave the airport in favor of Cleveland International.

Joe joined AirlineGeeks in 2014, and in his current role as Editor-in-Chief manages a growing team of writers both in North America and Europe. He enjoys spending the bulk of his time researching, learning and analyzing the latest trends in the airline industry, all while mentoring new members of the AirlineGeeks team who seek to do the same. Areas of research include revenue management, codeshare and alliance partnerships and airline financial results.

Latest posts by Joe Pesek (see all)