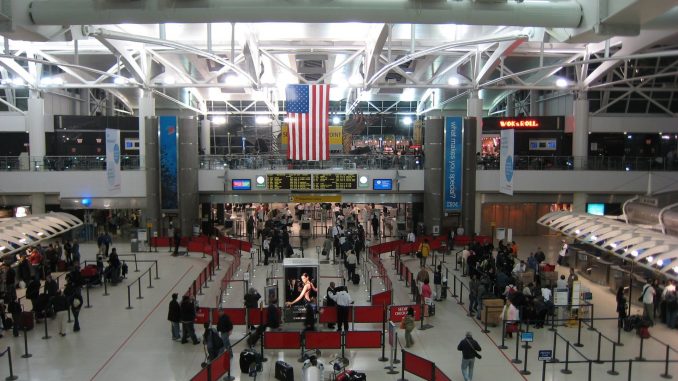 Since the creation of the first airport in 1909 by Wilbur Wright, cities in the United States have come together to create one of the most expansive airport systems in the world. Over the next few months, our writers have taken an in-depth look to see what airports each state has to offer, what its history entails, and what changes we can expect in the future that will continue to shape the airline industry.
One of the most significant aviation-based areas in the United States is is New York. The State of New York was the eleventh state to be admitted to the Union of the United States on July 26th, 1788, and with being the fourth most populated states in the country, has an extensive airport network to support it. While airports in New York City have certainly endured their fair share of critics, the state's airport system serves as a vital artery for travel not just in the East Coast, but across the globe.
John F. Kennedy International Airport – New York City, New York
Built in 1943 as Idlewild Airport, John F. Kennedy International (JFK) is one of New York's busiest airports. The airport has four asphalt runways (labelled 4L/22R at 12,079 feet, 4R/22L at 8,400 feet, 13L/31R at 9,999 feet and 13R/31L at 14,511 feet) and is home to over 90 airlines. The year 1950 saw the first jetliner to land at JFK, being the Avro Jetliner, followed by a Sud Aviation Caravelle prototype being the next to land in May 1957. Following an airport closure in Newark in 1952, the field dramatically increased their daily intake to 242 flights. Lockheed L-1049 Constellations and DC-7's started appearing at JFK between 1951 and 1953. April 1957 saw international carriers such as Aerolineas Argentinas, Air France, Avianca, BOAC, BWIA, Cubana, El Al, Iberia and many more carriers operating out of the major airport. United Airlines opened up Terminal 7, now known as Terminal 9, in 1959 with Eastern Airlines opening Terminal One, one month after, before being demolished in 1995. American Airlines opened Terminal 8 in 1960. Commercial scheduling at the airport began in 1958.
March 2007 saw JFK becoming the first airport within the United States to operate the Airbus A380, with Lufthansa being the inaugural carrier of the A380 to JFK. Other A380 carriers such as Singapore Airlines, Air France, Lufthansa, Korean Air, Emirates and Asiana Airlines operated services with the aircraft to destinations such as Frankfurt, Singapore, Paris and Seoul. Furthermore, JFK became the first airport in America to operate the Airbus A350 when Qatar Airways launched services to New York from Doha respectively.
JFK's commercial portfolio is very vast and expansive, featuring several dozen flights to the Middle East, Europe and Australia. An interesting flight that occurs at JFK is the British Airways Airbus A318 flight that operates from London-City to Shannon for refuelling and immigration pre-clearance before continuing onto JFK. As of now, the future is looking fairly bright at the airport, driven by increasing traffic and new destinations. New routes that have recently started from the airport include Air Europa's seasonal services to Santo Domingo that launched in December 2016 followed by Delta Air Lines having plans to launch services to Athens, Berlin-Tegel, Glasgow & Lisbon from May 2017 onwards. Virgin Atlantic also has plans to launch services to Manchester from JFK from May 2017 with Volaris launching services to Mexico City during March. Finally, XiamenAir launched services to Fuzhou in February 2017. All in all, the airport handles over 56 million passengers per year. The airport continues to benefit extensively as it is not only a hub airport for major airlines, but also a strong origin and destination market.
LaGuardia Airport – Queens, New York
LaGuardia isn't as huge or significant as JFK but still has quite a presence in New York, mainly for the domestic market. The airport has two asphalt/concrete runways (labelled 04/22 at 7,001 feet & 13/31 at 7,003 feet) which carry over 30 million passengers per year. The history of LaGuardia is something that is humorous. Mayor Fiorello La Guardia, who was in office between 1934 and 1945, gave an outburst to the public due to the arrival of his TWA flight in Newark, which was the only commercial airport serving New York at the time. As Newark isn't in New York, he demanded that he was to be taken to the New York City. This prompted an encouragement towards the public to support a newly built airport within New York City itself. At the time, the only field near LaGuardia was Brooklyn's Floyd Bennett Field, where American Airlines accepted La Guardia's offer of operating services to the field. Airport construction began in 1937 and was open by 1939, at a cost of $23 million.
LaGuardia's start in traffic enplanements began with general aviation. This didn't last for long, as during the late 1960's, such aircraft were charged heavily for landing fees. Commercial routes were not easy to gain either, as in 1984 the New York/New Jersey Port Authority implemented a 'perimeter rule' ban, meaning that all non-stop flights outside of 1500 miles were banned on all days of the week except for Saturday, and with an exception to the rule for Denver as it was already being served. 1986 saw Western Airlines try to fight the ban in court as they wanted to launch non-stop flights to Salt Lake City with Boeing B737-300's but were unsuccessful in the fight. The beginning of the 2000's was when LaGuardia began to thrive, following pieces of legislation being passed in Congress that would revoke such limits on traffic at the airport by 2007.
A variety of domestic carriers operates to LaGuardia such as American Airlines, Delta, Frontier, JetBlue, Southwest, Spirit, United and Virgin America on services to Chicago, Dallas, Boston, Fort Lauderdale, Orlando, West Palm Beach, Cleveland, Memphis, Miami and many more destinations. The only international carriers are that of WestJet and Air Canada that operate services to Montreal, Ottawa and Toronto respectively. Over 1.5 million passengers per year travel to Chicago O'Hare from LaGuardia. Delta currently has the highest market share at LaGuardia, carrying nearly 38% of total traffic (11.1 million passengers per year). The future of this airport seems to be solidified due to its fairly close proximity to New York City, but also thanks to a plan announced this year by Governor Andrew Cuomo to have a brand new terminal built in 2021.
Buffalo Niagara International Airport – Cheektowaga, New York
Featuring two asphalt runways (labelled 5/23 at 8,829 feet and 14/32 at 7,161 feet), Buffalo carries over 4.7 million passengers per year. The airport's history began in 1926 as a Municipal Airport that was built on former farmland. Passenger and air mail services began in 1927 that mainly operated to Cleveland. The first commercial terminal was built in 1939 with a further expansion in 1955, to increase the airport's capacity to 11 gates. Following deregulation from the Federal Aviation Administration in 1978, Buffalo became served by four carriers, being American, United, Eastern and Allegheny Airlines. 1981 saw a new carrier operate at the airport known as People Express Airlines which operated services to Norfolk, Virginia and Columbus. The carrier also had service from Newark too. Other carriers such as TWA, Republic, Empire, Mall Airways and Piedmont Airlines operated services out of Buffalo between 1979 and 1989.
Nowadays, American, United, Delta, JetBlue and Southwest operate regular service from Buffalo to many destinations. Vacation Express, which is operated under the Sunwing Express name, operate services to Cancún and Punta Cana on a seasonal basis during the summer. In terms of passenger numbers, the airport has seen a nine percent drop over the past three years.
Albany International Airport – Albany County, New York
Carrying over 2.3 million passengers per year from 150,000 aircraft operations, Albany International has two asphalt runways (labelled 1/19 at 8,500 feet and 10/28 at 7,200 feet) and is the oldest municipal airport in the U.S. History dates back to 1908 when the field was just an airstrip on a former polo field. The airport kept closing and reopening between the 1930s and 1940s, but since 1942, the field has not been closed for any reasons other than weather and emergency traffic. American, Eastern and Alleghany Airlines began operating at the airport after the US Airline Deregulation Act in 1978. After this deregulation, carriers such as Braniff International Airways, Mall Airways, People Express Airlines, Piedmont Airlines, Republic Airlines and United also began offering service.
Nowadays, American Airlines, Cape Air, Delta, JetBlue, Southwest and United operate regular flights to the airport from Charlotte, Chicago, Philadelphia, Washington, Boston, Massena, Ogdensburg, Atlanta, Detroit, Minneapolis, Fort Lauderdale, Orlando, Baltimore, Denver, Las Vegas, Tampa, Fort Myers and Newark. OneJet also launched services to Pittsburgh back in March 2017. Southwest Airlines currently maintains 45% of the market share in Albany, and carries over 200,000 passengers per year to Baltimore.
Greater Rochester International Airport – Monroe County, New York
The final airport of interest in this edition of the State Series is Greater Rochester International Airport. Featuring two asphalt runways and one concrete runway (labelled 4/22 at 8,001 feet, 7/25 at 4,000 feet and 10/28 at 6,401 feet, the airport's history began in 1919 when the site of Britton Field was used for aviation purposes, offering flights for $1 per flight. The modern airport was then fully developed and built by 1927. Expansion of terminals then occurred between 1928 and 1963 before carriers such as American Airlines were operating service with its Boeing B727 aircraft. The 1970's saw Alleghany Airlines joining the commercial portfolio, following the new lounge space that was built for additional passengers and carriers.
Nowadays, Greater Rochester's portfolio has grown slightly with carriers such as Air Canada, Allegiant Air, American, Delta, JetBlue, Southwest & United operating to destinations such as Toronto, Fort Lauderdale, Orlando/Sanford, Charlotte, Boston, Chicago, Philadelphia, Washington, Baltimore, Tampa and many more destinations. American and United both have the busiest domestic routes from and to the airport, carrying a combined 153,000 passengers to Chicago O'Hare alone. Cargo is duopolised by DHL (Operated by Southern Air) and FedEx (Operated by Wiggins Airways) on services to Cincinnati, Hartford, Grand Rapids, Memphis and Elmira respectively.
James is a passionate AvGeek who has been actively spotting for years. James has been an Aviation Enthusiast for 7 years and has a fond likening to Concorde! James hopes to grow in the aviation industry with journalism being his primary focus.
Latest posts by James Field (see all)