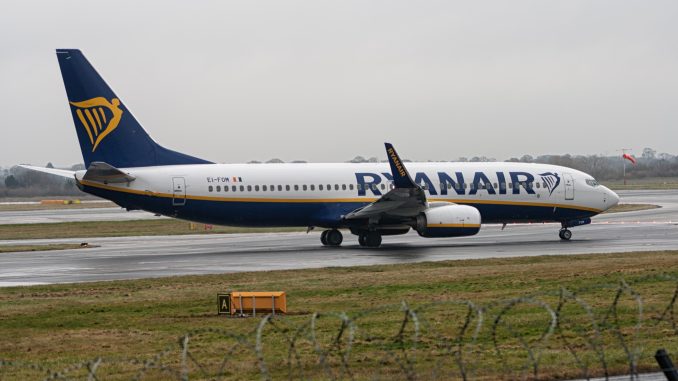 Last week, Irish low-cost carrier Ryanair reported a 55 percent increase in profits for Q1 2017 earlier this week. However, even with these results, the airline continue to discuss potential risk to its balance sheet with the coming independence of the U.K. from the European Union.
Brexit and the EU Open Skies Agreement 
In the carrier's press release, it added a section regarding Brexit, which projected a continued level of uncertainty in terms of operations out of the U.K. for the Dublin-based carrier.
The airline stated "We remain concerned at the uncertainty which surrounds the terms of the UK's departure from the EU in March '19. While we continue to campaign for the U.K to remain in the EU Open Skies agreement, we caution that should the UK leave, there may not be sufficient time, or goodwill on both sides, to negotiate a timely replacement bilateral which could result in a disruption of flights between the U.K and Europe for a period of time from April '19 onwards.  We, like all airlines, seek clarity on this issue before we publish our summer 2019 schedule in the second quarter of 2018."
Out of the near 400 aircraft the carrier has in its fleet, over 90 are based in the U.K.
The statement highlights Ryanair's main concern in terms of negotiations between the United Kingdom and the European Union. If the U.K. were to leave, then it would not be in the Open Skies Agreement, meaning that the protections in place for carriers such as Ryanair will not be present anymore.
It could be argued that this is what led to Luton-based carrier easyJet to acquire an Air Operator's Certificate (AOC) in Austria.
easyJet's View 
In order to better understand how Ryanair could position itself given the current risk and uncertainly, it's important to look at its competitor, easyJet.
In a short interview, a representative easyJet stated that regardless of the timescale the carrier is currently in, it will continue to serve operations out of the U.K. and Europe post-Brexit, and has placed emphasis on the fact that a deal must be struck bilaterally in order to make such operations continue.
The airline also mentioned that just because it is launching an Austrian AOC, it does not mean that it is looking to withdraw all operations from the U.K. Instead, easyJet is positioning itself to thrive further in Europe, like how Ryanair does with their Irish-registered aircraft.
In a statement of confidence, the airline concluded by saying Q2 2018 operations are going through regardless, unlike Ryanair's prompt to withdraw by then.
Although Ryanair likely wouldn't follow in easyJet's footsteps as its aircraft are Irish-registered, it still presents the idea that Brexit is reducing and restricting growth opportunities, especially in the airline industry.
In addition, it could distort the high levels of growth in the U.K. that Ryanair, easyJet and many more carriers have been recording. This is especially seen through easyJet announcing 1,200 additional cabin crew roles, which will all be Europe-based along with AOC the airline acquired in Austria.
Norwegian's View
It would appear that while negotiations are ongoing for Brexit, Norwegian appears to be confident in the process. Its U.K. AOC was activated in 2015, and since the referendum produced its results, it has significantly expanded at London Gatwick as well as other airports across the country including Belfast, Birmingham, Edinburgh, Manchester, and Newcastle.
Norwegian was unable to provide a comment for this story in regard to their risk given the Brexit decision.
Norwegian as a whole still remains profitable, recording a pre-tax result of £80.5 million. The result was slightly down from last year's result, but rather than placing the blame on Brexit, the airline said its profit was down due to the higher oil prices and the air passenger tax that was implemented by the Norwegian government.
This would, therefore, highlight that Ryanair's fear of Brexit isn't similar to that of Norwegian's view. Norwegian still believes that it can provide growth where needed, and that it still believes that the U.K. is a strong contender for growth, regardless of the political situation it may currently be in.
Flybe's View 
From a regional perspective, AirlineGeeks.com reached out to the U.K.'s biggest regional carrier, Flybe, and asked them whether Brexit will affect them, especially given their recent expansion to European destinations like La Rochelle, Dusseldorf and Hannover.
Christine Ourmieres-Widener, Flybe's CEO, stated "Flybe, along with other airlines, wants clarity from the Government as to what the arrangements will be regarding flying arrangements to and from the EU post-Brexit. The Government must now start to make clear what it wants on key aviation issues, such as the future of EASA. We are less impacted than other airlines given our domestic network focus but the uncertainty is not helpful."
Ourmieres-Widener continued, "At this stage, we are monitoring developments, but not specifically looking at establishing a further AOC. The most important thing for us is getting clarity from the Government on Brexit negotiations. Our lack of flying intra-Europe means we are less exposed than others."
Based on this feedback, it would show that the only market that is not at risk of such woes is the regional market. Therefore, for a carrier like Ryanair, routes that operate nationally would not be affected. However, any aircraft flying to a country outside of the U.K. is much more at risk.
Brexit: A Potential Danger for the Airline Industry?
Based on feedback from several major airlines in the region, there isn't one clear answer for how the airline industry is weighing the risk from Brexit. For a carrier like Ryanair, it believes that the damage caused by the potential withdrawal or renegotiation of the EU Open Skies Agreement with the United Kingdom will put the carrier at risk, so much to the point of threatening a withdrawal of U.K. operations.
For other carriers like Norwegian, there appears to be more confidence in the post-Brexit performance of the country. For a carrier like easyJet, it could be conveyed that their Austrian AOC is going to be used to gain a foothold in the European market, just in case the performance of the U.K. aviation sector falters under a post-Brexit economy.
All-in-all, only time will tell what aftermath will exist, and whether it will be more positive for the U.K. post-Brexit.
James is a passionate AvGeek who has been actively spotting for years. James has been an Aviation Enthusiast for 7 years and has a fond likening to Concorde! James hopes to grow in the aviation industry with journalism being his primary focus.
Latest posts by James Field (see all)