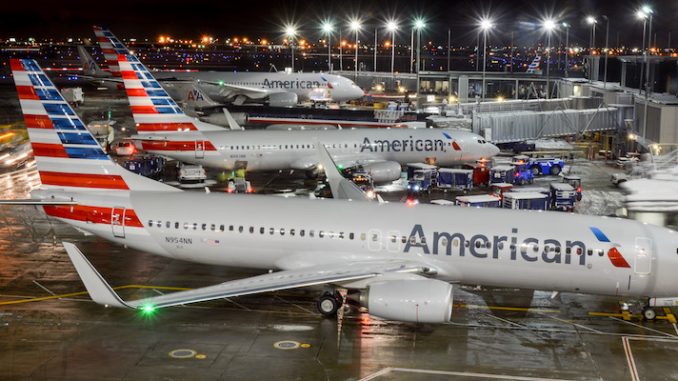 The ability to stay connected while traveling is now a top priority for the airlines. Companies such as Gogo have been providing inflight internet service since 2008, starting with American Airlines and have expanded to many other carriers. Like any first generation technology, there are problems along with room for improvement and American has begun making changes to improve a relatively new luxury for its passengers.
Gogo sends signal to aircraft via 160 Air-To-Ground towers passing connectivity as they fly between service areas. This technology has become dated with the introduction of satellite based internet service, which has been more reliable and provides higher speed. American Airlines recently announced that with its 100 new Boeing 737 MAX aircraft they will be using a new satellite based inflight internet provider from ViaSat, based in California.
American does not intend to discontinue its service with Gogo, however many of the aircraft utilizing the older service are set for retirement. There are an additional 400 aircraft that will be upgraded to receive the satellite based internet service, however no agreements with either company have been set.
British Airways who has been behind on this technology plans to fit 118 aircraft in its fleet with Gogo Inflight Wifi to compete with the global demand. This trend is also increasing for many long-haul routes from Europe and beyond.
As technologies improve airlines have scrambled to incorporate them, such as lighter airframes, composite materials, and efficient engines. Now they have focused on the technology inside the airplane to increase the passenger experience and capabilities. The ability to travel across the world on a twin-engine and stay connected to the internet for the entire flight is the new normal for aviation.

Shane started as an airline geek on the first day that his mother brought him to work with her as a kid at Dulles Airport. Visiting the ground control tower, driving out on the ramp, and even sitting in the engines, he knew this was something awesome. After learning all the aircraft types and collecting countless model planes, he was addicted. After college, Shane worked at the FAA command center and gained in-depth knowledge of the industry he already loved. For over 5 years, he has worked mainly in Information Technology with the Department of Defense and various military organizations, however continues to grow his passion for aviation and the world of flying. Still today he can't go to the airport without staring out towards the runway or look up to the sounds of something overhead.

Latest posts by Shane Piper (see all)