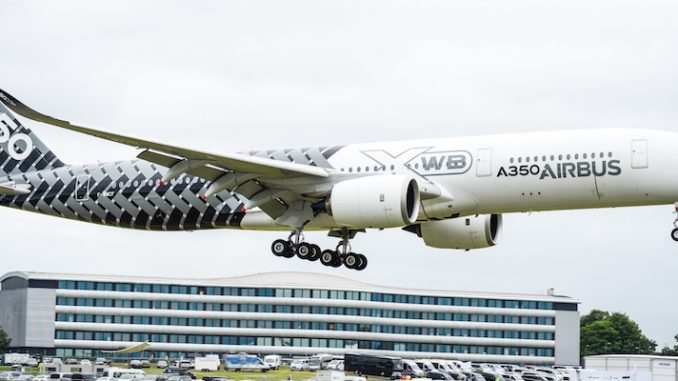 This week sees the world renowned Farnborough International Airshow lifting off into the aviation atmosphere where a week-long event sees a major trade exhibition for the aerospace and defense industries with a public airshow. Cited as one of the most important events on the aviation calendar, it's a platform allowing an opportunity to demonstrate both civilian and military aircraft to potential customers and investors. Farnborough Airport, located southwest of London, sees its ramp swamped with static displays along with its runway and airspace full of air displays.
Over the course of the week, AirlineGeeks.com will bring daily updates of all the major commercial aviation announcements from Farnborough International 2016.
Virgin Atlantic announces 12 orders for the Airbus A350-1000
Monday morning saw the arrival of the Airbus A350-1000 registered F-WWCF after flying in from London Gatwick with a very special party onboard. Sir Richard Branson and his Virgin Atlantic Cabin Crew stepped outside to what was to be the confirmation that after months of speculation Virgin would be placing orders for the "Xtra Wide Body" aircraft. The order is compromised of eight aircraft with four on long term leases from 2020. The fleet will operate from both London Heathrow and Gatwick airports where initially they'll be deployed on trans-Atlantic routes from Heathrow to strengthen its business routes before operating from Gatwick on leisure routes.
Speaking after the arrival of the aircraft at Farnborough, Virgin CEO Craig Kreeger said: "The size of this order demonstrates our absolute focus on investing in the future for our customers and our people, and confirms the strength of our business." Prime Minister David Cameron, who spoke at the opening ceremony of the event, said: "I welcome the news of Virgin Atlantic's investment. As well as being good news for passengers, it's great news for jobs in the UK."
Xiamen Airlines purchases 30 Boeing 737 MAX 200s
Chinese airline Xiamen Airlines signed a memorandum of understanding for up to 30 737 MAX 200s to help build on its low-cost operations.
Subject to approval from parent China Southern Airline Group as well as the Chinese Government, the deal is worth $3.39 billion at current list prices. The Chinese carrier plans for the aircraft to be with Hebei Airlines and Jiangxi Airlines, low cost subsidiaries of Xiamen. The airline already has firm orders for 32 Boeing 737-800s as well as a number of other aircraft.
 Ray Conner, Chief Executive Officer of Boeing Commercial Airplanes, said in a statement: "The market-leading efficiency and reliability of the 737 Max 200 will enable Xiamen and its subsidiaries to expand its growing network, while maintaining an optimal fleet."
Boeing Confirms 737 MAX 7 redesign
Boeing has confirmed it has redesigned its 737 MAX 7 to accommodate two more seat rows with up to 12 more seats than todays 737-700.  With the first delivery of the 737 MAX 7 scheduled in 2017, the announcement at Farnborough concludes talks Boeing held with customers (Southwest and WestJet) in regards to stretching the design. "It's not so much about responding competitors out there. It's much more about responding to our customer needs," says John Wojick, Boeing's Chief Salesman. "I don't know that it dramatically changes the sales outlook for the 737-7 variant."
Donghai and Boeing Announce Orders for Dreamliners and 737s
Boeing and Donghai Airlines announced an agreement for 25 737 MAX 8s and five 787-9 Dreamliners to be purchased by the Shenzhen-based airline, in a deal valued at around $4 billion based on current list prices. "We are honoured by Donghai Airline's reaffirmation of the 737 MAX, and we look forward to welcoming Donghai as our new 787 customer," said Boeing Commercial Airplanes President & CEO Ray Conner. "These new airplanes will provide Donghai Airlines with the added efficiency, operating economics and passenger comfort for their business growth domestically and internationally." Donghai Airlines started freighter operations in 2006.  The carrier expanded to offer passenger services in 2014. Donghai Airlines currently has a fleet of 11 Boeing 737-800s serving  more than 10 cities across China.
Forecasts
Embraer has revised its forecast for large regional jets to 6,400 aircraft, slightly higher than last year's projection of 6,350. According to the manufacturer, 70-130 seat aircraft will be the fastest growing of all segments, including 2,300 units in the 70-90 seat segment and 4,100 in the 90-130 seat market. Around 31% of this is expected to be delivered in North America.
Airbus anticipates demand for 1,479 new passenger jet and freighter aircraft in the "very large" category, a slimmer outlook compared to its previous level of 1,550 for the next 20 years. Almost half of the high capacity aircraft, approximately 700, will be delivered to Asia-Pacific carriers while 450 are expected to head to the Middle East airlines. Airbus has increased its overall demand for the next two decades at 33,074, a 1.5% increase, comprising of 8,064 twin-aisle and 23,531 single-aisle airliners. 20,240 of these will be new aircraft to keep up with growth, while 12,830 will be replacements for current airframes.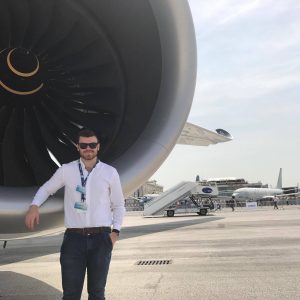 James is a keen aviation enthusiast from the United Kingdom. He has been flying since the age of 13 and today, aged 23, flies the Airbus A319/320 series for one of Europe's largest airlines.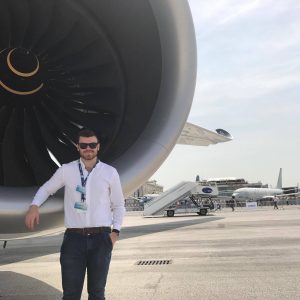 Latest posts by James Dinsdale (see all)