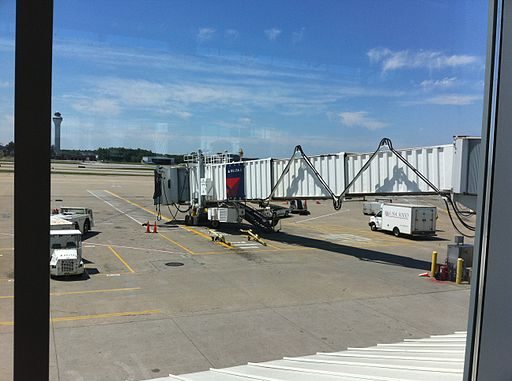 In this continuing series, we take a closer look at airports in the "Rust Belt" that have seen the demise of much of their service. However, not all hope is lost as some of these cities continue to fight back to regain flights from both legacy and non-traditional airlines. For Part One, please visit here. 
Cincinnati, OH – Cincinnati/Northern Kentucky International Airport (CVG)
Cincinnati has always had close ties to Delta, with the carrier starting the 2000s as the largest carrier at the airport by a mile. Delta had boosted the airport to amazing figures, including over 21 million passengers per year as well as nearly a 500,000 aircraft movements per year. Delta owned the airport's regional carrier Comair and operated three maintenance bases across CVG. Delta operated three of the four concourses at the airport, leaving all other non-SkyTeam airlines to operate out of one terminal, which was also the smallest and oldest one available.
Delta's CVG hub originally survived the impact of 9/11, with passenger numbers consistently rising after the attacks and pushing the airport past the 22 million travellers per year market in 2003. Delta had already operated international service to Europe and started looking at CVG as an Asia hub, with talks of Beijing and Tokyo as possible destinations. However, the airline started to struggle, with Delta seeing the impact of 9/11 through 2004 and 2005, and the airport seeing multiple routes cut and a passenger count drop from 22 million to 16 million. Delta's suspension of routes trickled through the next few years, causing other routes to be suspended due to lack of passengers connecting through Cincinnati.
The cuts that Delta had made in 2006 put the airport at a competitive disadvantage when Delta announced it would merge with Northwest Airlines in 2008. Northwest had created two large hubs at Detroit and Minneapolis-St. Paul, and their routes dramatically overlapped those of CVG. Not needing that much overlap, Delta made more cuts to Cincinnati, consolidating the airline to just Concourse B and closing Concourses A and C. By the time the airline finished slashing routes, Cincinnati was left with roughly 100 flights per day to 35 destinations. Cincinnati took a further hit in 2012, when the airport's regional carrier Comair went bankrupt, forcing Delta to shift a majority of CVG operations to other Delta Connection carriers. Even though the airline has slashed nearly 600 flights out of CVG, Delta has not abandoned Cincinnati completely. The airline still listed the airport has a hub on the route map as well as continued to operate maintenance bases for their Delta, Delta Connection and Delta Private Jet branches. Since the cuts to CVG, Delta has also upgraded some routes with larger Boeing aircraft, replacing smaller Airbuses on west coast routes. The airline also still operates international service to CVG, with year long flights to Toronto and Paris-Charles de Gaulle and seasonal service to Cancun as options.
With Delta's cuts to Cincinnati and two empty terminals sitting on airport property, Cincinnati Airport decided in 2010 to close Concourse A for renovation and move all non-Delta carriers to the concourse when renovations were finished. This move allowed for other carriers to expand while providing the other carriers with a better building than the rapidly aging Terminal B. The move occurred in 2012 and was in time for new airlines to make their way into the CVG market. The first low cost carrier for Cincinnati arrived in 2012 with Frontier starting flights to Denver. The airline quickly found success, adding routes to Dallas, Ft. Lauderdale, Las Vegas, Orlando and Phoenix within the next two years. Frontier's success at CVG caught the eye of fellow budget carrier Allegiant, and in 2014 Allegiant announced service between Cincinnati and Orlando-Sanford and Ft. Myers/Punta Gorda. Much like Frontier, success came naturally for Allegiant at Cincinnati, with the airport being Allegiant's largest non-leisure destination by the end of 2015. The airline now operates flights to 12 year round destinations as well as Fort Walton Beach and Myrtle Beach on seasonal flights. Despite the dent that these carriers have done to Cincinnati, Delta still dominates the Cincinnati market, with the airline flying over 50% of passengers that travel through the airport.
With airlines now only operating out of two of the possible four terminals at Cincinnati, the airport announced in 2013 the "CVG 2035 Master Plan" calling for further consolidation of the airport. The plan calls for the airport to level Concourse C in favor of a deicing pad and overnight parking ramp. Concourse A will be doubled in size to allow for further expansion of service should the low-cost carriers need the space. The use of Concourse B is up to Delta; the airport wants to renovate the concourse, but should Delta want to continue to cut routes then the airport, it will move the airline to Concourse A. Since the airport isn't a commercial hub anymore, Cincinnati's main focus is first attending to the rapidly growing cargo scene at CVG, making sure that DHL's cargo carriers have enough room to expand and possibly expanding runways to meet the requirements for the Boeing 747-8F.
Indianapolis, IN- Indianapolis International Airport (IND)
While not a major player in the Mid-Atlantic market, Indianapolis has had its fair share of pains from being in the rust belt. The airport had become a focus city for ATA Airlines of Chicago and saw a handful of flights to leisure destinations. Flights on ATA ranged from Las Vegas and Los Angeles in the West to St. Petersburg, Orlando, Ft. Lauderdale and Sarasota in the East. The airline also provided Indianapolis with its only international destination: Cancun. However, a weakened economy following the attacks of September 11th forced ATA into bankruptcy in 2004, and with Indianapolis being the smaller of the two major destinations for the carriers, the hub was closed and the vast majority of ATA operations shifted to focus on their Chicago-Midway hub.
The demise of ATA at Indianapolis allowed Northwest Airlines to experiment with making it a focus city. The airline started flights from Indianapolis to 22 new markets in hopes of winning over the Indianapolis travelers and major businesses like the Eli Lily Corporation. However, the airline struggled to turn a profit on most routes at IND, and when the carrier merged into Delta Air Lines, it cut a majority of the routes. Of the routes that were operated by Northwest, only Boston, Ft. Myers, Orlando and Raleigh remain on Delta's route map.
The closure of the Northwest focus city brought in some other carriers. Southwest has increased its presence and offers flights to 17 destinations on its fleet of Boeing 737s. Allegiant Air has also found that there is leisure demand at Indianapolis, offering flights to six year round destinations with three summer seasonal destinations added on. With the addition of new flights, Indianapolis has consistently remained around 7 million passengers, with 2016 potentially being the first year the airport passes 8 million passengers since the Northwest focus city was around in 2008.
Although Ian McMurtry was never originally an avgeek, he did enjoy watching US Airways aircraft across western Pennsylvania in the early 2000s. He lived along the Pennsylvania Railroad and took a liking to trains but a change of scenery in the mid-2000s saw him shift more of an interest into aviation. He would eventually express this passion by taking flying lessons in mid-Missouri and joining AirlineGeeks in 2013. Now living in Wichita, Kansas, Ian is in college majoring in aerospace engineering and minoring in business administration at Wichita State University.
Latest posts by Ian McMurtry (see all)