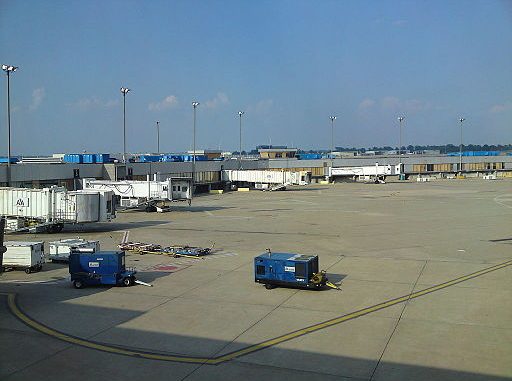 This is the finale of this three part series, taking a closer look at airports in the "Rust Belt" that have seen the demise of much of their service. However, not all hope is lost as some of these cities continue to fight back to regain flights from both legacy and non-traditional airlines. For Part One, please visit here. For Part Two, please visit here. 
St. Louis, MO- Lambert-St. Louis International Airport (STL)
Transitioning to another major airport in the Midwest, The 1990s weren't the kindest to Lambert-St. Louis' hub carrier, Trans World Airlines. Repeated bankruptcies and employee strikes along with bad press news about the explosion of TWA Flight 800 left the carrier with a dark future. Despite this very rough decade, TWA continued to see passenger numbers increase at their hub airport, rising from 20.9 million in 1990 to 30.2 million in 1999. Trans World operated out of three of the four concourses in the West Terminal, with a slowly expanding Southwest Airlines operating out of the newly built East Terminal.
With the reoccurring bankruptcies, TWA was looking for a buyer and American Airlines was willing to talk. American was doing too well for itself and overcrowding at their Chicago O'Hare and Dallas-DFW hubs, leaving them looking for a reliever airport. The two airlines agreed to merge in 2001, with Trans World flying their last flight in December 2001.
However, the events of September 11th changed the way American Airlines looked at their hubs, as passenger numbers plummeted and the need for a reliever to O'Hare and DFW was no longer necessary. The first set of cuts came as soon as the merger was finished, with some European service becoming seasonal and STL's daily American departures changing from 522 flights per day to roughly 450. Most service that was flown on mainline McDonnell-Douglas MD-80s were transitioned to American Eagle and American Connection Embraer ERJ-145s. While the cuts hurt the airport, the airport remained one of American's largest hubs, only following Dallas-DFW in destinations served and flights per day. The events following 9/11 led all American Airlines hub airports to see a decrease in traffic, with every airport's passenger count dropping between 6 to 16%.
This drop in passenger count was the nail in the coffin for American Airlines's St. Louis hub, as the slot restriction that had been placed on Chicago-O'Hare was lifted in 2002. With American prioritizing their Chicago slots, the St. Louis cuts became more massive. In 2003 American slashed 210 more flights out of Lambert as passenger counts plummeted to under 14 million. The cuts ended with American Airlines closing Concourses B and D, leaving the airport in the lengthy Concourse C. The airline saw some rebound at St. Louis, with passenger counts jumping back up to around 15.3 million passengers by 2007. But the rebound would only suffer once again as the recession of 2008 hurt the airline, and rising fuel prices resulted in American transitioning more mainline aircraft out of STL to regional jets. By 2009 American had given up hope on St. Louis thanks to fuel costs, as the carrier planned to wind down St. Louis's hub operations by reducing flights from 200 to 36 flights per day. The move was also strategic for American, as the airline was losing the battle of Chicago with United Airlines. Just as they cut over 164 flights out of Lambert, they added 56 out of Chicago. In 2010, American officially ended the Lambert-St. Louis hub and the airport sealed off the far end of Concourse C since it wasn't necessary anymore.
While American was ending service to St. Louis, one carrier had made Lambert a priority; Southwest Airlines. Being on their own at the East Terminal allowed for the airline to start new routes as American ended them. When American closed their hub in 2010, Southwest became the largest airline at Lambert with 83 flights to 31 destinations. Southwest has continued to expand their presence at Lambert, with the airline eclipsing 100 daily departures out of St. Louis to 42 destinations in 2016.
The abandonment of American's STL hub has attracted some new service too. Delta stepped up their service to their hubs, including passing American in passenger count and departures out of Lambert. Frontier has also taken advantage of St. Louis's open gates, offering flights to Cancun, Las Vegas, Denver, and Orlando. Alaska Airlines entered the market in 2012, with flights to Seattle and Portland now offered on Boeing 737-800 and Embraer ERJ-175 aircraft.
St. Louis is now a focus city for Southwest, and while that is great for both parties involved, there is projected to be some growing pains in the near future. Southwest is quickly outgrowing their terminal, and with Southwest continuing to add new routes out of Lambert, the need for a solution grows more each time a route is introduced. The easiest solution would be to renovate and reopen Concourse D of the main terminal for Southwest since the West Terminal and East Terminal are connected by Concourse D. Both parties have yet to comment on a possible solution, but agree that the problem exists. Lambert is also interested in restarting European service, with both Lufthansa and British Airways mentioning St. Louis as a possible destination for future flights.
Milwaukee, WI-Milwaukee General Mitchell International Airport (MKE)
While Milwaukee (MKE) has always been seen as a Chicago alternative, the airport was once a hub for Midwest Airlines. The carrier had taken advantage of airlines battling for slots in Chicago-Midway and Chicago O'Hare and through the 1980s and 1990s had started numerous flights out of Milwaukee. However, like most other US carriers, the attacks of 9/11 greatly affected Midwest's ability to expand. Despite the losses that came with 2001, the carrier found a way to stabilize its route map, preferring to adjust their inflight product over the idea of removing routes. By 2005, the airline had 21 destinations on their mainline aircraft and a further 30 destinations offered on Midwest Connect.
Midwest Airlines had still continued to struggle as the airline tried to reestablish itself at Milwaukee. AirTran and Northwest got into a bidding war for the carrier in 2007, and when Northwest won the deal, AirTran responded by opening a hub at Milwaukee. The airline started flights in 2007 and by 2009 offered 52 flights per day to 22 destinations. The airline went on a market barrage, advertising themselves as Milwaukee's carrier and even becoming the official carrier of the Milwaukee Brewers baseball team. Milwaukee saw great success from this, with passenger counts breaching 8 million passengers in 2009 and 9 million in 2010.
The revenge scheme worked, and by 2009 Midwest was looking for a new owner. Luckily, Republic Airlines was willing to invest in the Wisconsin airline and hoped to return it to profitability. However, Republic was quickly bleeding cash from operating both Midwest and Denver-based Frontier and by 2010 the holdings company decided to merge the two carriers with Frontier being the surviving name. Around the same time that Frontier was replacing Midwest, Southwest had purchased AirTran, with Southwest becoming the surviving name.
Mergers were both a blessing and a curse for Milwaukee. Frontier had attempted to maintain the Midwest base at Milwaukee but rising fuel costs and a lack of demand at MKE resulted in Frontier bailing, removing all but Orlando and Denver from the route map in 2012. Southwest originally scaled back service at Milwaukee, fearing that the AirTran hub would overshadow their Chicago-Midway service. As a result, passenger numbers at General Mitchell Airport plummeted from 9.5 million in 2011 to just 6.5 million in 2013.
Despite the losses, Milwaukee has made a small rebound, as Southwest has restored some of the lost service and also is looking to slowly expand the airport thanks to starting international service to cities like Montego Bay and Punta Cana. United has upgraded their presence, with flights to Denver and Chicago O'Hare moving from regional aircraft to mainline planes in 2016. Frontier has also slowly reintroduced service to Milwaukee, with seasonal flights to Atlanta, Dallas-DFW, Ft. Myers, and Philadelphia.
Although Ian McMurtry was never originally an avgeek, he did enjoy watching US Airways aircraft across western Pennsylvania in the early 2000s. He lived along the Pennsylvania Railroad and took a liking to trains but a change of scenery in the mid-2000s saw him shift more of an interest into aviation. He would eventually express this passion by taking flying lessons in mid-Missouri and joining AirlineGeeks in 2013. Now living in Wichita, Kansas, Ian is in college majoring in aerospace engineering and minoring in business administration at Wichita State University.
Latest posts by Ian McMurtry (see all)