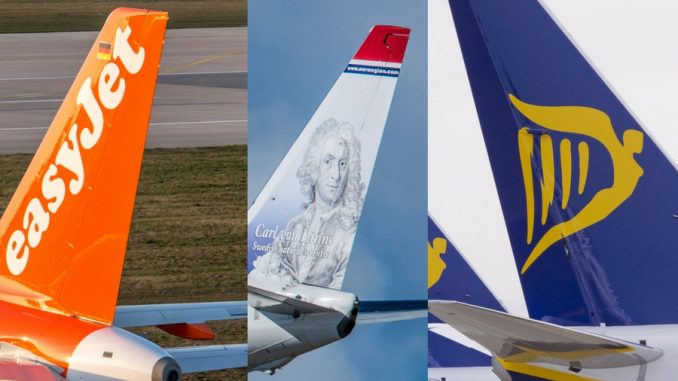 Over the years, Europe has become a battleground for LCCs (Low Cost Carriers) with the presence of airlines such as Ryanair and easyJet emerging over the past three decades. This story will take a look at the history of some of the carriers, how they are doing in today's markets, as well as mentioning any new potential competitors. What will the future hold for LCCs?
Emergence of Europe's Biggest
First, let's look at one of the main LCCs in Europe; Ryanair. This Irish carrier was founded in November 1984 and commenced operations half a year later in July 1985. The airline initiated operations with a 15-seat Embraer Bandeirante turboprop aircraft, flying between Waterford and London Gatwick. This route was used to break the duopoly on London-Ireland flights, which were until then held by Aer Lingus and British Airways. In 1986, the airline added a second route, operating between Dublin and London Luton airport in direct competition with the existing duopoly. Under partial EU deregulation, airlines could now begin new international intra-EU services, as long as the host governments gave approval.
The period where Ryanair expanded viciously into the LCC market was between 1992 and 1999. Following the eight years of  EU's deregulation of the air industry in Europe, the airline placed an order for 45 new Boeing 737-800 aircraft with a net worth of $2 billion. Up until then, they had owned Boeing 737-200s between the 1990s and 2005. In 2001, Ryanair launched a new base in Charleroi Airport, Belgium and later that year, they expanded their aircraft order to 155 B737-800 aircraft, which were to be delivered between 2002 and 2010. In 2009, the airline ordered another 200 Boeing 737-800 aircraft, to be delivered between 2013 and 2016. Combined with the 112 aircraft already on order in 2012, this would take the total fleet to over 300 aircraft.
To the current day, Ryanair has over 350 aircraft in their fleet with more Boeing 737-800 aircraft on the way, as well as some of the Boeing 737 MAXs. The airline currently serve 192 destinations and employs over 9,000 people. Ryanair is currently in the green after making a €256 million profit in Q1 of 2016. They have grown out to accommodate 100 million passengers throughout Europe.
Story of easyJet's Quick Success
UK low cost carrier easyJet was founded 21 years ago in 1995. The Luton-based airline launched operations with two wet-leased Boeing 737-200 aircraft. The airline, which was led by Sir Stelios Haji-Ioannou, initially launched two routes with these aircraft: London Luton to Glasgow and Edinburgh. April 1996 saw the airline launch official operations with their first wholly owned aircraft, enabling the airline to operate its first international route to Amsterdam. The aircraft were operated by GB Airways and Air Foyle until October 1997 as easyJet had not yet received their Air Operator's Certificate up until then. In 2002, the airline grew significantly, after opening their base at London-Gatwick.
Five years after receiving their operator licence, easyJet purchased the entire share capital of GB Airways from its owners, the Bland Group for £103.5 million. This enabled the British carrier to expand operations at Gatwick as well as open a new base at Manchester Airport. Moving into the current decade, the airline opened their 11th UK base at London Southend Airport. Hereby it monopolised the Southend market, operating flights to a variety of destinations such as Alicante, Amsterdam, Barcelona, Belfast International, Faro Málaga, Jersey, Palma de Mallorca, and Ibiza. In March 2013, the airline hit a double milestone. Firstly by appearing on the FTSE 100 stock exchange and secondly by launching its 100th route from Gatwick, offering direct flights to Moscow on a low-cost basis. easyJet currently handles 70 million passengers per year, with a fleet size of over 230 aircraft to more than 130 destinations.
The Numbers
Ryanair currently operates 354 aircraft, 120 more than what easyJet currently operates. In terms of destinations covered, Ryanair takes a small lead by operating to 58 more destinations than their British competitor. In terms of passenger numbers, this is where the two LCCs are majorly divided. Ryanair currently leads easyJet by 30 million passengers as the Irish carrier currently handles 100 million passengers per year compared to easyJet's 70 million per year. The passenger numbers is something where Ryanair does not have to necessarily compete with easyJet over as they gain more passenger numbers from the more destinations that they serve.
Customer service approval ratings can be even more important to a LCC. Some LCC's want to maintain a specific reputation to attract returning customers or gain new customers within the market. Using SKYTRAX ratings, the two airlines are quite similar in terms of customer service ratings. However, easyJet takes the lead as they rate 7/10 on SKYTRAX for customer service approval whereas Ryanair trails by one point at 6/10. It should be noted that Ryanair, in 2014, was known as the second worst airline in the world regarding customer service, according to an article from the Daily Mail. They have improved from there on, but still have work to do if they want to catch up with easyJet.
Another key difference between the two carriers is market share in the European Air Industry. Both LCCs were contacted to provide market share information directly pertaining to their outlook and forecasts on their current market share as well as their view on the future. Ryanair's Head of Communications, Robin Kiely, was the first person to respond; he stated that they dominate the Spanish, Italian, Irish, Polish, and Belgian markets, and with their 49% market share lead in Ireland alone, they beat Aer Lingus and British Airways. They currently have an 18% market share in the UK market, leaving them second in line after easyJet. The UK is the only market where easyJet takes the lead. Ryanair also leads in the rest of Central Eastern Europe with a 14.5% market share ahead of Wizz Air and Aegean Airlines. Concluding, they appear to lead in the vast majority of European markets.
New Competition Emerging
For the past three decades, Ryanair and easyJet have dominated the European low cost market. As of the past five years, one airline has recently started to make a presence. Scandinavian carrier Norwegian has started low-cost operations from the UK and other parts of Europe.
The airline launched in January 1993, operating on a regional basis before appearing in the low-cost market on a tiny scale in 2002. Currently they hold 18 destinations across Europe and the USA. They are an airline that has succeeded on what Ryanair has wanted to do in the last decade. They have successfully launched low-cost long haul flights to the U.S from Gatwick and are awaiting AOC approval to operate flights to the U.S from Ireland. The airline currently operate a mixed fleet of Boeing B737-800s and Boeing 787 Dreamliner aircraft, with destinations all across Europe and the US.
The airline's load factor is currently at 94.6%, trailing only by 2.6% from Ryanair's load factor of 96%. easyJet is ahead of Norwegian by a small margin of 1.2%. In terms of passenger numbers however, Norwegian has a lot of catching up to do. According to their 2015 annual report, the airline trailed easyJet by 45 million passengers and Ryanair by a staggering 75 million passengers. However, in the past decade, they have increased passenger numbers by 22.5 million showing rapid growth. Continuing this trend, Norwegian would be able to close the gap year-after-year.
The airline's stacking of accolades in the past five years shows that Norwegian will eventually be a force to be reckoned with. In 2015, the airline was awarded "World's Best Low-Cost Long Haul Airline" by SKYTRAX, after operating long-haul for more than two years. They also won the title "Best Low-Cost Airline in Europe" three years in a row. They have expanded their fleet rapidly in 2015 with an additional 10 Boeing B737-800s in that year alone. Furthermore, they have made a new deal with Boeing for an additional 19 Boeing 787-9 aircraft to be delivered between 2016 and 2018. Followed by a leasing agreement with HK Express for 12 Airbus A320neo aircraft to be delivered in the same time frame. All this shows that the airline is expanding their already sizable fleet of over 110 aircraft. With the order of over 120 Boeing 737 aircraft (both 737-800 and MAX8 variants), the airline has big plans for the upcoming decade. This in terms of operations as well as destination expansions. For instance, in this year alone, the airline has already launched new LCC services from Manchester and Edinburgh. Destinations include Málaga, Barcelona, and the Canary Islands (starting Winter 2016) on top of their extensive network from London Gatwick and Oslo Gardermoen.
Future for LCCs in Europe
In terms of the future for LCCs, it seems the competition is heating up. With Norwegian's intentions for expansion over the next decade, the European market could be in for a real change. It holds the same potential as the market penetration by Ryanair in the 1980s where the duopoly of two carriers was challenged and eventually taken over. Norwegian holds the potential to become one of the biggest low-cost airlines in Europe, in league with Ryanair and easyJet. Seeing their current business operation, Ryanair is unlikely to release much market share. By further improvement of their customer service and gaining passenger ratings, the competition could intensify between the Irish carrier and the Scandinavia based carrier.
Norwegian's potential growth over the upcoming decade, could pose a challenge for easyJet to keep up with. Their passenger numbers haven't grown as rapidly over the past years as Norwegian's. If easyJet is unable to keep ground on the market, then it could potentially be the demise of the UK based airline as a competitor in the LCC market.
All in all, the low cost carrier market is one definitely worth keeping an eye on over the next decade.
James is a passionate AvGeek who has been actively spotting for years. James has been an Aviation Enthusiast for 7 years and has a fond likening to Concorde! James hopes to grow in the aviation industry with journalism being his primary focus.
Latest posts by James Field (see all)