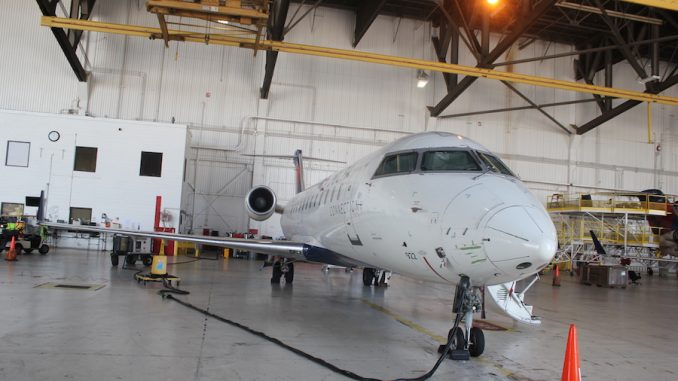 Serving 182 airports in six countries, ExpressJet is one of the world's largest regional airlines. The airline currently operates a fleet of 292 Bombardier and Embraer aircraft for American, United, and Delta.
ExpressJet has crew and maintenance bases scattered throughout the United States. Their largest is in Atlanta, Georgia, which is also their corporate headquarters. Additionally, the company has crew domiciles in Atlanta (ATL), Chicago (ORD), Cleveland (CLE), Dallas (DFW), Detroit (DTW), Houston (IAH), and Newark (EWR). Their maintenance bases are located in Atlanta (ATL), Baton Rouge, La. (BTR), Chicago (ORD), Cleveland (CLE), Dallas (DFW), Detroit (DTW, Houston (IAH), Knoxville, Tenn. (TYS), Newark, N.J. (EWR), Richmond, Va. (RIC), and Shreveport, La. (SHV).
The company's Atlanta headquarters is extensive featuring maintenance, crew training, and the airline's operations center. The facility is adjacent to Delta's headquarters.
With its 8,500 employees, the airline sees an average of 1,392 daily scheduled departures and carried 26 million passengers in 2015. ExpressJet operates a fleet of 59 Bombardier CRJ200s, 37 Bombardier CRJ700s, 28 Bombardier CRJ900s, 163 Embraer ERJ145s, and 5 Embraer ERJ135s.
We had the opportunity to visit the airline's Atlanta headquarters. Check out the photos below:
*Photos by Ben Bearup
Ryan founded AirlineGeeks.com back in February 2013 (actually, it was called Aviation Official, but we've changed a bit since then). From being on the yoke of a Piper Navajo, to visiting about Delta's operations center in Atlanta, Ryan has done it all. in 2016, along with American Airlines, Ryan masterminded AAviationDay at more than 10 locations around the world. The smell of jet fumes in the morning along with the countless number of passionate airline employees keep him enthralled in the industry, always seeking more. You can find him helping out travelers at Reagan National Airport near Washington, D.C. when he's not doing something for AirlineGeeks.
Latest posts by Ryan Ewing (see all)