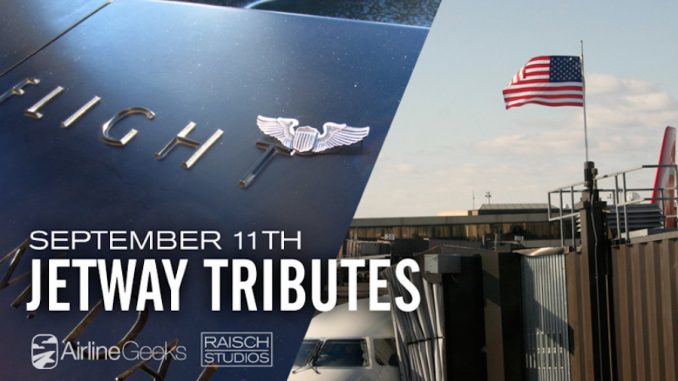 While it may seem like an ordinary part of airline travel, these jetways were the last part of their journey for those lost on 9/11.
Over the fifteen years since the attacks, I steadily started noticing that they marked the gate of flight 93 with an American flag at Newark Liberty. This might be easy to miss, yet it is a nice sight to look for while traveling through the airport. A simple and humble marker for a flight that had once been. While they may not look like much, I find these small tributes powerful. It reminds us of the heroic acts taken by the passengers and crew.
After the initial shock wore off, passengers eventually took to the skies again. In 2001 there was a lot of camaraderie among fellow passengers on the first flight I had taken since 9/11 in November for the holidays. This was a time coined as a "return to normalcy." While waiting for my flight to board, I had sketched the changed New York skyline. Later, I had also sketched the same view with the flight 93 jetway flag in the foreground.
Below are the various gates from Logan, Newark, and Dulles from which the hijacked flights departed. The are accompanied by the memorial sections at the September 11th Memorial in Lower Manhattan.
American Flight 11 – Gate 32, Boston Logan
United Flight 175 – Gate C19, Boston Logan
American Flight 77 – Gate D26, Washington Dulles
United Flight 93 – Gate A17, Newark Liberty
Guest blogger:
Michael Raisch, Raisch Studios
Designer, Digital Content Producer
Our guest authors are contributors to AirlineGeeks.com who like to write, but don't necessarily have the time to be a full-time writer. Want to be a guest writer? Contact
[email protected]
for more information.
Want to join the team full time? Look for more information at the very bottom of the website.
Latest posts by Guest Author (see all)