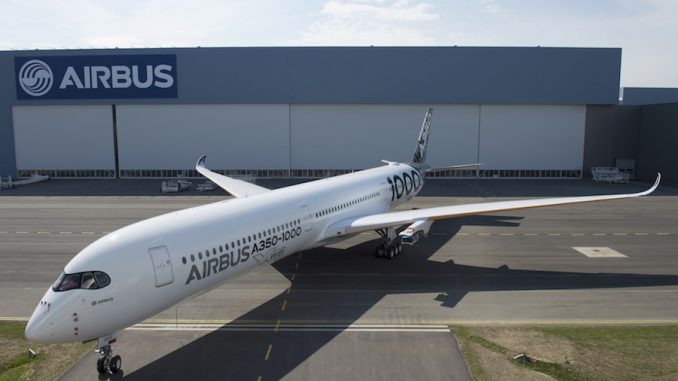 Airbus has rolled out the second A350-1000 test aircraft from their paint shop in Toulouse, France, featuring Airbus' signature carbon fiber themed livery, which reflects the advanced composite design implemented on the company's latest aircraft.
Composite materials make up over 50 percent of the airframe, the symbolic livery is featured on just two aircraft in the A350XWB family, the first being the second A350-1000 and the other being an A350-900.
MSN065, the second A350-1000, will also undergo its certification campaign as the only A350-1000 test aircraft to be equipped with a fully established passenger cabin during testing. System testing and early long haul flights will be completed in 2017.
The longest member of the A350XWB family seats 366 passengers, and, according to Airbus, the operating cost is about 25 percent lower than that of similarly sized aircraft. Airbus has implemented new, highly efficient technology on the A350 family, producing a quiet, comfortable cabin. Currently, the newest addition, the A350-1000, has 195 orders and is expected to enter service in 2017.
Ashley is currently a senior in high school and plans on pursuing a career in aviation or journalism. Her favorite airplanes include the Boeing 777, 737MAX, and Airbus A350. She enjoys taking flights on various airlines to different airports and planespotting at her local airports.
Latest posts by Ashley Magoon (see all)