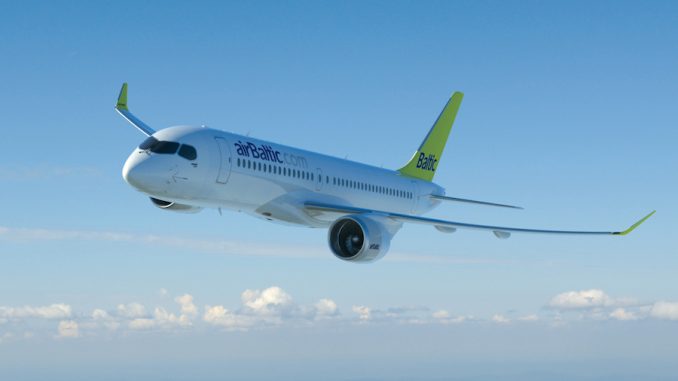 On September 27th, the first Bombardier C Series CS300 for airBaltic kicked off its commercial adventure with the first CS300 landing at Riga, Latvia. The aircraft will be based in Riga and will operate short and medium-haul flights between the airline's hub and various destinations such as Vilnius, Lithuania, Tallinn, Estonia, and Abu Dhabi.
All of these flights will be operated using the airBaltic ground and operating procedures to ensure crew and staff training is initialized before the aircraft is due to be delivered in the Fall. A second testbed CS300 will follow this aircraft on the tour.
Martin Gauss, the CEO of airBaltic commented on the testing of their first CS300 saying, "It's exciting for the airBaltic team to welcome the CS300 to its home base in Riga for the first time to see the aircraft simulate operations in our route system that covers much of Europe all in advance of our first delivery later this fall. The CS300 aircraft has outstanding performance, admirable efficiency and an impressive cabin that offers maximum comfort and we are looking forward to introducing this fine aircraft to our passengers and airports in our network."
Vice President of the C Series Program for Bombardier, Rob Dewar, also commented on this event: "Because of the 99 per cent commonality between the CS100 and CS300 aircraft and the diverse routes that award-winning airline airBaltic operates, we are expecting to see a perfect blend of performance, outstanding reliability and operational ground support. Our teams are working closely together as we ramp up activities for a real indication of how the CS300 will operate in the network and we are confident that its entry-into-service with airBaltic later this year will be impressive."
This CS300 will be one of 20 aircraft the Riga-based airline has on order and will also be joined by 12 Bombardier Q400s.
James is a passionate AvGeek who has been actively spotting for years. James has been an Aviation Enthusiast for 7 years and has a fond likening to Concorde! James hopes to grow in the aviation industry with journalism being his primary focus.
Latest posts by James Field (see all)