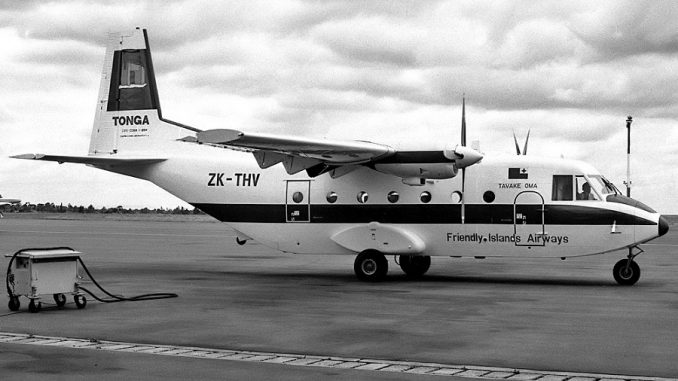 Established in 1985,  government-owned Royal Tongan Airlines officially commenced operations, the result of several years of planning. Just two years earlier, All Nippon Airways had conducted a feasibility study into the formation of a Tongan airline, which, following numerous changes in participating airlines, found success. The company was initially named Friendly Island Airways.
Domestic flights started in 1985 with the purchase of a CASA 212 and a Britten-Norman Islander. A year after, flights were also started to American Samoa and Western Samoa using the CASA 212 aircraft. In 1989, the airline upgraded to new inter-island aircraft, including the DHC-6 Twin Otters. In addition to new aircraft, the company also purchased Guinness Peat Aviation.
Six years later, in 1991, Friendly Island Airways changed their name to Royal Tongan Airlines. With their new name came the addition of the Boeing 737-200 to the fleet and new international service to Auckland. Three years later, Royal Tongan entered a codeshare agreement with Polynesian Airlines, which allowed them to operate routes to Sydney, Los Angeles, and Honolulu.
By 1995, Royal Tongan Airlines began expanding their codeshare partnerships, including agreements with Air Pacific and Air New Zealand, along with more code-shared routes with Polynesian Airlines. Through these agreements, Royal Tongan Airlines managed to lease a Boeing 737-300 from Air Pacific and open an office in Honolulu.
In 2002, the airline leased a Boeing 757 from Royal Brunei Airlines in an attempt to restart international flights that had ceased due to a lack of justification for the services. Though the airplane would have allowed the airline entry into the US market, it was not lucrative. There were too few passengers flying on the route to Honolulu, and the airline lost a significant amount of profit.
In April 2004, Royal Tongan stopped selling international flights entirely. Throughout the rest of the year, the airline continued to suffer financially, and their random cessation of international flights even caused a disruption in mail service and cargo transport. Royal Tongan never made it to see the end of 2004, and the famous carrier, unfortunately, met its demise.
Ashley is currently a senior in high school and plans on pursuing a career in aviation or journalism. Her favorite airplanes include the Boeing 777, 737MAX, and Airbus A350. She enjoys taking flights on various airlines to different airports and planespotting at her local airports.
Latest posts by Ashley Magoon (see all)