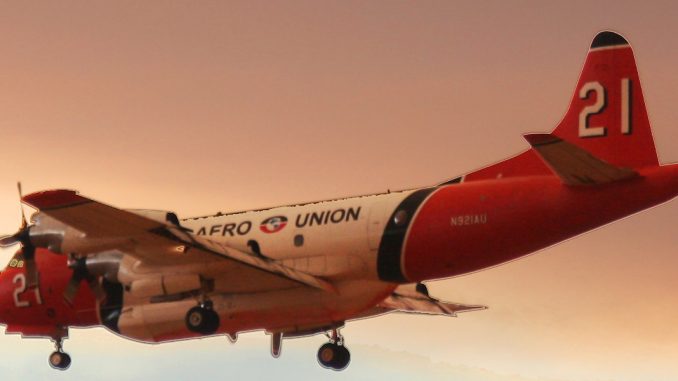 Founded in 1960, Aero Union Corporation was an aircraft maintenance and operation company that focused on aerial firefighting, including operating the aircraft, training crews, and designing fire fighting systems. Their company depended heavily on a contract with the US Forest Service. Initially from Redding, California, their headquarters was eventually established in Chico, California.
In the beginning, the company was named Western Air Industries, but the name was changed to Aero Union in 1961. Their first aircraft included the B-25 Mitchell and the B-17. Over their history, the company also operated the P-3 Orion, P-2 Neptune, Grumman S-2, Fairchild C-119, DC-6, DC-7, Aero Spacelines Mini Guppy, Douglas A-26 Invader and several other unique aircraft.
One of the biggest incidents that Aero Union was involved in was the US Forest Service Airtanker Scandal. When some of the company's aging aircraft were grounded in 1987, the Forest Service established a deal that would allow the company to exchange the old airplanes for newer, more efficient aircraft. Through this deal with the Department of Defense and the General Services Administration, six contractors managed to acquire 28 airplanes for free. The exchange was deemed illegal, and Aero Union dismantled some of the aircraft for parts rather than use them for aerial firefighting. The company made an out of court settlement with the government later on.
One of the company's final innovations was a new version of the Modular Airborne FireFighting System, or MAFFS II. Initially designed for the C-130J aircraft, it was later modified for other models. The system featured numerous design enhancements, including the ability to pressurize the system while in flight. The first production was delivered to the US Forest Service in 2007, and was first used for aerial firefighting in 2010.
In July 2011, several of Aero Union's aircraft failed their mandatory safety inspections, causing the USFS to cancel their contract. Considering that the contract had made up about 95% of the company's income, Aero Union was left with nothing to sustain their operations. The company quickly lost their facilities, as they were unable to pay their leases, and a vast majority of their employees were laid off. Though their five remaining staff members attempted to find alternate sources of income, their efforts failed, and their assets were eventually sold or auctioned off.
Ashley is currently a senior in high school and plans on pursuing a career in aviation or journalism. Her favorite airplanes include the Boeing 777, 737MAX, and Airbus A350. She enjoys taking flights on various airlines to different airports and planespotting at her local airports.
Latest posts by Ashley Magoon (see all)