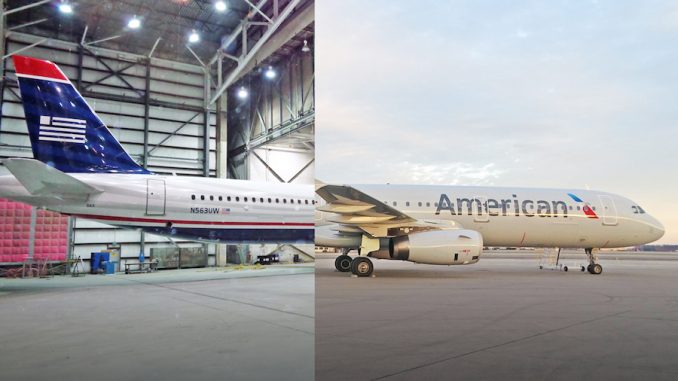 N563UW, the last remaining mainline aircraft in the US Airways fleet to bear the old livery, rolled out of the Peru, IN paint shop on Nov. 22, completing the conversion process for all 299 mainline aircraft. The process began in January 2014 with N809AW, one month after the merger closed.
American has been working diligently to modernize its fleet following the merger. At one point, the airline was taking delivery of a new airplane every week. The airline has also been working to modernize the US Airways fleet by replacing the aged seats and on some aircraft, adding power outlets. The A319 fleet has received the upgrades, while the A321s are being converted two at a time in Tampa. However, the A321 fleet will not feature power outlets.
Some regional aircraft are expected to remain in the US Airways Express livery until May 2017. Currently, there are approximately 54 aircraft that remain in the US Airways Express colors.
The airline has also adopted US Airways retro colors on N578UW, which is among the RenoAir, AirCal, TWA, and AstroJet liveries.
At this point, American has 80 percent of its 930 mainline aircraft painted with approximately 100 737-800s remaining in the polished aluminum livery along with a handful of 757s and MD80s. By the end of 2016, the airline estimates a total of 930 mainline aircraft in its combined fleet, in addition to 604 regional aircraft. American currently has the largest and youngest fleet of all the U.S. global network carriers. Over the next three years, the airline will take delivery of new aircraft including 100 737MAXs, 22 A350 XWBs, and 100 A320neos.
Ryan founded AirlineGeeks.com back in February 2013 (actually, it was called Aviation Official, but we've changed a bit since then). From being on the yoke of a Piper Navajo, to visiting about Delta's operations center in Atlanta, Ryan has done it all. in 2016, along with American Airlines, Ryan masterminded AAviationDay at more than 10 locations around the world. The smell of jet fumes in the morning along with the countless number of passionate airline employees keep him enthralled in the industry, always seeking more. You can find him helping out travelers at Reagan National Airport near Washington, D.C. when he's not doing something for AirlineGeeks.
Latest posts by Ryan Ewing (see all)